Keio University Research Collaboration Promotion Fair 2015
Advancing Interdisciplinary Research through International Collaboration
To showcase some of the exciting research projects conducted at Keio, as well as the collaborative efforts the university is engaged in with overseas universities and research institutes, the Keio University Research Collaboration Promotion Fair 2015 was held on March 18, organized by the Headquarters for Research Coordination and Administration. Two partnerships were introduced. The first presentation was on the research partnership between Keio and CNRS (the Centre National de la Recherche Scientifique), which is a public organization under the responsibility of the French Ministry of Education and Research and is the largest fundamental research organization in Europe. Secondly, the two Co-Directors of the Keio-NUS CUTE Center spoke about the CUTE Center, which is the joint collaboration between the National University of Singapore and Keio University.
Keio and CNRS
Bringing together a team of philosophers, logicians, and specialists in the theory of computation
The Research Center for Thinking and Behavioral Judgment and the Global Research Center for Logic and Sensibility at Keio University teamed up with the Institute for Humanities and Social Sciences (InSHS) of CNRS in 2012, and a university-wide partnership with the French institution was forged in 2013. In early 2015 a number of collaborative and innovative workshops were held, including the Cyber Security French-Japanese Workshop in April jointly organized by the National Institute of Information and Communications Technology (NICT), the French Institute for Research in Computer Science and Automation (INRIA), the Office for Science and Technology at the French Embassy in Japan, CNRS, and Keio University.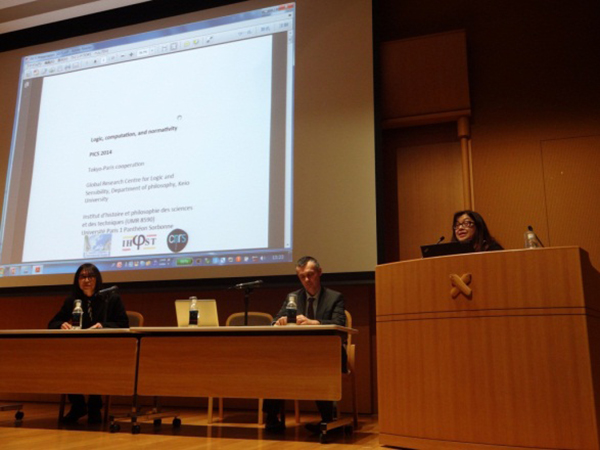 Prof. Mitsuhiro Okada (Faculty of Letters, Keio University), Prof. Pascal Marty (École Normale Supérieure), and Prof. Sandra Laugier (Université Paris 1 Panthéon-Sorbonne)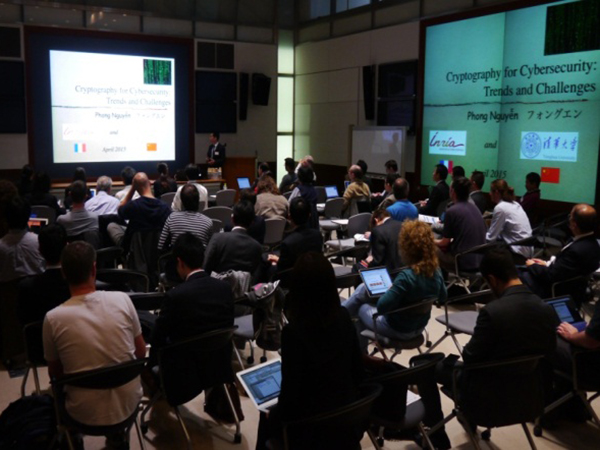 Cyber Security French-Japanese Workshop in April, 2015
CNRS participates in 318 International Projects for Scientific Cooperation (PICS), one of which is with Keio. Launched in January 2014, the research project is based on the study of logic, computation, and normativity and is conducted by three institutions, CNRS, Keio University, and the Institute for the History and Philosophy of Science and Technology (IHPST), which is a Joint Research Unit under the trusteeship of CNRS and Université Paris 1 Panthéon-Sorbonne. The project is premised on the idea that relationships between logic and computer science raise new issues about the meaning of normativity in contemporary logic. The partnership has brought together a team of philosophers, logicians, and specialists in the theory of computation in order to investigate logical normativity from a historical, conceptual, and technical perspective. How do humans conduct logical reasoning? What is normativity of logic and rational decision? How are logical reasoning and rational decision-making related and what is its genetic factor? What is the relation between logical method and computational method on security protocols? These are some of the questions they are seeking to answer. By combining traditional methods in the humanities and behavior science with new methods from neuroscience, cognitive science, developmental science, genetics, informatics, computer science, and so on, the team is trying to build new interdisciplinary methods to understand the dynamism of decision-making processes and behavioral judgment, and ongoing collaborative research in this field is changing our very conception of normativity.
The researchers in both the Japanese and French teams have strong, complementary backgrounds in philosophy, logic, history of logic, and theory of computation, and bringing these two teams together has enabled cutting-edge research. With ample room for further exploration, the collaborative research project is ongoing and expectations to expand this cooperative network to new projects are high. By combining Keio's strength as a comprehensive university with that of CNRS, which carries out research in all fields of knowledge, the two institutions are looking toward the possibility of working together on societal and scientific issues common to both Europe and Japan such as the future of cities, or smart cities, and aging society. In order to address these complex, multidimensional challenges, interdisciplinarity and international collaboration is becoming ever more crucial.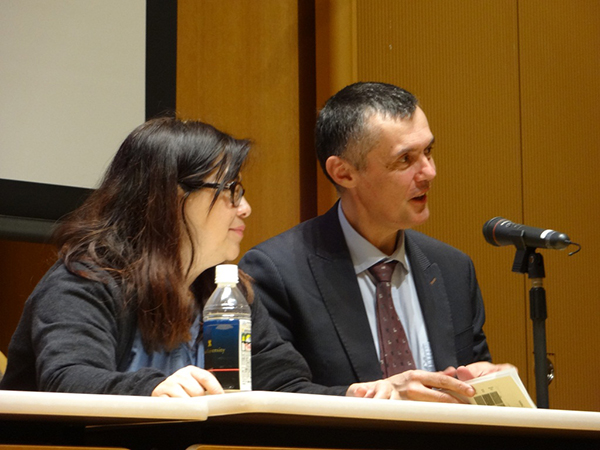 Prof. Sandra Laugier and Prof. Pascal Marty
Keio-NUS CUTE Center

Looking beyond academia in order to produce something that has social and economic impact
The Keio-NUS CUTE Center (Connective Ubiquitous Technology for Embodiments, and now also known as "Creating Unique Technology for Everyone!"), officially launched in 2009, is Keio's first overseas research center. It is a joint collaboration with the National University Singapore (NUS), and is partially funded by the National Research Foundation (NRF) administered by the Media Development Authority (MDA) of Singapore. The MDA is a statutory board under the Industry of Communications and Information in Singapore that funds and promotes transdisciplinary thinking and innovation in cutting-edge research on Interactive Digital Media.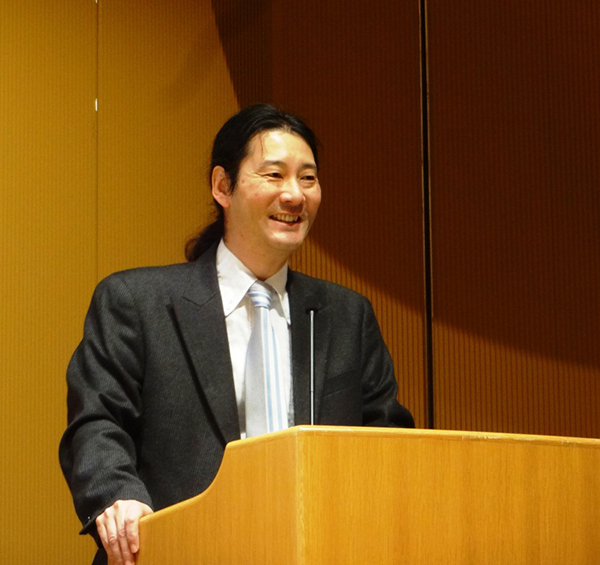 Prof. Masa Inakage (Dean of the Graduate School of Media Design, Keio University)
The Keio-NUS collaboration is one of eight International Research Centers (IRC) under the MDA. MDA is looking to the future of Singapore and are investing heavily on R&D projects that can lead to the creation of new industry and a new Singapore. It is forging partnerships with local and world-renowned cutting-edge research universities in order to make this breakthrough happen. This is in line with the initiatives of NUS and the Graduate School of Media Design (also known as Keio Media Design or KMD), which plays a core role in the CUTE center activities at Keio. The number of academic papers published is often one of the biggest evaluation criteria and method of promoting research projects, but both universities are looking beyond academia in order to produce something that has social and economic impact. In fact, at KMD, these projects are referred to as "real projects" instead of "research projects" because their ultimate goal is getting the products and services into the marketplace.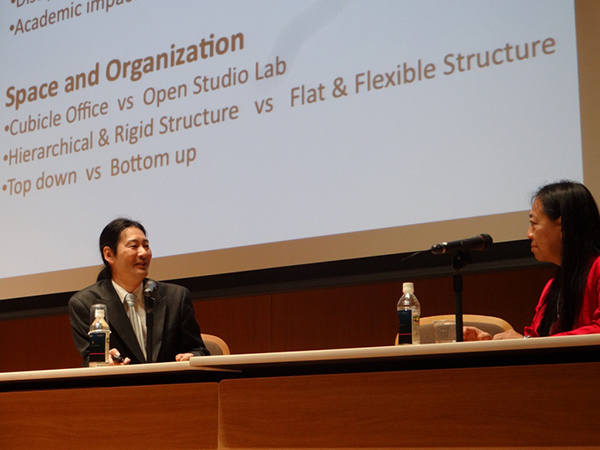 Prof. Masa Inakage and Prof. Ellen Yi-Luen Do (National University of Singapore)
Therefore, collaboration with companies has been an important aspect of the CUTE Center's activities since its conception.
Another aspect, creating a research culture unique to the center, was one of the main focuses of the first phase (April 2009 - March 2012) of the CUTE Center. With students from different cultural backgrounds, it was important to bring them together to work in unity in order to carry out inter/multi/trans-disciplinary and collaborative research. Rather than a top-down education, it encouraged a motivation-driven bottom-up system in which students, junior faculty members, and researchers are encouraged to come up with their own ideas and try to steer management to assist them, instead of the management level deciding and implementing research agendas.
Prototyping, training talented people who can work in and further develop future industries, and holding exhibitions to reach the general public have been some of its other main activities during the first few years.In terms of prototyping, families, especially children, were the target in creating new forms of family connectivity, developing multi-sensory networked communication technology, and inventing creative ways of engaging multi-sensory communications based on trend spotting and patterns in society. In the second phase (April 2012-March 2016), projects were centered on travel and wellness. (Read the Keio Global Winter 2014-2015 issue on projects carried out by the CUTE Center. Having received another generous grant, the CUTE Center is now developing projects on augmented learning for medical simulation for students studying medicine. After six years, with an increasing number of collaborative projects with major industries, more graduates going on to successful careers in the industry, and growing interest from other institutions who want to join as stakeholders and expand the center further, the collaboration between Keio and NUS is stronger than ever.

Visit their website for more information on the Keio-NUS CUTE Center: http://cutecenter.nus.edu.sg/