With the spread of COVID-19, international exchange at universities is entering a new phase. Although online lectures have become more prevalent at universities throughout Japan, universities around the world are now considering various means of international collaboration in education and research including online exchanges and hybrid styles that combine both virtual and physical interaction.

Against this backdrop, an online symposia series will be hosted by universities selected by the Ministry of Education, Culture, Sports, Science and Technology (MEXT) for its Top Global University Project to promote internationalization in Japan. This first symposium in the series was planned by Keio University, which was selected as a Type A Top Global University.

In this symposium, new ideas and case studies will be shared and discussed regarding the future of international exchange in education and research with overseas experts on international exchanges at the university level. By clarifying the challenges commonly faced by global universities and awareness of these with regard to international exchange in the post-COVID era, the symposium aims to help sketch a new blueprint for higher education along with what international exchange should look like in the future.
We look forward to the participation of people from various sectors, including university faculty and staff members and experts from Japanese and overseas universities on international exchange.

Date: September 30 (Wed.), 10:00 (CEST), 16:00 (CST), 17:00 (JST)

The symposium will be held online using Zoom, conducted in English with no fee charged.
We plan to send the Zoom URL by September 29 to those who have completed the online registration. Please note that the maximum capacity is 500 participants.

◆Program: (total 90 mins. Japanese-English simultaneous interpretation to be provided.)

1. Opening address
 Professor Shinnosuke Obi, Vice-President for International Collaboration, Keio University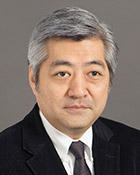 Biography

 Mr. Kuniaki Sato, Chief Director for University Reform
 Director, Office for International Planning, MEXT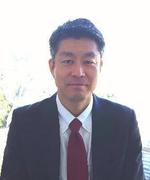 Biography

2. Presentation by guest speakers
 ・Being a global university in a post-mobility world
  by Professor Vanessa Scherrer, Vice President for International Affairs, Sciences Po, Paris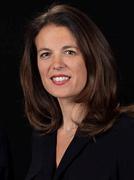 Biography

 ・Overcoming challenges in the COVID-19 world for international exchanges: APRU Virtual Student Exchange
  by Professor Suk-Ying Wong, Associate Vice-President, The Chinese University of Hong Kong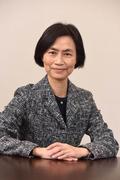 Biography

 ・Innovating Global Learning to the New Normal
  by Professor Masa Inakage, Dean of the Keio University Graduate School of Media Design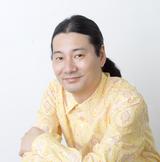 Biography

3. Open discussion (audience participation encouraged)

4. Closing

Moderator: Keio University Vice-President Shinnosuke Obi
If you are interested in participating, please register by September 28 from the following link:
https://forms.gle/BDL2J7GvVauQKumV6

Global Initiatives
LongevityInitiative to realize a society
where people live better,
longer lives

Health Science

World-leading research on health and longevity at the Center for Systems Medicine (Center of Innovation Program)
Regenerative medicine for a healthy longevity society (iPS/ES regenerative medicine)

Towards a Healthy Longevity Society

Research on population and family structures, labor conditions of older people, social security and public finance (GCOE)
Public policy research (WHO, EU, World Bank, and World Economic Forum)

New Technologies for a Longevity Society

Technological reform for medical nursing care
Nano/micro technology and robotics research

SecurityInitiative to assure a safer,
more sustainable society

Environmental Risks

Science and technology to improve the air quality in East Asia
Policy research, economic theory, empirical studies, and international projects at the grassroots level
Public health research (Community/regional medicine, etc.)

Economic Risks

Fiscal and financial research to improve market quality and infrastructure
Cyber security research and Internet governance

Geopolitical Risks

Regional security research, especially within East Asia
Rule of law research
Establishment of International LL.M. Program at Keio University Law School

CreativityInitiative to bolster
innovation in education
and research

Basic Research

Next-generation communication technologies (Haptic communications)
Component measurement technologies (Human Metabolome Technologies Inc.)
New materials research (Plastic optical fibers)

Media/Expression Research

Future of interactive, social and communication media at the Keio-NUS CUTE Center
Collaboration with the world's top design schools
with Keio's Global Innovation Design (GID) Program

Management Research

Advanced research into management, marketing, human resources, and value-added processes at Keio Business School, Japan's oldest internationally accredited business school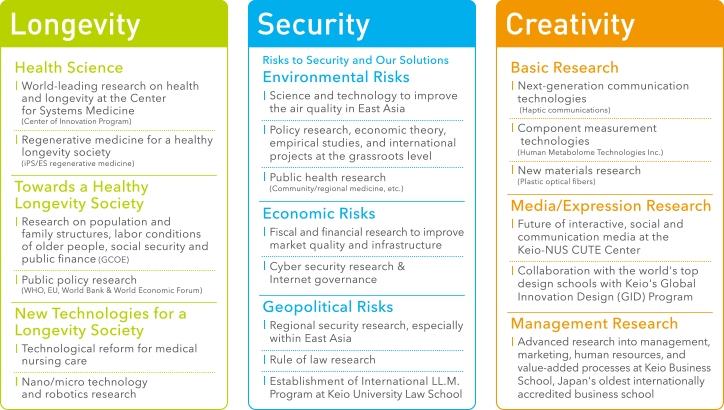 To maximize Keio's academic strengths in the fields of the humanities, social sciences, and natural sciences from its 10 undergraduate faculties and 14 graduate schools, Keio has created three global initiatives: Longevity, which explores issues of longevity, aging, and dementia from life science and medical perspectives, as well as potential applications in robotics, medical policy, and medical economics, for a longer-living and healthier society; Security, which incorporates research on methodologies for managing social systems shaping Society 5.0, analyses on risk society, and East Asian security issues, for a safer and more sustainable society; and Creativity, for the technological developments related to sports and business, and the research associated with cultural and artistic activities. Through these initiatives, Keio is striving to bolster interdisciplinary academic research to solve global-scale problems. We are also actively engaging in collaborations with industry and joint research with overseas partner institutions.
SDGs at Keio
The Sustainable Development Goals (SDGs) are a set of 17 interconnected objectives adopted by the UN to achieve a better and more sustainable future for all. Reaching these goals requires the involvement of both developing and developed nations and the formation of international partnerships, leaving no one behind. Covering issues such as poverty, inequality, climate, environmental degradation, prosperity, peace, and justice, the goals comprise 169 targets for building a safer and more sustainable planet for everyone.

At Keio University, the xSDG Laboratory was established in 2017 to promote and conduct research related to the SDGs at the Keio Research Institute at SFC, aims to utilize SDGs as an approach to resolve issues in diversified and complex societies through transdisciplinary research. Read more about the ongoing activities of the xSDG Laboratory on their website:
http://xsdg.jp/index_e.html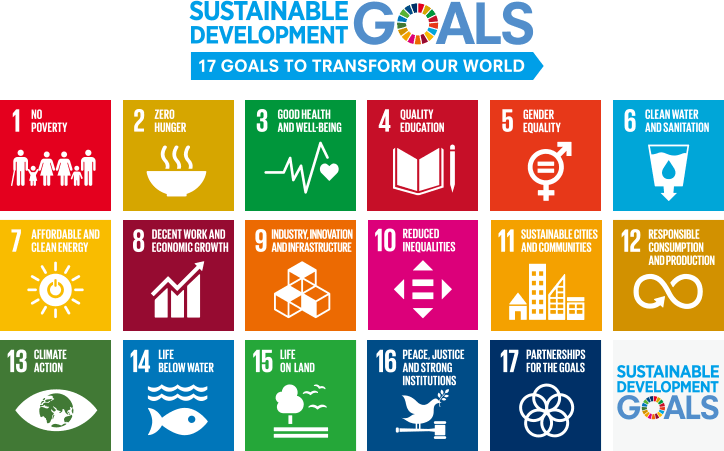 Keio University Ranked 91st in the THE University Impact Rankings 2019

Keio University was ranked 91st in the world in the Times Higher Education (THE) University Impact Rankings 2019 announced on April 3 (Wed.), 2019. From Japan, 3 universities were ranked in the top 100, namely Kyoto University (48th), the University of Tokyo (52nd), and Keio University. Learn more
Global Partnerships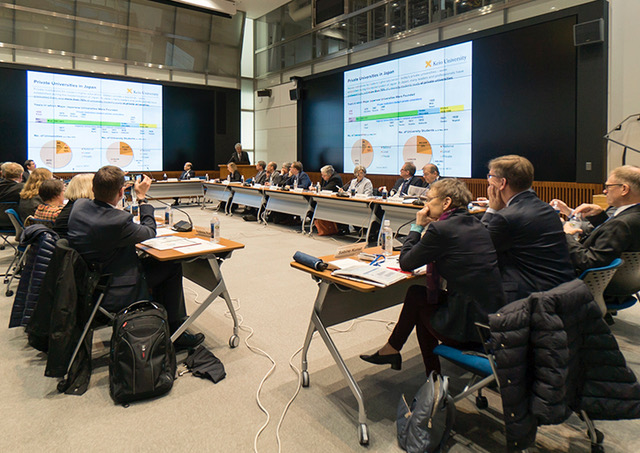 Keio has over 300 partner institutions abroad, and is actively engaged in global collaboration activities with international associations including the Association of Pacific Rim Universities (APRU)  and the Global University Leaders Forum (GULF) at the World Economic Forum. To equip students with the skills for leadership roles in a global society, Keio offers more double degree programs with other world-class universities than any other Japanese university, while conducting over 800 classes in English. We also have established an online joint lecture course  on "longevity society" with the University of Cologne in Germany. Furthermore, Keio's Hiyoshi Campus will host the preparation camps of the British Olympic and Paralympic teams for Tokyo 2020.
Engage with Keio from around the globe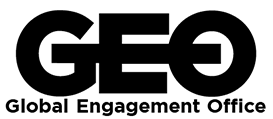 Keio University Global Engagement Office

If you wish to contact Keio University regarding new avenues for collaboration, please get in touch with the Global Engagement Office.