Rahmi, Exchange Student from Indonesia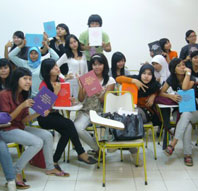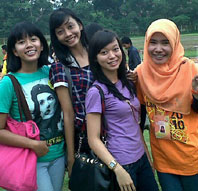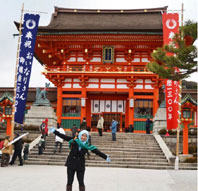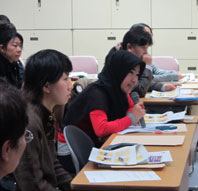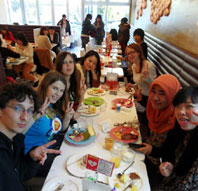 -Which university are you from and what was your major?
Department of Library and Information Science, Faculty of Humanities, University of Indonesia. Library and Information Science is my major of study.

-What made you decide to study abroad?
Enrolled in Dept. of Library and Information Science (LIS)is not really well-known major among students in my university, but it makes me feel like I don't deserve the chance to study abroad. Sometimes my friend asks me about what am I doing and what future will I get in my future. They say that I can't develop my ability because I will be stuck at a place (library) staring at a bunch of books on the shelf and that the salary that will I get is so little. I want to prove to them that I can change the image of my major. That was the time I thought, "I am not expecting the world change as I want. So, I must change myself first".
My father said, "When you do something, do it with whole-heartedly. Try this, try that, try everything!" From that time, I always do my best to get the best scores, joining a TOEFL course and English Conversation course. At the same time, I am active for being a reporter at 2 media campus. I worked as a reporter at Journal Depok (Local Newspaper at Depok, Indonesia). Also, I worked at National Nuclear Energy Agency Library as an internship librarian. It was such a tough time.
I want to share, study, learn, and know something new. I want to increase my experience in studying and be independent in my life abroad. I've been seriously thinking that I'd really like to study a lot. I want to study and I want to adsorb. I still believe and I'll always do my best. The world is continuing to turn at a fast pace. So, if I want something, I devote myself to getting it. I want to attain the high level of Japanese proficiency required for research in my specialized discipline, the Library and Information Science.

-Why did you decide to study in Japan or at Keio?
"Nothing is impossible." That's my motto.
My reason for applying to the Japanese Language Program at Keio University is, when I was in my second semester, I began searching Library and Information Science in Japan for my future plan to take a master's degree program. I found that the one and only private university that has an undergraduate, master's, and Ph.D program was Keio University. Library and Information Science at Keio University was "assisted by the American Library Association and staffed by wellqualified American instructors at the time of establishment". Another purpose is that I can't find this major at the University of Indonesia.
In my fourth semester, I was recommended by the University of Indonesia for the student exchange program to Keio University. Each university has procedures to recommend their students. From seven students with various academic backgrounds, I was chosen as a candidate. However, the student exchange agreement between the University of Indonesia and Keio University was not signed yet, and I couldn't get JASSO Scholarship or any financial assistance from Keio. So I decided to postpone my plan to study abroad at Keio until this year. Now, I am enrolled as an exchange student for the Japanese Language Program (Spring Semester-Fall Semester 2011).

-Please tell us about some of the aspects of your life in Japan or at Keio.
I'm falling in love with Japan and Keio University.
Japan was one of the countries that really paid attention to the quality of higher education in their country. It is proven with the number of universities in Japan that got ready and improved their education system. Respectively the knowledge field developed very seriously, the study of research was carried out deeply and uniquely. The supporting infrastructure and the success of the study is really overwhelming. Japan is beautiful, which's why I like it. It is a country with the harmonious blend between traditional culture and the progress of astonishing science and technology.
The language was the main key to penetrating knowledge and science. The field that I keen at this time was Library and Information Science, and because of that the capacity in speaking Japanese was really needed. So, with this chance I want to take the Japanese Language Program. It would make more sense for me to study Japanese first in the Japanese Language Program (JLP). Then, I might wish to learn Library and Information Science at Keio University. I planned to continue my education in Japan because there is pursued knowledge to the Asian Country and wanted to get science that I couldn't obtain by studying in my home country of Indonesia.

-What are differences you have noticed between Keio and your home university?
Speaking about my home university, the University of Indonesia is really big area at about 320 ha. The facilities support students for their activities. Compared to Keio University, the lecturer and students are really different. From my view, study method in Keio University is really good. The lecturers are teaching in very comprehensive curriculum and always on time for attending classes. They really are kind and teach us patiently. To make it simple, according to my field (LIS), I have to retrieve information in very fast ways. More than that, Keio University Library has very many features in it. I can request a book that I want via KOSMOS and I freely access journals, databases, etc. I love to spend my spare time on the 5th floor of the new library at Mita Campus. There are so many magazines related my field (LIS). And, if I got the documents and journals that I want, then I smile. I often call this "journal paradise". I love it!

-Please tell us about what you feel you gained by studying at Keio.
Knowledge, experiences and friends. In summary, I am enrolled as student for the Japanese Language Program. Although it was a program for Japanese language, I also took independent study course that was offered by the Keio University International Center for being a researcher in Fall semester 2011. This research is under my supervisor from the School of Library and Information, Keio University faculty member, Prof. Shunsaku Tamura. He is really kind and gives me opportunities to follow his seminar in Japanese and he knows a lot of knowledge that I've never heard before. He gave me an invitation ticket to follow the 13th Library Fair in November 2011 for interviewing some people regarding my research. I am so thankful that I met a very great "Sensei" (professor) in my life. Thank you, Professor.

-What is your plan after you go back?
After I go back, I will continue and complete my study for one year. And, after I graduate, I expect to continue my studies at the Graduate School of Library and Information Science, Keio University. I wish to study at Keio University as a regular student on a graduate degree program.
Now, I am doing research. Because of that, I really want to dig deeply about my research now for a long-term research. I hope Keio University will invite/recommend me to be a University Nominated Students for MEXT. I hope I can realize my dream. Can I?

-Do you have any advice for students who are considering studying abroad?
You can be any person you want to be. Knowledgeable and civilized people won't stand in his/her hometown. Leave your country and go abroad. You'll get a replacement for relatives and friends. Have a very strong motivation, strive, and pray fervently.
For example, what I experience now is, I am a Muslim, wearing hijab and being a minority at Japan is very hard. Every time I go to campus or traveling around, all Japanese people eyes stare at me. I am adapting myself with this situation and trying to think in positive ways. "Even if it's just for a second, I've crossed your mind, right?" That's what I think. Funny, huh?
The last advice for you who are considering studying abroad: "You see things and you say Why? But I dream things that never were; and I say Why not? - George Bernard Shaw.
Catch and believe your dream! Don't give up in the middle of your way! And always give your best!

Information of The University of Indonesia
The University of Indonesia(UI) is a state, comprehensive world class university located in Depok, West Java and Salemba, Jakarta, Indonesia. UI is the oldest tertiary-level educational institution in Indonesia. UI is a modern, comprehensive, open-minded, multi-culture, and humanism campus that covers wide arrays of scientific disciplines. According to the latest survey of Globe Asia (2008), UI ranked number first among the top universities in Indonesia. The university consists of 12 faculties. The facilities are library, ukhuwah islamiyah mosque, dormitory, campus bus, campus bike, health center, student hall, wisma makara, and sport area.

About the writer
Rahmi
Japanese Language Program Student
*Have completed Japanese Language Program in March 2012.
* Language study program student (April 2011-March 2012) from Indonesia.
* The facts are those at the time of the interview.