Professor Marie Gaboriaud, Faculty of Economics, Villages are Miniature Forms of Society—Seeing Japan from the Perspective of Villages in Yamagata Prefecture—
If you want to understand a country, you must learn the language of that country.
Having said that, simply learning the language of a country does not mean that you have a good understanding of that country. Prof. Marie Gaboriaud first developed an interest in Japan from a regional sociological perspective, and has been furthering her understanding of Japan by delving deeper into the study of smaller "village" units. Meanwhile, through teaching French, she hopes that students will open their eyes to the cultures and societies of Japan and the world.

*Position titles, etc., are those at the time of publishing.
Marie Gaboriaud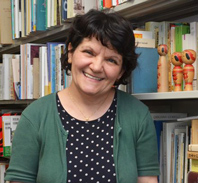 In 1980, Marie Gaboriaud completed her master's degree at the Institut National des Langues et Civilisations Orientales (National Institute of Oriental Languages and Civilizations in Paris) majoring in Japanese language. In the following year, she acquired a D.E.A. (Diploma of Advanced Studies) from the Centre de recherches sur le Japon at the École des Hautes Études en Sciences Sociales (School for Advanced Studies in the Social Sciences) before completing the doctoral course requirements at the Graduate School of Education, Tohoku University in 1986. She was appointed Assistant Professor at Keio University in 1996, and has been a Professor since being appointed in 2005. While teaching French at the Faculty of Economics, she has continued to pursue the research she embarked on when she first arrived in Japan, on the changing structure of Japanese farming communities from the Meiji period to the present.
She has been interested in Japan since her early childhood.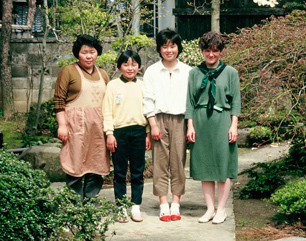 ──What triggered your interest to start researching about Japan?

I was born in a small town called Baignes in the southwest of France, and lived there until I was 18 years old. When I was in second year of high school, something happened which made me want to start studying about Japan. One day my French teacher advised us that acquiring an Asian language will most surely be of use to us in the future. My teacher had Chinese in mind as she spoke to us, but for some reason, I decided at that moment to start studying Japanese. Without wasting any time, I went to the library during my lunch break to look for schools that offered Japanese language courses, and found a pamphlet for the Institut National des Langues et Civilisations Orientales, where I vowed that I would attend after graduating high school. As a matter of fact, when I was 14 years old, I would quite often assume that the Asian people I saw at the markets were Japanese, and would write all sorts of things about Japan in my diary. Perhaps I had already had an encounter with Japan at an earlier age, and the Asian people I saw in the markets as well as my teacher's advice had awakened my interest in the country, which had been lying deep in my subconscious.

──Why did you choose to focus on Japanese farming villages?

After graduating high school, I fulfilled my dream and entered the Institut National des Langues et Civilisations Orientales in Paris. I started to develop an interest in Japanese farming villages around the time I completed my bachelor's degree. I read a book written in English about farming communities in Japan, and became particularly interested in the postwar agricultural land reform and its effects. So, for my master's thesis, I wrote about how this land reform impacted farming in Japan, and about the structure of Japanese village communities. After completing my thesis, I wanted to see firsthand how Japanese farming villages changed, so I entered the Centre de recherches sur le Japon at the École des Hautes Études en Sciences Sociales, and was able to receive government funding to study abroad at Tohoku University. My supervisor at Tohoku University specialized in sociology, and was researching Japanese farming villages with a special focus on the Shonai area. Accompanying my supervisor was how I started travelling to the region.
Mutual Trust Built Over Time is the Key to My Research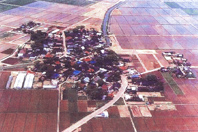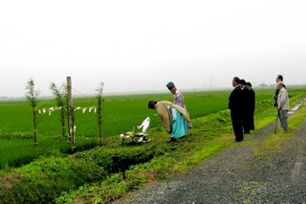 ──Please tell us more about your research on farming villages.

I am investigating the transitions in the social structure of village communities from the Meiji Period to the present. For a long time, the Shonai region was ruled by the Honma House, the largest landholder in Japan, and I have been conducting continuous research in the beautiful village of Niiaodo in Sakata city, Yamagata Prefecture. Many of the 56 families that live in Niiaodo can trace their roots in the village to or before the Meiji era. I have been looking at how the land, dwelling, and lifestyle before the land reform changed after the reform was implemented. A village is a miniature version of a society. Gaining an overall understanding of a village is not just about distinguishing certain characteristics pertaining to that village; I also realized it was an important step towards understanding Japanese society as a whole. In other words, I wanted to understand Japanese society from the perspective of the small farming villages in Yamagata.


As a foreigner, I was presented with many fascinating discoveries through my research. I learnt about the origin of the "屋号(a house or shop name)," family crests and surnames, ceremonies and rituals associated with rice cultivation, the role of shrines and annual festivals in these communities, and much more; one after another, these discoveries fueled my desire to know more. By studying each topic in detail, I gained a deeper insight into the Japanese family system, and how villages have maintained family lineages (the Japanese ie system) across generations.

──How do you research the lifestyle and history of a small village?

Studying a village takes perseverance as it requires detailed investigation into statistics and various other resources. Even though I am able to converse in Japanese and read and write kanji, I had a lot of difficulty deciphering old hand-written documents. In order to trace the history of family lineages, I pored through family registers at the village temples. If you cannot find information you need in this way, the only other option is to interview people. It was also difficult for me to understand the dialect of the elderly people who know a lot about the village. And it is hard to understand what they are saying if you do not know about the history and historical events of that region. In any case, it is time-consuming research. People will not talk to you openly about details of their own family unless you become close with them, and normally they will not let you participate in Shinto rituals if you are a stranger to the village. I spent two years in this region researching the yearly shrine festivals of 10 different villages, and I learnt that villagers have almost no knowledge of shrines outside their own village. A shrine symbolizes the village and its solidarity, and each village has developed its own unique rituals associated to the shrine.

I was able to gain a profound understanding of Niiaodo with the kind help I received from the then-chief of the ward who has continued to help me since my first visit. I also received help from many other people. In my research, building mutual trust with the villagers is the most important thing. Niiaodo has become "my village" now. I love the culture and the people, and above everything else, I really feel that "I am in Japan" when I am there.
Studying the lives of people in the Shonai region through old photographs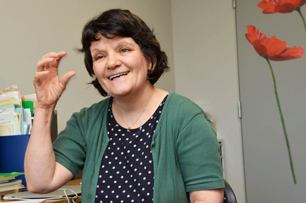 ──What research theme are you most interested in now?

I am interested in how people lived in the Meiji and Taisho period in Shonai. As I was researching prewar farming villages, I also became interested in urban communities of that time, which were quite a contrast to, but were in fact closely linked to the farming villages. The Meiji and Taisho period was a turbulent time with the surge of Western culture into Japan. New technologies were introduced to the Shonai region as well; photography being one of them. During the Meiji period, photo studios opened up in quick succession in the prosperous commercial port town of Sakata city and in Tsuruoka City, which flourished as a castle town. Therefore, I began studying photos in order to understand the lives of the people during those times. I have always liked photos, so when I saw an exhibition at the Keio University library by Teijiro Takagi, a photographer from Kobe during the Meiji and Taisho eras, I wanted to throw light on what we know about the lives of the Shonai people using the photographs.

Fortunately, when I searched, in Tsuruoka there were as many as three photo studios that date back to that time and were still in business, so I was able to access a lot of resources through them as well as the local resource centers. Through photos, it is possible to find out about the lives of the relatively prosperous who could afford to come to the studios, as well as the town and businesses back then. Unfortunately, there are no photo studios in Sakata city that have survived from that period, and I am struggling with my research as many materials and documents have been burnt in repeated fires. But thanks to the Sakata city resource center, the Kokyu bunko library, and many of the local people. I am making steady progress in my research.

──It sounds like Shonai is truly your lifework and your spiritual home.─

I have a tiny dream; and that is, when I retire, I want to travel around Japan, wander around, visiting and experiencing many different villages and the craftsmanship culture. Beautiful vegetables, intricate cuisine, pottery, lacquer, kokeshi dolls…there is so much traditional Japanese culture to see and experience. I really believe that the culture of Japan is all about craftsmanship. Many Japanese people may not realize it, but Japan's rich culture, including agriculture and the food culture is just as good as that of the French. And it is often said that Japanese people are not religious, but I personally believe that they are more spiritual than people in the West. Even though there is no one specific god, there are many gods all around. When I see people put their hands together to pray to the gods that exist all around them, I am moved and it also gives me peace of mind.


Japanese agriculture is centered on rice cultivation. Forming communities was essential so that people could help each other with farming work, irrigation, and in the event of a natural disaster. That is why, if anything did occur, the communities in farming villages are able to come together right away. In this sense, because Japan was a farming country, and is constantly prone to natural disasters such as earthquakes and typhoons, there is a strong bond between the people.
The Cultural Aspect is Important in Language Education
──You teach French at university.

Before working at Keio University, I taught French for seven years at a community college in Saitama Prefecture, and now I hold French classes at Keio. I devise my curriculum so that students can build their communication skills. I try and give as much information as possible on French society, economy, literature, culture, and so on, so that the acquisition of French will broaden the students' worlds in the future. French is one of the official languages at the UN; businesses with African countries are increasing, so it will be advantageous if you know French. Now is a good time as any for students to study and dream big.

I often tell people that good luck comes to everyone. However, the question is whether you notice it or not. Coming to Keio in 1996 was perhaps my destiny. The first Japanese language teacher at the Institut National des Langues et Civilisations Orientales had met Yukichi Fukuzawa once. Also, as the first head librarian at Keio University was from Tsuruoka city, there are many materials on the Shonai region in the university library. Furthermore, the Keio University Institute for Advanced Biosciences is located in Tsuruoka city, and the "Shonai Seminars" are held to promote regional exchange activities. All of this is just a coincidence, but I think this is some kind of fate or luck. And so, because of this fortunate encounter, I hope that I can contribute and give as much as I can to Keio and Keio students.
*This article appeared in "Kenkyu Saizensen" (August 28, 2014) of Keio University Japanese Website.
*Position titles, etc., are those at the time of the interview.