Naomitsu Mikami, Professor, The Keio Institute of Cultural and Linguistic Studies
Constructing a theoretical framework for Southeast Asian isolating languages
Interest in Asian languages has exploded in recent years, with Chinese and Korean particularly garnering attention due to the growing importance of Chinese for business and global increase in the popularity of Korean popular culture. For many years, the Keio Institute of Cultural and Linguistic Studies Professor Mikami has engaged in linguistic research of Southeast Asian languages that include Thai, Vietnamese, and a number of minority languages. We asked him about the characteristics and allure of Southeast Asian languages and how they differ from Western languages.
Naomitsu Mikami
Graduated from the Faculty of Letters with a Major in French Literature, Keio University, 1976. Finished the Master's Program in the Graduate School of Letters with a Major in Chinese Literature, Keio University, 1979. Withdrawal from the Doctoral Program with the completion of course requirements, Graduate School of Letters with a Major in Chinese Literature, 1985. Research Assistant, the Keio Institute of Cultural and Linguistic Studies, Keio University, 1983. Professor at the Keio Institute of Cultural and Linguistic Studies, 2004. Visiting Lecturer in Faculty of Humanities, Kasetsart University, Thailand, 1982. Special Researcher, Embassy of Japan in Thailand, 1989-1991. Director, Japan Society for the Promotion of Science (JSPS) Bangkok Office, 1997.
He has authored such books as Khmer People in Southern Vietnam (Co-edited), 'Going' and 'Coming' in Languages of Mainland Southeast Asia (Co-authored), Foundation of Thai, and 1500 Basic Words in Miao (Hmong), among others.
First Encounters with Southeast Asian Languages
─ When did you first become interested in Southeast Asian languages?

Around my second year in college. When I first started college, I studied Western languages just like everybody else. But a preoccupation with memorizing declension really put me off before I could feel any enthusiasm for them. It was then that I started thinking about studying a different type of language altogether; though rather late in my education, I turned my attention to a region closer to Japan--to Asia.
Fortunately, Keio has both a Foreign Language School and the Keio Institute of Cultural and Linguistic Studies where courses in rare languages like Vietnamese and Thai are taught. These courses were my first encounters with the languages of Southeast Asia. Vietnamese and Thai were so different from Western languages that they felt completely foreign and vague, which actually motivated me even more. My interest in Southeast Asian languages increased exponentially after receiving guidance from Professor Kunie Kawamoto, a specialist on Vietnam, during my undergraduate years.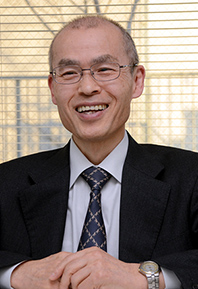 ─ What are some of the characteristics of Southeast Asian languages?

No less than five different language family groups are distributed throughout Southeast Asia in a mosaic-like pattern, but they are characterized by certain similarities in their overall structure which transcend genealogical differences. For example, if the listener knows what the speaker is talking about, the speaker doesn't have to state a subject or object; the sentence topic comes at the beginning of a sentence; numeral classifiers are used for counting objects; and there are various ways to address a person, which are differentiated based on relationships. These characteristics are also shared with their neighbors to the north in East Asia.
If we confine ourselves to the mainland of Southeast Asia and East Asia, we can say that morphologically "isolating languages" such as Chinese, Vietnamese, and Thai are predominant. Most of these are monosyllabic, tonal languages. Isolating languages are languages without inflection where the relationship between words is defined by word order. This is in contrast to the various functions of complicated inflection in Western languages. The amount of information that is verbalized may be smaller when compared with Western languages, but that is where capitalizing on context is key to successful communication. In this sense, we might be able to say that these languages are extremely economical and efficient.


─ What is most fascinating about learning these isolating languages?

Isolating languages are morphologically "light" languages. There is neither inflection nor markers to indicate the relationship between words. Though students are free from learning cumbersome grammar rules, it is a whole different story when it comes to interpreting meaning and analyzing structures. It proves difficult as these languages leave us few hints in their structure as to what is a certified part of speech or individual unit, such as words, phrases, clauses, and even sentences.
One of the joys of isolating languages is the way in which words are connected. Verb + noun and verb + verb combinations create diverse semantic relationships. Let's take a verb + noun combination for example. In isolating languages, the word directly after a verb like "eat" can be a variety of nouns such as tools like "spoon" or "fork" as well as "shop" in addition to something you would actually eat, such as "food". In Western languages, the noun directly after a verb is usually the object, and verbs which take an object are treated as transitive verbs, but the application of these same concepts to the analysis of isolating languages has serious limitations. Many isolating languages lack tense, and there are many language phenomena which cannot be interpreted from the Western perspective.
Let me give another example. What would a sentence with the terms "breakfast", "eat", and "present perfect (finished)" imply? I doubt anyone would interpret it to mean that breakfast had just eaten something. When learning isolating languages, you have to interpret meaning using all types of knowledge, both intra- and extra-linguistic.
Understanding Japanese by Exploring Southeast Asian Languages
─ Approximately how many languages exist in Southeast Asia?

Each country in Southeast Asia is ethnically heterogeneous and multilingual, so numerous minority languages also exist in addition to a country's national or official language. It is said that each country in mainland Southeast Asia has upwards of 50 minority languages; in its archipelagos, this number rises to more than 100 in the Philippines and over 500 in Indonesia. This multilingual climate, especially in island nations, has a profound impact on politics and culture. It is no wonder why national and official languages are specified in the constitutions of nearly all of the countries in Southeast Asia.
Regardless of their dominant or minority status, many Southeast Asian languages straddle national borders with speakers spread across multiple countries. I personally have an interest in minority languages; thus far, I have conducted investigations into languages such as Khang in Vietnam and Hmong (White Hmong or Miao) in Thailand and Laos.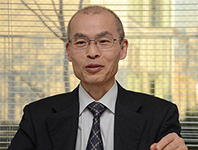 ─ How do you research so many different languages?

In my case, I start by analyzing and describing a major linguistic phenomenon in certain languages. What especially interest me are the similar phenomena seen across many languages. I analyze and describe each similar phenomenon while incorporating historical and geographical perspectives. At first, I apply this process to individual languages, and once I have gathered enough materials, I start my contrastive studies. This process is the premise for typological generalization.
When investigating, we have to consider each phenomenon from a variety of angles in order to find the answers as to why a similarity is seen widely throughout a certain area. If we consider the fact that East Asian languages have influenced each other in their development through interaction, a historical and geographical perspective becomes crucial to understanding them.


─ Can you tell us about the relationship between Japanese and Southeast Asian languages?

The differences between Japanese and Southeast Asian languages are pronounced, especially in pronunciation and notation, but there are also many similarities once you scratch the surface. Some of the Southeast Asian linguistic characteristics I brought up just a moment ago also apply to the Japanese language. The ability to drop subjects and objects, the various ways to address others, and the extension of kinship terms to non-kin persons may seem like phenomena unique to Japanese, but one look at neighboring Asian languages shows that is not the case.
In my experience, learning Southeast Asian languages has improved my understanding of Japanese. I feel that my perspective of Japanese has changed; conversely, I am now aware that my knowledge of Japanese has contributed to my understanding and analysis of Southeast Asian languages. I have also come to see idiosyncrasies of Japanese which I could never have realized through comparison with Western languages alone.
Learning a language with different morphology is an effective way to cultivate an unbiased view toward language. I would recommend learning Southeast Asian isolating languages, which morphologically differ but share certain commonalities with Japanese, in tandem with Western languages.
A Desire to Record Vanishing Minority Languages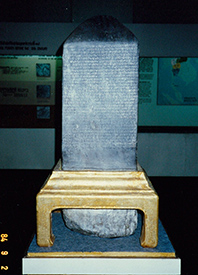 ─ What do you feel is most important today when researching Southeast Asian languages?

The amount of descriptive research on Southeast Asian languages is still insufficient. It is paramount that we expand both quantitative and qualitative research. First, we need to proceed with comparatively detailed descriptions of major languages and present them in a more generalized way.
At the same time, another urgent task is the exploration into minority languages which have yet to be researched. Many of these are already on the brink of extinction. This work is essential to explain the diversity and universality of human language, a key issue of linguistic research.
The Keio Institute of Cultural and Linguistic Studies has set up the "Southeast Asian Language Seminar" joint research project and has achieved results only possible through this joint research in order to advance the descriptive research of Southeast Asian languages.


─ Please tell us about your future research.

As this academic year (2012-2013) marks the Institute's 50th anniversary, the Keio Institute of Cultural and Linguistic Studies prides itself on being one of Keio's oldest research institutes. Currently, the Institute has full-time staff with specialties in linguistic theory, Southeast Asia, Islamic thought, and classical philology at the Institute. Over the years, the Institute has continued to maintain its high standards of research by inheriting the Institute's tradition of scholarship. The activities of the Institute are not limited to individual research but also include joint research with researchers from inside and outside the university.
I have been involved in Southeast Asian linguistic research in this environment since I became a research assistant in 1983. In the future, I plan to work on historical research in specific languages, such as that based on Thai inscriptions, in addition to the theme I have had since I first started my research: describing the general picture of isolating languages. My ultimate goal is to construct a framework which explains the characteristic phenomena of isolating languages in a way that is easy to understand.
*This article appeared in "Kenkyu Saizensen" (Jan. 15, 2013) of Keio University Japanese Website.