Keio High School Students Studying Abroad: Objectives and Outcomes
Scholarship Program Committee Members
Masahito Omori (Professor, Faculty of Law)
Kei Miyazaki (Teacher, Keio Senior High School)
In 2014, in addition to various international programs based mainly on the exchange programs, Keio launched a study abroad program for students across its affiliated schools at the high school level. Taking students' interests and requests into consideration, Keio University nominates candidates for the program, and the host schools make their selections. Those selected spend 10 months to a year studying at a prestigious boarding school in the US or UK. In the first year, four Keio students were selected for the program, and in the following year in 2015, there were five students. Scholarships are provided to cover the main study abroad costs, such as tuition and boarding fees, and students can generally advance without having to repeat a year of school after their return to Japan. Keio sent one third-year student to Phillips Academy Andover in the US, which joined the program in 2015, and the student is expecting to receive a diploma from the academy at the end of the study abroad period.

We asked two Scholarship Program Committee members about this study abroad program.
──I understand that you specialize in management control, which is a term most of us are unfamiliar with. What kind of field of study is it?

"This is a precious opportunity for Keio students to study and live with some of the brightest students who will one day grow into global leaders—at one of the most prestigious and established boarding schools, known as the 'Ten Schools' in the US and the 'Great Nine' public schools in the UK. We can also expect a kind of ripple effect where these students, when they return to Japan, inspire and stimulate their classmates. These boarding schools place importance on identifying and nurturing each individual student's strengths and talents. I believe this will allow our high school teachers to improve the quality of education via the students who have gone through this education system at the boarding schools. For example, American boarding schools have enhanced the quality of instruction through small class sizes, and by reducing the number of required subjects per week, each class is often more engaging and the content more advanced." (Masahito Omori)

"During the early years, Keio was a boarding school that Yukichi Fukuzawa established based on the British model. The university has since carried on this tradition, but we believe that experiencing an overseas education at boarding schools, where centuries-old traditions remain, will be extremely helpful for students to cultivate a global sensibility and intelligence, especially during their teens when they have the ability to easily absorb new languages and knowledge. When I visited the UK, I could see that each school took distinctive approaches. In one class called "Division," students were exposed to a wide range of knowledge across different subjects and were encouraged to think critically to draw their own conclusions. I believe this was a huge challenge for our students." (Kei Miyazaki)

──The first cohort of students must have already returned from their study abroad. How do you feel they have changed?

"They seem to have had experiences that were both hard and enjoyable, but from their countenances and expressions when they talked about the experiences, I realize that they have attained significant personal growth. Students who were rather shy before seem to be more confident and assertive, which I believe is thanks to their experiences abroad." (Kei Miyazaki)
What the Study Abroad Program Can Teach Students
Leon Mueller, Teacher, Keio Girls Senior High School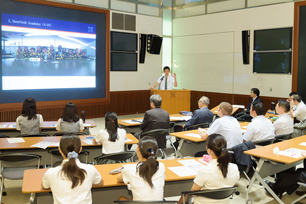 The Study Abroad program at Keio offers students an opportunity to not only develop their skills, but also showcase them. The students we send to these institutions abroad are academically elite and highly motivated. That combination allows them to flourish in a highly competitive and challenging environment.

Initially, I felt this program would be a great opportunity for students to improve their English ability, and though that opinion hasn't changed, I understand that it is merely a by-product and not the main focus. Bringing back new perspectives on education, culture, and friendships are the key attributes of this program. Our students also gain new maturity and a new sense of responsibility in their one year abroad.

In Mariko Uchida's case, she was able to reflect on her own background as a Japanese. Making friends with people from various countries allowed her to better understand the image of Japan abroad and the role it plays in the world. She also stressed to me that young people in America tend to take a stronger interest in local and world issues.

After one year abroad, Mariko is more open to meeting new people, and relishes the chance to discuss a variety of topics with them. She gained new insight into what it means to be a "global citizen" and all of the experiences she had will benefit her future.
An Encouragement of Studying Abroad
Mariko Uchida, third-year student, Keio Girls Senior High School,
Studied at The Taft School (USA)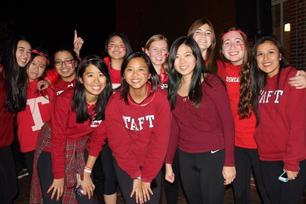 Studying at The Taft School in Connecticut transformed my mindset. I participated in Service Learning, a class structured around Taft's motto "Not to be served but to serve". The course consisted of three classes per week of classroom instruction and once a week of volunteering at a local kindergarten to provide literacy education.
Throughout the semester, I was able to build a trusting relationship with a girl called Elizabeth who had a behavioral disorder which affected her reading skills. On my final day Elizabeth's teacher said to me, "She smiled, because of you." These few words taught me the true meaning of service—that the smallest act of kindness could have an unimaginable impact on someone in need.

Studying abroad also helped me to break out of my shell. I let go of the limitations that I had placed upon myself and took part in a variety of activities that I may have never tried back in Japan, like joining Collegium Musicum, Taft's popular school choir, and the physically demanding crew team. Throughout these experiences, it was my friends that supported me. Making friends from other Asian countries especially helped me to overcome certain stereotypes based on nationality. Their friendliness taught me the importance of getting to know people for who they are instead of identifying them as belonging to certain categories. Just like how I learned the importance of helping someone in Service Learning, my friends helped me to gain a broader perspective on the world and its people. The classes, extracurricular activities, and the friendships at Taft—all of the things I gained from this past year are immeasurable.
After a Year in the UK
Aoi Muto, Third-year Student, Keio Shonan Fujisawa Senior High School
Studied at Shrewsbury School (UK)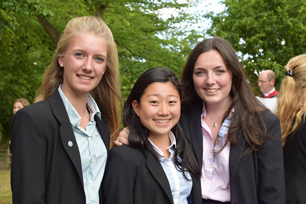 Shrewsbury School, where Charles Darwin also studied, was established in 1552. During the first few weeks of my study abroad, I was overwhelmed with the drastic change in the living environment and really missed my family and friends back home. But the unique nature of dorm life—supporting each other's ups and downs and enjoying the time together helped me to overcome my homesickness.

At school, I found myself always having to muster up the courage to do things like joining a friendship group of English girls to say hi, joining a chapel choir, taking on the DofE (The Duke of Edinburgh's Award*) challenge, trying lacrosse and horse riding for the first time, electing English literature for A level, discussing and researching international issues, which is not easy even for British students, and the list goes on. Thanks to these experiences, and because I don't want to waste opportunities that are offered to me, I feel confident that I can make, and act on, my own decisions. To take advantage of what I have gained during this year abroad, I want to continue taking on new and different challenges.

*The DofE is an award that recognizes non-academic activities.
*This article appeared in the 2016 Winter edition (No.289) of "Juku".