Study Abroad Opportunities at Keio University—How Study Abroad Programs have Changed Over the Years—
Update:December. 25, 2015
Yukichi Fukuzawa was a passionate advocate for introducing Western culture and knowledge to Japan during the final years of the feudal Edo period and the Meiji Restoration. Against this backdrop, Keio University has been pioneering international academic exchange since its establishment.
Beginning with the dispatch of faculty members overseas in the Meiji period, Keio established the International Center after the Second World War, and has since continued to enhance and improve its study abroad programs by expanding its partnerships with overseas institutions and introducing new initiatives such as double degree programs.
Establishment of the International Center in 1964 and 117 Student Exchange Partnership Agreements Worldwide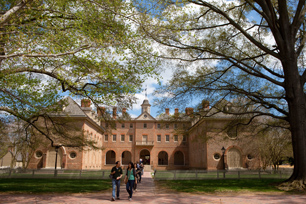 As is apparent in how Fukuzawa actively appointed overseas faculty for the university, Keio has longed opened its doors to the world from a time when Japanese people were not yet familiar with the idea of gaikokujin, or foreigners. In 1899, Keio established a faculty study abroad system, which was the first of its kind in Japanese private universities, and it was aimed to provide an opportunity for faculty to learn about the latest knowledge and culture of the West. Upon returning to Japan, these faculty members played central roles in the education and research at Keio University.

Among the various study abroad initiatives for Keio students, one worth particular mention is the Keio University Institute of International Relations' own exchange program, which was established at the invitation of a student organization at Stanford University in the US. Although the international affairs office (former International Center) of Keio had a part to play, this program was established by the institute before any other exchange programs were implemented by Keio University. The first Keio student was sent to Stanford University in 1956.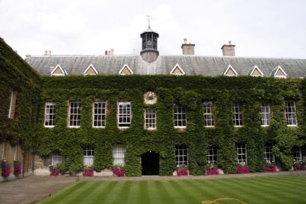 In 1964 the international affairs office was reorganized and expanded to the International Center, an administrative body whose function is to provide central coordination for Keio's international activities, and since its establishment, researcher exchange and programs that send researchers abroad increased at the university. The first student exchange program was between Winthrop University in the US (which was then a university for women but is now coeducational) in 1966. The first fully-fledged student exchange program started in 1972 with America's West Michigan University, a partnership that still continues until the present day. Following that, exchange programs with institutions around the world began to steadily increase, such as Georgetown University (1975), University of Maryland (1975), Dartmouth College (1976), The Chinese University of Hong Kong Chung Chi College (1976), and l'Université Sorbonne Nouvelle - Paris 3 in France (1978). In 2014, 161 students were sent abroad to study, and as of July 2015, the number of Keio's partner institution for student exchange is 117 (and the number of partner universities/institutions is 291) and counting.
Various Spring and Summer Short-term Study Abroad Programs and the Expansion of the Double Degree Programs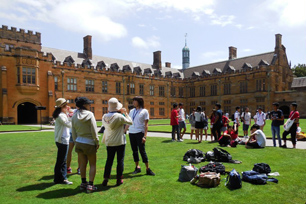 Exchange programs at Keio University are generally for one full year, but there are also short-term study abroad programs during the spring or summer holidays. The first such program was introduced in 1962 before the establishment of the International Center, for which a total of 90 students were sent to Stanford University and West Michigan for language training and taking lectures on American culture. This program continued until around 1968.

The summer program with the College of William & Mary (Est. 1693) started in 1990 and this year marks the 25th year. The program provides Keio students the opportunity to learn about American history, culture, and politics through discussions in English at this long-established and prestigious university. There are also summer programs with UK's University of Cambridge Downing College and University of Oxford Lincoln College, with which Keio has always enjoyed close ties, as well as spring programs at Science Po in France and Yonsei University in Korea.

The undergraduate faculties and graduate schools at Keio also organize short-term study abroad programs of their own. The Faculty and Graduate School of Science and Technology run a language training program (open to all undergraduate and graduate students) with Ecole Centrale de Nantes (ECN), among other programs and the School of Medicine offers a one-month short-term clinical clerkship program for fifth-year undergraduate students and around 30 students participate every year.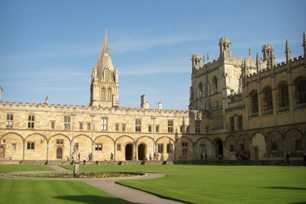 The Three-Campus Comparative East Asian Studies Program for second- and third-year undergraduate students began in 2008. Students participating in the program study at Keio University during the Fall Semester and then continue at Yonsei University in Korea and Hong Kong University during the Spring Semester. From the 2013 academic year, students from leading universities in Europe and North America such as Princeton University have started to partake in the program and the number is growing each year. The program has a very wide appeal as it gives students the opportunity to mingle and study with students from wider parts of the world.

Furthermore, Keio has continued to enhance its double degree programs in which students are awarded two degrees from both Keio and the partner institution through completing all curricular requirements at the overseas partner institution. Double degree programs, which started in 2005 at the Faculty and Graduate School of Science and Technology, awards students with a degree equivalent to a Master of Engineering (students can earn a Master of Science or a Master of Science in Engineering degree at Keio University) at partner institutions including institutions belonging to the Ecole Centrale Group, Lund University in Sweden, and RWTH Aachen University in Germany. There are other programs at seven of Keio's graduate schools, including the Graduate Schools of Letters, Economics, and Business and Commerce, in which students can obtain a master's degree at overseas institutions. At the Faculty of Economics, a double degree program with Science Po was launched in 2012 for undergraduate students.

Keio University will continue to provide high quality and content-rich study abroad opportunities, including exchange programs, to all Keio students.
*This article appeared in the 2015 Autumn edition (No.288) of "Juku".