Celebrating the 125th Year since the Establishment of the First University Departments
-Keio University Vice-President Akira Haseyama
Update: November 30, 2015
This year marks the 125th year since the establishment of the first university departments at Keio University. It was in 1890 that Yukichi Fukuzawa made a request to then-President of Harvard, Charles Eliot, who nominated professors William S. Liscomb, Garret Droppers, and John H. Wigmore to head Keio's first three university departments of literature, economics, and law.

This was the beginning of a fully-fledged higher education system at Keio University, but even from before then, Keio has always placed importance on liberal arts education that integrated the arts and sciences. This tradition has been upheld to this day and is exemplified by the various initiatives at the university. For instance, the Program for Leading Graduate Schools, which is a five-year master's and doctoral course under a special curriculum that merges the arts and sciences, aims to develop doctorate holders equipped with both breadth and depth of expertise.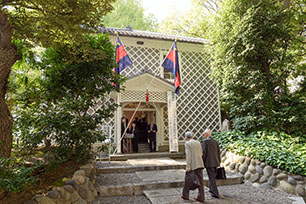 Recently, the Ministry of Education, Science, Sports and Technology called for the reorganization and consolidation of the humanities and social sciences departments. However, liberal arts education is essential to impart the creative thinking needed in a global world. The Fujiwara Institute of Technology, the predecessor of Keio's Faculty of Science and Technology, was established in 1939 by Keio alumnus and founder of Oji Seishi K.K. (Oji Paper Company), Ginjiro Fujiwara, with money invested from his own personal funds. The then-President of Keio University Shinzo Koizumi also served as the president of the institute, and Toyotaro Tanimura, a professor of the Tokyo Imperial University (former University of Tokyo) and Vice-Admiral Ordnance of the Japanese Navy, was appointed the first dean. There is a famous dialogue in which Fujiwara requests Tanimura to develop individuals who will be "immediately useful" to society, to which Tanimura responds, "A useful person now will also become useless right away." In the opening ceremony of the institute, Koizumi emphasized that the development of technical education without integrating the social sciences could have negative, even detrimental, consequences. At Dean Tanimura's installation ceremony, Tanimura stated that as a huge structure requires the construction of a large foundation to support it, one must also study the humanities in order to become a great technician.
Tanimura was a military man and public official, a product of Tokyo Imperial University. Koizumi, on the other hand, spent his childhood under the care of Fukuzawa Yukichi and would remain in private life rather than hold a government post. I find it intriguing that these two men should share such similar views on education despite their very different backgrounds.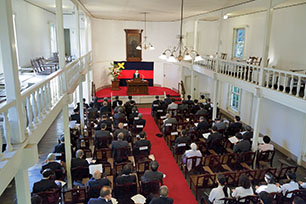 In 1943, the Tojo Administration conducted a large-scale mobilization of students, and while science and technological universities and specialized schools were expanded, the humanities and social science programs were greatly reduced. Only eight years prior to that, Wigmore had returned to Japan and delivered a lecture titled, "Keio University—the University of Independence " on top of the hill of Mita. He stressed that when Yukichi Fukuzawa established Keio, he intended the school to be completely free and independent from government interference. However, not long after that, Japan entered an era where government control began to weigh heavily even upon Keio University.

As we look back at the history of Keio University, we pay tribute to our predecessors, who fought hard against the political tides of the time, established the Fujiwara Institute of Technology, while upholding the educational principles of Keio University. This is the spirit of Keio University that we endeavor to carry forward into the future.
*This article appeared in the 2015 Autumn edition (No.288) of "Juku".