Portrait (5) Yoshinori Muto, Professional soccer player (for the J-League team, F.C. Tokyo) & Fourth-year student, Faculty of Economics
Yoshinori Muto, Professional soccer player (for the J-League team, F.C. Tokyo) & Fourth-year student, Faculty of Economics
Signed a professional contract while at university and aims to represent Japan at the 2018 FIFA World Cup in Russia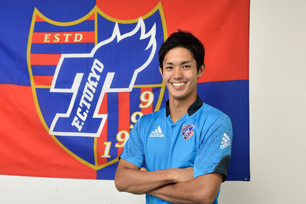 Yoshinori's first encounter with soccer was while he was still in kindergarten. He played for the F.C. Tokyo U-15 Fukagawa and U-18 squads, and when he graduated from Keio Senior High School, he was offered a professional contract at F.C. Tokyo. However, he proceeded to the Keio University Faculty of Economics, and became a leading member of the Athletic League soccer team. "By having heart-to-heart discussions with my Keio club teammates, I feel I have become more open-minded." In April 2014, Yoshinori signed with F.C. Tokyo and became a professional player in the J. League Division 1. Running 50 meters in 6 seconds flat, his advantages are his foot speed and dribbling ability. His steady stream of goals in the league games come mostly as a right-side attacker. "What's important is your mindset," he says. "Rather than just feeding safe passes, the mental strength to hungrily chase goals will open up a path to the world." His short-term goal is to score ten goals in the league games. Long-term, he aims to play for Japan in the 2018 FIFA World Cup in Russia.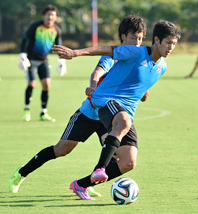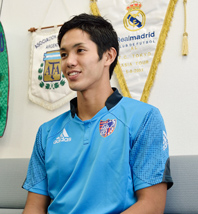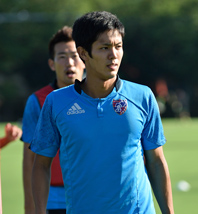 *This article appeared in the 2014 autumn edition (No.284) of "Juku".
*The facts are those at the time of publishing.