Keio University and Latin America –Welcome to Fascinating Latin America (2)
Nature is the Protagonist and Are We Just an Afterthought?
Learning Latin America's Fascinating Customs Transformed My Sense of Values
Yuko Honya, Associate Professor at the Faculty of Law

Needless to say, Keio University, where Area Studies is a field of intensive research, offers classes focused on Latin America. In this installment we talked to Associate Professor Yuko Honya from the Faculty of Law who supervises Area Studies on Culture I - Traveling in Latin America and Area Studies on Culture II - The Charm of Hispanic Countries: Overwhelmed but Gratifying, and Now Completely Captivated.
Faculty Members of Latin American Studies Reveal Their Research Methods: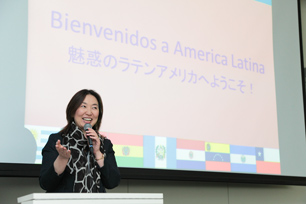 Associate Professor, Yuko Honya, who specializes in Guatemalan culture, supervises courses on Area Studies on Culture I and II offered by the Faculty of Law at Hiyoshi Campus this academic year. The classes draw in not only Faculty of Law students but also many from outside the faculty.

"In the course Traveling in Latin America held last semester, I introduced the charm and allure of Latin American societies and of the communities that are not so well known compared to those of Europe, North America, and Asia. In Latin America, there are 33 sovereign countries as well as 20 or so non-sovereign territories including dependent territories and integral territories of states outside South America. The official language is mainly Spanish, but Portuguese is predominant in Brazil, and English and French are also spoken as the main language in some countries. The region has an endless appeal with rich and diverse cultures and communities that blend indigenous and European influences."

The omnibus course, Area Studies on Culture II: Overwhelmed but Gratifying, and Now Completely Captivated, held in the second semester is organized by Associate Professor Yuko Honya and brings in Latin American experts as guest speakers from within and outside the university. These specialists talk about their research fields and the charm of Latin America with passion and profound knowledge, as the title of the course suggests.

"In my case, I study the traditional garments of Mayan women living in the Guatemalan highlands from the perspective of cultural anthropology. The invited lecturers come from various fields of expertise—from politics, law to religion—and talk about Latin America from their unique vantage points. They each talk openly about how they first became interested in the field, and how they have developed their research, so I believe the students are able to realize and learn that there are many methods and approaches to research." She continued, "Every lecturer has ended up becoming 'captivated' by Latin America, so I can guarantee you that there are some very interesting stories that are told in the classes," with a laugh.
Harmony Between Nature and Man Brings Happiness into Life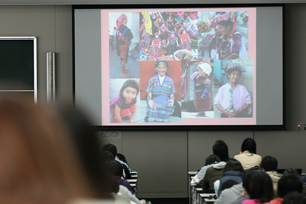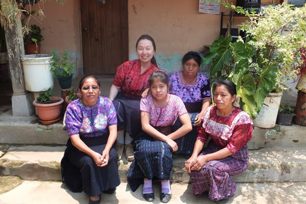 The Keio Center for Area Studies was founded in 1984 as part of the project commemorating the 125th anniversary of the founding of Keio University, and since then has generated more active research in the field at Keio. The center was reorganized as the Keio Institute of East Asian Studies (KIEAS) in 2003, but it has continued its research on regions outside East Asia.

Keio supported Latin American Studies which was a relatively new research field at Keio, by providing the excellent study environment established through the knowledge and expertise Keio University has accumulated in Area Studies. Especially at the Faculty of Law, the teaching staff at the Mita Campus have worked in close coordination and cooperation with those at the Hiyoshi Campus. In addition to taking Spanish classes and Area Studies on Culture courses, third and fourth year students can take the Societies and Cultures in Hispanic Countries among the Humanities Seminars, and are able to receive a sub-major certificate if they submit a final thesis.

Keio University's commitment to research and education in order to enrich the offerings to their students, as well as nurturing many brilliant researchers in the field of Latin America, has drawn attention at academic conferences and from other universities.

Associate Professor Yuko Honya, who is one of them, says that the harmony between the grandiosity of nature and the people leading idyllic and happiness-filled lives is what makes Latin America so fascinating.

"Up till around twenty years ago, the general impression that Japanese, including myself, had towards Latin America was negative—a politically and economically unstable and dangerous place. However, if you actually visit, you realize that your impression was misguided. People there, most of whom are considered as living below the poverty line, are all enjoying life. Trying to understand why they are so happy was the very reason that made me so 'captivated' by the region. After many field trips, I realized that the people were living in harmony with nature--the fierce sun and the grandiosity of nature—and not trying to go against it. It seemed as though nature is the protagonist, and human beings were just thrown into it. The indigenous people, the European people who once governed the region, and the racially-mixed population that arose later all live openly and happily in nature."

To learn from the people of Latin America may be a way to develop a different set of values and perspectives new to that of Japan and the West.
---

(Introduction to Latin American Research) Keio University Press (3,500 yen excluding tax)
Fourteen Keio faculty members talk about their personal encounter with Latin America and how they became drawn to the region.

---
*This article appeared in the 2014 summer edition (No.283) of "Juku".
Keio University and Latin America –Welcome to Fascinating Latin America (3) is scheduled to be updated around November 4