Keio University's Program for Leading Graduate Schools (1)
The annual number of people finishing a doctoral course in Japan has been hovering at around 16,000 for the last five years. Doctoral graduates have contributed to society by showing a high degree of professionalism in their fields.

However, due to the recent rapid globalization and advancement of informatization, social issues have become more complex and diversified. Issues related to the environment, energy resources and aging societies are deeply intertwined both on a global and domestic scale. Against this backdrop, future doctoral graduates will be required to play important roles beyond their expertise.

In order to respond to such demands, the Program for Leading Graduate Schools was launched, led by the Ministry of Education, Culture, Sports, Science and Technology, in order to nurture leaders who can take active roles on a global scale with a broad perspective and creative outlook. In the first year (fiscal year of 2011), 21 programs from 13 universities were accepted out of 101 applications by 63 universities. Two of the successful applications were by Keio University, and thus the Science for the Development of a Super Mature Society (started in the school year of 2012) and Global Environmental System Leaders Program (started in the school year of 2013) have been implemented.

Through distinctive programs that include integration of arts and sciences, international training and employing students as Research Assistants (RA) in paid positions, we support willing graduate students who are aiming to contribute to society with problem-solving skills.
Program for Leading Graduate Schools (PLGS) in its third year
Prof. Toshiaki Makabe, Vice President (Research)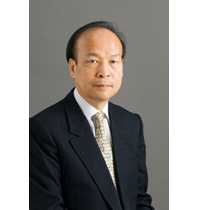 Education is our nation's long-term policy, and its system has developed over time. At Keio University, counseling for students started in 1956 at the Mita Campus, and the Teaching Assistant (TA) System started in 1968 at the former Faculty of Engineering targeting higher educational achievement. In 2002, graduate students were employed for the first time as research assistants, and the Research Assistant (RA) System was launched utilizing an external fund in order to provide financial and career-development support. Today, there is a lot of discussion on mentoring and internships as measures to connect undergraduate and graduate students smoothly with the real world.

As the advanced information society accelerates globalization, it is surprising that it is not well known in Japan that in international organizations and in U.S. and Europe-based businesses, doctoral graduates involved in working-level negotiations display their competency with advanced linguistic skills. Japan, with fewer doctoral graduates, cannot join this group, and this is why we often miss the opportunity to take international initiatives or lose business opportunities. Today, as we enter an era of a highly aged super mature society, in order for Japan to become part of the world standard and to compete evenly, we need to nurture well-rounded doctoral graduates as assets to a new frontier who can play active roles in various fields including international corporations, international organizations and governments, and promote them to key positions. At Keio University's PLGS "Science for the Development of a Super Mature Society", we are cultivating such competent doctoral graduates.

After entering one of the 13 graduate schools, students who were selected as RAs receive financial support during five years of study, including the master's and doctoral program, under a special curriculum that integrates the arts and sciences where English is the official language. The space dedicated for the program is the Hiyoshi Campus West Annex, which serves as the RAs' waterhole, as academic supervisors and mentors in senior management positions of top industries gather here. Members of the inaugural class who have obtained their first major master's degree have now entered their second major master's program, and are working hard to obtain a joint degree in one year based on the concept of integrated education of arts and sciences. In April, new students joined the program in addition to the nine students who joined in the first year and ten in the second year, resulting in the expansion of the organization. RAs have already expanded their activities abroad, gaining experience on internships at international corporations and an international organization (OECD), or participating in research at an international partner university, and they are boldly working towards developing their postdoctoral careers.

Finally, Keio University is pleased to report that the Global Environmental System Leaders Program, based on coordination between the Graduate School of Media and Governance and the Graduate School of Science and Technology, is in its second year. We appreciate all the support and attention of Keio graduates and students for the advancement of the Program for Leading Graduate Schools.
*This article appeared in the 2014 spring edition (No.282) of "Juku".