The Architecture of Keio University (1)
 Keio University possesses numerous buildings of historical value, the most famous of which may be its Mita Public Speaking Hall (Mita Enzetsu-kan) completed in 1875. Some buildings are architectural legacies which have withstood the tribulations of the Great Kanto Earthquake and the Tokyo air raids of the Second World War, while others are state of the art, equipped with modern designs and functions suited to meet the demands of the 21st century.
 In this series, we revisit Keio's numerous architectural works and the designs of architects who stand out in Keio's history from the Meiji period to the present, among them Tatsuzo Sone and Seiichiro Chujo, father and son Yoshiro and Yoshio Taniguchi, and Pritzker Prize-winner Fumihiko Maki. Our first installment focuses on two architects who helped modernize Japan—Tatsuzo Sone and Seiichiro Chujo.
I Architecure by Tatsuzo Sone and Seiichiro Chujo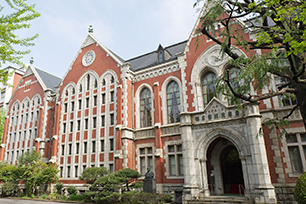 The Old University Library on Mita Campus was built in 1912 to commemorate the 50th anniversary of Keio's founding. Its elegant neo-gothic appearance was the product of a design by Sone Chujo Architecural Office, formed jointly by architects Tatsuzo Sone and Seiichiro Chujo. Sone studied directly under Josiah Conder, a foreign architect hired by the Meiji government in Japan's initial modernization efforts and designer of some of Tokyo's most distinguishing landmarks. After becoming an employee at Mitsubishi, Sone cooperated with Conder to create Tokyo's foremost business district in Marunouchi and the red-brick avenue of buildings that would come to characterize it. Sone only began his work on Keio University's architecture after leaving Mitsubishi to found an architectural firm with the younger Seiichiro Chujo.

Still today, Keio's Old University Library remains one of their firm's most well-known works and has been designated as an important cultural property of Japan. Sone assigned its ornate wall clock to the library exterior to strike a stylistic balance with the octagonal tower at the right end of the building. Although the library escaped largely unscathed during the 1923 Great Kanto Earthquake, all but its outer facade burnt to the ground in the 1945 fire-bombing of Tokyo. Restorations were completed four years later.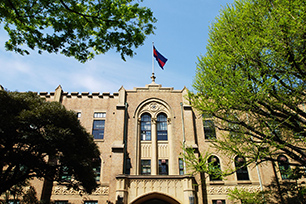 Completed in 1926, the Keio Corporate Administration (Jukukan-kyoku) was also the work of Sone and Chujo. Its beige exterior may seem plain when compared to its red-brick neighbor, but the Jukukan-kyoku possesses a certain solemnity, standing dignified in its treed surroundings for nearly a century.
The First School Building, which Sone and Chujo completed in 1937, stands close by, in the center of Mita Campus and just north of the giant ginkgo in the Mita Quad. It has served as Mita's main building for classes for over 70 years.

Between the Meiji period and the outbreak of World War II, most of Keio University's buildings were designed by Sone and Chujo, who also built the Grand Lecture Hall (Daikōdō), which was built in 1915 but lost to fire in 1945, and Shinanomachi Campus's Building for Preventive Medicine and Public Health (1929) and the Hospital Annex, which was built in 1932 but has been replaced in recent years by the modern facilities of Shinanomachi's Building 3. It could be said that these two individuals crafted the distinct architectural atmosphere indicative of Keio's long history.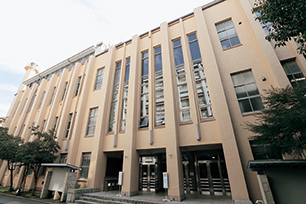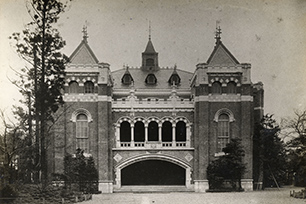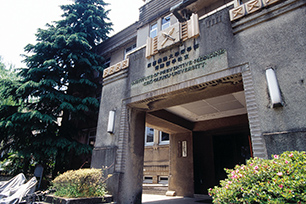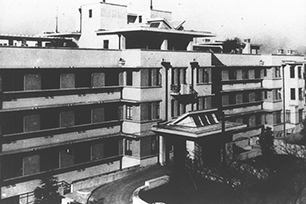 *This article appeared in the 2014 winter edition (No.281) of "Juku".
*Photos courtesy of Fukuzawa Memorial Center for Modern Japanese Studies.