The Origins & History of the Iji-kai
Keio University lost a central figure on February 3, 1901, the day that Yukichi Fukuzawa passed away.
Amid the deep sorrow and loss, the Keio Gijuku Iji-kai was born. Formed by shachu—individuals involved in the Keio community—who wished to support Keio after Fukuzawa's passing, the Iji-kai allowed anyone to join and support Keio according to their means.
Shachu work together to save Keio in crisis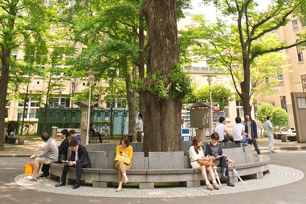 First opened as a small private school in 1858 inside the residence of the Okudaira family of the Nakatsu Domain, Keio Gijuku took a leap forward in 1868, modeling itself after the British public school system just ten years after its founding. Since then, Keio has been the recipient of benevolence from both members and nonmembers alike, with donations constituting an important pillar of support for the institution.

The first organizational fund-raising efforts at Keio began in 1880, with a call for donations to keep the school afloat. Keio had experienced a sharp decrease in the number of incoming students due to an impoverished samurai class after chitsuroku-shobun, a measure which abolished hereditary stipends to the former samurai caste, and the fact that government scholarships were restricted to national universities. An already dire financial situation was exacerbated by inflation, which caused a rise in operating costs. Yukichi Fukuzawa petitioned for support from the government and influential figures of the day but to no avail. Neither voluntary pay cuts nor Fukuzawa's own personal donations did much to ameliorate the difficult financial circumstances. Left with no alternative, Fukuzawa was finally compelled to close the school he had built. However, his idea was met with opposition by shachu, who attempted to shore up the school's finances through donations. A donation system, dubbed the "Keio Gijuku Iji-kai Measure," was the fruit of their efforts, under which Keio was able to collect the 70,000 yen needed to maintain school functions. Their concerted efforts succeeded in saving the school from the brink of closure.

Keio continued to carry out fund-raising activities, raising capital in 1889 to establish Keio as a university the following year and gathering funds to maintain and expand the university in times of economic downturn.
The Iji-kai Inherits Fukuzawa's Wishes
Fukuzawa had been battling illness when he passed away in February 1901, a time when Keio's university system was just beginning to take shape. Discussions in the wake of Fukuzawa's death led to the decision that a new donation system called the Iji-kai was to be founded to support Keio's future finances. This is the origin of today's Iji-kai. The shachu's profound determination for Keio's continuation and further development is visible in the prospectus presented upon its launch the following March:
Should Keio Gijuku be laid to rest with our teacher Fukuzawa? Nay, we could not bear leaving it. We shall maintain and expand the school which our teacher Fukuzawa endured many hardships to manage, believing this to be befitting to his will.
Long-term support & strong Keio ties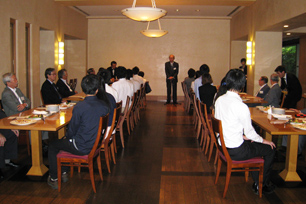 Just over a hundred years after its founding, the Iji-kai is now approximately 45,000 strong with 3.2 billion yen in funding. One characteristic of the Iji-kai is that members each make a donation of one share of 10,000 yen every year and contribute additionally according to their ability over the long term. If fund raising for special occasions such as anniversary projects is compared to symptomatic treatment needed for an immediate purpose, the Iji-kai's fund raising more closely resembles herbal medicine, whose effects are felt slowly over a long period of time.

The main activities of the Iji-kai center on supporting Keio's educational and research environments, and specifically include improving campus facilities, facilitating research, and aiding international exchange. It especially focuses on monetary support provided through the Iji-kai Scholarship. The Iji-kai awarded 90 students with 52.5 million yen in scholarship money this year alone. Over the years, the Iji-kai has provided 443 students with 232.4 million yen in scholarships. One first-year student receiving the scholarship expressed feelings of gratitude in a letter to the Iji-kai: "It feels like Keio alumni and Iji-kai members have accepted me as a member of Keio and are encouraging me to keep trying my hardest."

Over the past few years, the Iji-kai has also donated to a special scholarship for Keio students affected by the Great East Japan Earthquake. But the Iji-kai's support may be most visible to students in its maintenance and improvement of campus facilities. From outdoor tables and benches to security cameras and outdoor lighting, the organization helps make student life both safe and comfortable. Even the stone benches encircling the giant ginkgo in the Mita Campus Quad, a popular meeting for students, were contributed by the Iji-kai.
*This article appeared in the 2014 winter edition (No.281) of "Juku".