All You Need to Know About Internships (2)
Report 1

"Dialogue with Society: Short-term Internship Module" at the Faculty of Business and Commerce
Second-year students experience a "dialogue with society"

The Faculty of Business and Commerce's "Short-term Internship Module" takes students through three stages: preliminary research in spring semester, an internship in the summer vacation, and a follow-up report compiled in the fall semester. Let's take a look at how this thorough approach ensures that students get the most out of their internship experience.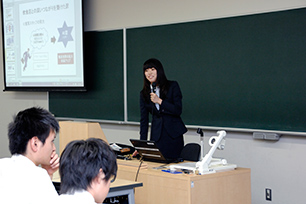 It's Tuesday, July 16, and in a classroom at Hiyoshi Campus, the Faculty of Business and Commerce's "Dialogue with Society: Short-term Internship Module" is well underway. Students have come to class in their business attire in preparation for their fast-approaching internships and there is a buzz of nervous excitement in the room.

Tightly gripping the microphone at a podium in front of her class, second-year undergraduate Yoshino Masuda presents her preliminary research. Her host company operates a portal site and provides consultancy services for restaurants.

Masuda comes to the end of her presentation: "...based on my research, I conclude that for further growth the company should increase the number of new clients signing up to its services and aim to acquire more high-profit promotional consultant contracts." As soon as she finishes, her classmates jump in with comments and questions: "Your analysis was clear and easy to follow, but perhaps if you could have explained more about the know-how that consultants are expected to have..."
Lively exchanges of opinions with fellow students and guidance from her academic supervisor help Masuda to perfect her report.

Now in its fifteenth year, this module was first introduced by the Faculty of Business and Commerce in 1999 when internships were still a relatively new concept in Japan. "Business and commerce is one of the academic fields that is most open to society. Focused on experiences outside of the classroom, this module reflects the nature of business and commerce and the integral connection it entails between academic study and everyday society. The course allows second-year students to gain work experience early in their time at university. In addition to being able to use their experiences in their studies from their third year onwards, this experience is useful in forming student views of employment at an early stage, clarifying their sense of purpose and helping them realize what it actually means to work." says Dr. Reiko Ooya, a professor at the Faculty of Business and Commerce.
A wide variety of host organizations, from small local businesses to non-profit organizations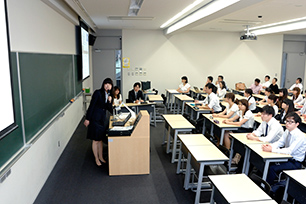 The internship itself is around two to three weeks of students' summer vacation, but the pre-internship preparation and post-internship follow-up report are of equal, if not greater, importance.

In around February to March, before the business and academic year begin in April, the six faculty members supervising the module arrange enough internship placements for 30 students and confirm the content of each internship. The host organizations are widely varied and include not only companies within the greater Tokyo area but also organizations that students might not initially think of themselves, such as small and medium companies, regional government offices, and non-governmental and non-profit organizations. In April, a guidance session is held and students are matched to their host companies. Students then use the three-month period from May to July for preparation, researching and compiling a report on their host companies.

"We encourage the students to carry out research in as much depth as possible by teaching them how to locate relevant research material at the media centers (university libraries) and how to utilize databases. As students start to form a clearer picture of the company and its current performance through their research on its history, business content, financial position, and market competition, they begin to consider such issues as how the company can increase its profits. By presenting their ideas and refining them through discussion with classmates, the students eventually produce a report that they are confident to present to their host company. This stage of the module naturally improves students' information literacy," states Associate Professor Yukako Ono.

The host companies invest a great deal of resources into receiving the students. In turn, the students need to make adequate preparation in order for the internships to be worthwhile. At the host companies, the students experience the day-to-day operations of the company while also working on their research topic. In the fall semester following their internship, the students put together their final report and prepare for their final presentation session.

"In December, we hold a final presentation session and an informal gathering for representatives of the host companies. We are always surprised to see how much the students have matured over such a short time, which is evident from not only their reports but also their sincere words of thanks to their hosts," says Associate Professor So Matsuura. "This may be a rather rough way to put it, but we see just how important it is to chuck the students out into the real world and give them a taste of working life."

These work and business experiences through internships are the essence of "dialogue with society." The fact that the students can then apply their experiences in their studies during their third and fourth years is what makes this course so worthwhile.
Students' Voices
While you may still be a student, you must be aware that during your internship you are a member of your host company or organization. You need to behave appropriately, following the "I did my internship at the Ota City Support Center for Persons with Disabilities. I would never have been able to experience an internship at this kind of organization if I hadn't taken this course."
"I took this course because I wanted to have the opportunity to witness and investigate Japan's tradition for high quality manufacturing. I am doing my internship at the Kobe factory of a manufacturer that makes transmission belts and other related equipment."
"A really great thing about this course is that you learn tips for writing reports and how to use Powerpoint. I chose this module because I decided I was up for a challenge in my second year."
"The feedback we get back from our classmates on reports and presentations is really helpful as input from people of the same age. I'm also really glad to receive guidance on presentations from older students. Students get on well across the year groups."


*This article appeared in the 2013 autumn edition (No.280) of "Juku".
*Position titles, etc., are those at the time of publishing.