All You Need to Know About Internships (1)
Internships and practical training are a unique opportunity for students to experience for themselves how their field of study is applied in the "real world" and what the world of work involves.

There is no doubt that many Keio students took advantage of their long summer vacation to participate in internship programs in industries or at particular companies of interest to them.

A clear sense of purpose is the first step to making these internships a chance to learn and develop one's knowledge and skills.
Introduction
What is an internship?
Self-improvement through work experience
Internships are growing in popularity against the backdrop of an increasingly competitive market for employment in recent years. Statistics show that around 20% of students nationwide have taken part in an internship. In contrast, almost 40% of Keio students have experienced some kind of internship program.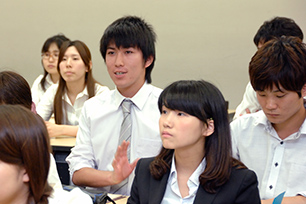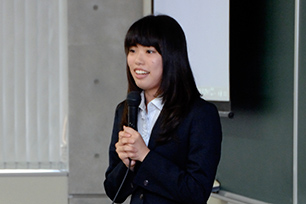 An internship is essentially a program that allows students to gain work experience at a company or organization related to their academic major or desired future career while still in university. Students voluntarily apply to and participate in these programs with the aim of improving their understanding of their current field of study and gaining knowledge of their desired industry and exposure to some of the basic skills required in the world of work. For example, a Keio student with an interest in marketing might choose to experience working alongside employees in the marketing department of a company, while a student inspired to learn more about public policy might choose an internship at a government or municipal office. These experiences allow them to appreciate the issues that arise in the practical application of the theories that they learn in lectures. This may in turn renew these students' determination to seek employment at a company with strong marketing strategies or to join the civil service.
Internships come in all shapes and sizes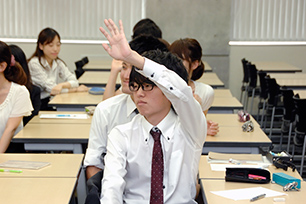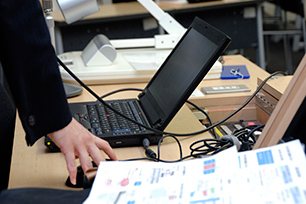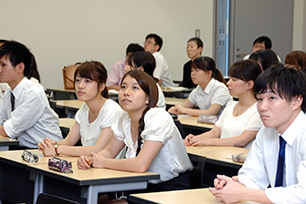 At Keio, around 40% of students take part in some kind of internship before they graduate. This reflects the strong awareness among Keio students of the need to acquire knowledge and practical experience of their field of study and industry of choice. In late May this year, around 600 students participated in an information session on internships held by the Office of Student Services. The overwhelming majority of these students chose to participate in internships in their third year, and most of those who did are generally satisfied with their experience.

The most common way of finding an internship is by contacting the company or organization of choice directly. Students refer to internship information on company websites or from the university and then contact the company themselves. There are also internships at organizations such as public offices, local government offices, and certain independent administrative institutions that can be applied for through the university, as well as programs for which students receive credits towards their degree requirements.

Most of these programs last at least three days and less than two weeks. However, internship programs that give students a practical experience of work by allowing them to take on work duties or contribute to projects alongside other employees must last for at least five days. In recent years, there are an increasing number of internships that consist of group work to try to devise ideas to solve the host company's issues or improve their strategies, as opposed to participating in the day-to-day operations of the company. There are also many half-day and one-day internships, which generally involve tours of places of business and talks by current employees, and tend to be closer to an information session than practical work experience.
Internships should not be confused with job-hunting
Nowadays, there is a tendency among students to think that they have to do an internship. However, rather than becoming too fixated on simply doing an internship, it is important to have a clear sense of purpose and carefully consider whether what the internship actually involves is suited to that purpose and what you wish to learn. Moreover, internships must be considered separate to job hunting activities. Some students may throw themselves into an internship because they think that it will give them an advantage when job-hunting, but they actually risk wasting precious time during their summer vacation better spent on academic studies and extracurricular activities.

Particularly in the case of internships that provide work experience, just as a large commitment is required of the host company or organization, there are a large number of applicants for a limited number of places. There is no need for students to become frantic with disappointment just because they are not selected for an internship program. Regardless of whether or not they have work experience, students who put their all into their academic studies and extracurricular activities will surely have no problem finding work.
Things to keep in mind when considering an internship
While you may still be a student, you must be aware that during your internship you are a member of your host company or organization. You need to behave appropriately, following the same code of manners and rules as other employees. It goes without saying that being late or not turning up to work is out of the question. It is also essential that you adhere to the confidentiality obligations regarding information that you learn on company premises or through your work.

You should always take out insurance that includes internship insurance and liability insurance. It is not unthinkable that you might be expected to reimburse your host company if you damage or break equipment or items belonging to your host due to carelessness.

You need to take special care when you participate in an internship abroad. Make careful preparations by collecting information in advance from a variety of sources such as the Ministry of Foreign Affairs website and by staying in close contact with your internship host. Before going abroad, you should also consult with the section in charge of student life services in the Office of Student Services on your campus about any documentation that needs to be submitted to the university.


*This article appeared in the 2013 autumn edition (No.280) of "Juku".
*Position titles, etc., are those at the time of publishing.