Commemorative Occasions at Keio University
Commemorative occasions at Keio University do not end with Keio Foundation Day on April 23. A number of commemorative days surrounding Yukichi Fukuzawa's life have been inherited as Keio's traditions. Here we introduce the origins and events related to each.
Keio Foundation Day (April 23)
April 23 was designated as Keio's Foundation Day in 1909, just over fifty years after its establishment. The following is an excerpt from the Keio Gijuku Gakuho published in May of the same year:

Keio University moved from Shiba Shinsenza to its current location in Mita 2-chome on April 23 (the twenty-third day of the third month according to the Tenpo calendar) in the fourth year of Meiji (1871), so from this year forth Keio University will celebrate Keio Foundation Day on this day. The school will be closed in celebration and various festive events held. The Kishukusha Memorial, traditionally held each September, will also be celebrated on the same day.

However, a renewed look at the dates above has revealed doubts of their accuracy. Firstly, according to the Tenpo calendar, the twenty-third day of the third month of the fourth year of Meiji accurately corresponds to May 12, 1871, in the solar calendar, not April 23.
Secondly, a lack of historical records concerning the exact date of Keio's move to Mita makes it problematic to ascertain the correct dates. According to the diary of Heigoro Shoda, a portion of the move began on January 16, 1871, with the whole university relocating to Mita on March 16. Even in Keio Gijuku Gojunenshi (Fifty Years of Keio Gijuku), the author states, "The school's move from Shinsenza to the hill of Mita completed on the sixteenth day of the third month of the fourth year of Meiji." To this extent, it seems that the sixteenth day of the third month seems the appropriate date of Keio's move, so why was the twenty-third chosen?

No matter the reason, some believe that this carefree and liberal approach is especially typical of the Keio spirit. In any case, this holiday provides an opportunity to reflect on Keio's origins and those who pioneered its founding.
Yukichi Fukuzawa-Francis Wayland Lecture Day (May 15)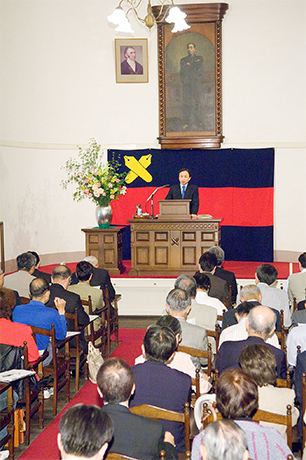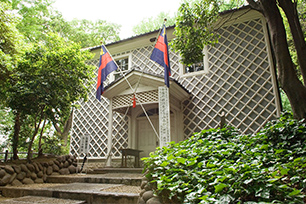 After he relocated the school from Tsukiji Teppozu to Shiba Shinsenza in the fourth year of Keio (1868), Yukichi Fukuzawa renamed his school Keio Gijuku, or "Keio School," after the name of the Japanese era. With initiatives such as a new educational declaration entitled Keio Gijuku no Ki (Notes on Keio Gijuku), the school was brimming with fresh enthusiasm.
 
Meanwhile, the Boshin War was raging just outside its gates, and on May 15, 1868, Edo (now Tokyo) was in chaos amid the Battle of Ueno, a clash between the Emperor's forces and the Shogun-loyal Shogitai. According to Fukuzawa in his autobiography, "All theaters and restaurants and places of amusement were closed, and everything was in such a topsy-turvy condition that the whole city of 'Eight Hundred and Eight Streets' seemed in utter desolation."

Amid the confusion, Yukichi Fukuzawa remained unperturbed and continued to give his routine Saturday lecture from a text on economics by Francis Wayland. Fukuzawa is reported to have encouraged students saying that no matter what battles rage outside, learning will continue as long as Keio stands.

In 1956, Keio University established the Yukichi Fukuzawa-Francis Wayland Lecture Day to form a Keio tradition in accordance with Fukuzawa's spirit of esteeming academic learning above all else. To this day, a commemorative lecture is held in the Mita Public Speaking Hall "Mita Enzetsu-kan" each year.
Anniversary of Yukichi Fukuzawa's Birthday (January 10)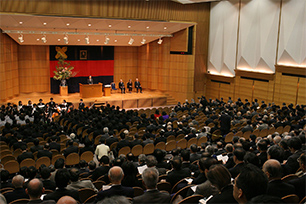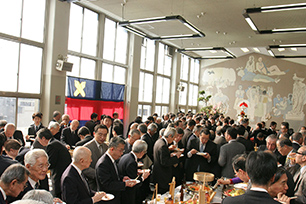 The anniversary of Keio founder Yukichi Fukuzawa's birthday, held on the 10th of January each year, is a big event of the New Year at Keio.
 
Each year classes are canceled on January 10, and many members of the Keio community--students, alumni, faculty, and staff alike--gather on Mita Campus to celebrate Yukichi Fukuzawa's birthday together with members of the Fukuzawa family. On the day, students of Keio Yochisha Elementary School begin the day's events by singing Fukuzawa Yukichi Koko ni Ari (Here Stands Yukichi Fukuzawa) in chorus. After New Year's greetings from the President of Keio University, a memorial lecture is held. Each year, a gathering known as the "New Year's Name Card Exchange" (Shin'nen Meishi Kokankai) is held after the main ceremony at a separate venue. Although from the name one might imagine a formal occasion, it is a lively gathering for friends of Keio, old and new, to exchange New Year's greetings.
 
Yukichi Fukuzawa was born on the twelfth day of the twelfth month in the fifth year of the Tenpo era (January 10, 1835). Ten years after his passing, the Fukuzawa family began celebrating Yukichi Fukuzawa's birthday, and many Mita-kai (organizations of jukuin, or Keio alumni) around the country soon followed suit, holding gatherings in his memory. Until then it was custom for jukuin to gather on February 3, the anniversary of Fukuzawa's death, to talk of their memories with him and visit his grave. However, opinions were voiced as to whether it was appropriate to continue lamenting his death year after year, and so it was decided that Keio should follow the example set by the Fukuzawa family who survived him. Ever since, Keio University has celebrated his birthday on January 10.
Yukichiki, the Anniversary of Yukichi Fukuzawa's Death (February 3)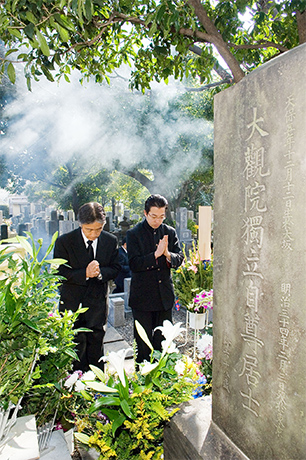 February 3, the anniversary of Yukichi Fukuzawa's death, is called Yukichiki. A constant procession of visitors associated with Keio—including students and their families, alumni, and faculty and staff members—visit the Keio founder's grave to pay their respects.

Yukichi Fukuzawa passed away at 66 years of age from a cerebral hemorrhage at his home, which stood within the grounds of Mita Campus, on this day in 1901. In honor of Fukuzawa's wishes, his funeral was held at the Fukuzawa family temple of Zenpuku-ji in lieu of a ceremony organized by the university, and his coffin buried in a cemetery of his own choosing in Kami-Osaki. Although the cemetery was administered by Hongan-ji at the time, it came under the administration of Joko-ji, a branch temple of Zojo-ji (Pure Land Sect), when the temple was relocated to Kami-Osaki, and has now long been known as Joko-ji Cemetery. Fukuzawa often walked around the Mita area in his later years, and it seems he was fond of the views from atop the elevated areas around Kami-Osaki.

However, since the Fukuzawa family was of the True Pure Land Sect (Jodo Shinshu), his grave was moved from Joko-ji to Zenpuku-ji in 1977. A monument honoring the location of his former resting place has been built at Joko-ji by Keio University.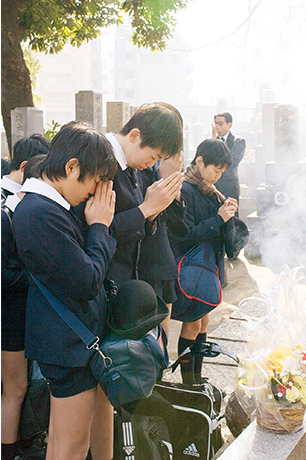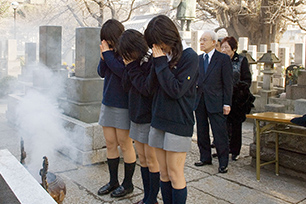 *This article appeared in the 2008 spring edition (No.258) of "Juku".