Circles Today (2)
Stargazing Circle Hokan
Giving thought to the stars ---- A bond formed under the starlit sky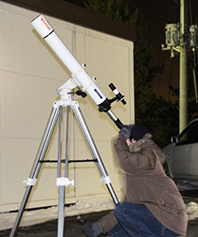 Our circle, Hokan, has about 30 members, having only been established 3 years ago to casually enjoy stargazing. We are based at Shonan Fujisawa Campus (SFC), where we take in the view of the stars in a rich natural environment. Our main activities include weekly stargazing nights, monthly astronomical observations, summer and winter camps, and planning for events such as Tanabata-sai (SFC's summer festival) and Aki-matsuri (SFC's autumn festival). In October, the Orionid meteor shower glitters in the night sky. When we gaze at the brilliantly shining stars up in the night sky, our worries start to seem so insignificant; everyone starts to look more relaxed, and a bond is naturally formed among members. The stars have a curious and almost magical effect on people's hearts.
When planning for an event, we always set up a meeting, so that each member's opinion can be reflected in the project. Because we all think and act together, each member feels they contribute to forming the basis of our circle. We hope to keep enjoying stargazing with each other, sharing the excitement of finding a shooting star.
STEPS Musical Company
Creating original musicals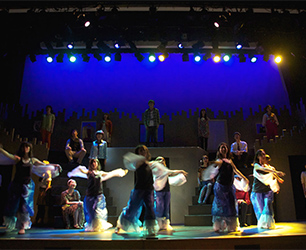 STEPS Musical Company, an official circle of Keio University, was established in 1990 to create original musicals. We create everything from scratch, including the script, music, choreography, stage art, lighting, sound, promotional design, production, and costumes.
Although we hold performances at events such as Mita-sai (Mita Festival), our biggest events are our regular performances held twice a year. We team up and work passionately for 2 months in order to produce and perform the best musical possible without any regard to the traditional senpai-kohai hierarchy of school year level.
Members can decide how they want to participate in each performance, so each individual can try a lot of new things. Some members even join professional theatre companies after graduating from university.
The more than 100 members of our circle all have colorful personalities and a wide variety of hobbies. We try to enjoy ourselves each day, usually hanging out in our clubroom or holding events such as training camps and barbeque parties.
We hope to continue performing musicals that our audience can enjoy, and we thank you in advance for all your support!
*This article appeared in the 2012 autumn edition (No.276) of "Juku".