Keio University's Honorary Degree of Doctor -Conferred upon 75 non-Japanese and 5 Japanese to date-
From Streptomycin discoverer Professor Selman Waksman to His Majesty Jigme Khesar Namgyel Wangchuck, the King of Bhutan, who spread the concept of Gross National Happiness (GNH), Keio University's Honorary Degree of Doctor has been conferred upon 80 people from Japan and abroad.

Conferred upon the King of Bhutan and U2's Bono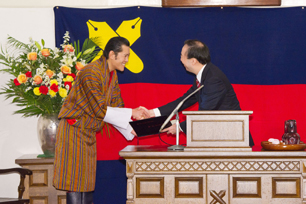 The Honorary Degree of Doctor of Keio University is a degree conferred upon those whom Keio has recognized to have made achievements in academic and cultural fields, not limiting to Keio graduates and regardless of nationality. As Keio has established this degree on its own, it has different requirements and is different from the doctoral degree obtained through finishing a doctoral program or submitting a doctoral thesis.

Still fresh in our memories is the Honorary Degree of Doctor of Keio University conferred upon His Majesty Jigme Khesar Namgyel Wangchuck, the King of Bhutan, on November 17, 2011. It was in recognition for his accomplishments in spreading the concept of Gross National Happiness (GNH), as well as his large contribution to the scientific pursuit of sustainable growth and development. The degree was "Doctor of Economics, honoris causa", "honoris causa" meaning "for the honor" in Latin.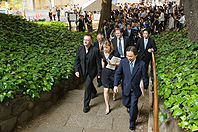 In May 2008, the Honorary Degree of Doctor was conferred upon Mr. Paul David Hewson, known as Bono and lead singer of rock band U2, in recognition for his social activities to fight against poverty and AIDS in Africa. After the solemn conferring ceremony held at Keio's Public Speaking Hall "Mita Enzetsu-kan", which is designated an Important Cultural Property, a special lecture was held at the West Hall. He addressed Keio University students who filled the hall, memorably mentioning that he senses a new energy within the young generation of Japan, and that he hopes their energy will also be used to support Africa.
The original objective was to bring in international researchers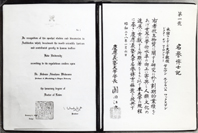 The Honorary Degree of Doctor was established in 1950, when the "regulation for conferment of Honorary Degree of Doctor upon foreign nationals" was established. It aimed to invite high-caliber researchers to Japan and to bring Keio leading science from overseas in order to recover from the delay in research during and after the war. The memorable first Honorary Degree was conferred upon Professor S.A. Waksman (1953*), who discovered Streptomycin, a miracle drug for tuberculosis.

In 1964, when Japan had emerged from the chaos of the postwar years and when the economy was growing steadily, the "regulation for conferment of Honorary Degree of Doctor of Keio University" was established to also include Japanese people, and the former regulations were abolished.

Conferred upon 5 Japanese people
The first conferment based on the new regulations was upon Mr. Masafumi Tomita (1964*) for his achievements in research on Yukichi Fukuzawa and also for compiling The Complete Works of Yukichi Fukuzawa. Many Keio students may recognize his name as the lyrics writer of "The Juku-ka", Keio's Alma Mater. The following two recipients were Mr. Yasuzaemon Matsunaga, a businessperson who was called the "demon of electricity", and Prof. Seiichiro Takahashi, who served as Dean of the Faculty of Economics and Acting President at Keio as well as the Minister of Education and Director of the Japan Art Academy. The conferment upon these two people took place on May 15, 1968, at the ceremony commemorating the 100th anniversary from the naming of Keio University, held at Hiyoshi Commemorative Hall. The fourth Japanese recipient was Mr. Konosuke Matsushita (1971*), founder of Matsushita Electric Industrial Co., Ltd. (presently Panasonic Corporation), and the conferment ceremony was held on the same day as the completion ceremony of Matsushita Memorial Library of the Faculty of Science and Technology. The fifth was Dr. Taro Takemi (1983*), who served as the President of Japan Medical Association for many years and contributed to the advancement of medicine in Japan as well as the construction of a new building at Keio University Hospital to commemorate Keio University's 125th anniversary.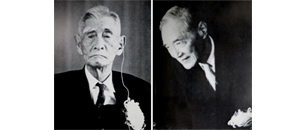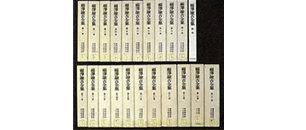 Conferment of Honorary Degree of Doctor is Keio's pride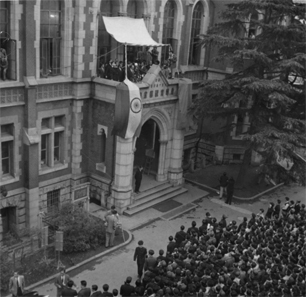 Although the Honorary Degree of Doctor was to be conferred by the President of Keio University following discussion at the University Council based on recommendation by the Faculty Board, as of 1999, the Graduate School Committee and Executive Board may also recommend a candidate.

The number of recipients varies from year to year, but what used to be below one person a year on average is now above 2 persons per year, since 47 people have received conferment in the 22 years from 1990 to 2011.

The 80 people who have received the Honorary Degree of Doctor to date include educators, researchers, politicians, businesspeople, and social activists, and are also international leaders in various fields which are highly recognized by society. It is Keio's pride to have been able to confer Keio University's Honorary Degree of Doctor upon each one of these people.
Major recipients (Honorifics omitted. Title is that at the time of conferment. Year indicates the year of conferment.)
Pandit Jawaharlal Nehru (Prime Minister of India, 1957)
Konrad Adenauer (Chancellor of West Germany, 1960)
Edwin Oldfather Reischauer (Former U.S. ambassador to Japan, 1967)
Andrei Dmitriyevich Sakharov (Physicist/Nobel Peace Prize Laureate, 1989)
Alvin Toffler (Futurist, 1990)
Jacques Delors (President of the European Commission, 1993)
Jacques Chirac (President of the French Republic, 1996)
Mahathir bin Mohamad (Former Prime Minister of Malaysia, 2004)

*List of all recipients: http://www.keio.ac.jp/en/about_keio/data_info /conferment_of_honorary_degree_of_doctor/index.html

*Year in parentheses indicates year of conferment

*This article appeared in the 2012 summer edition (No.275) of "Juku".