Keio Art Square (2)
Wing of Minerva (Osamu Shimoda)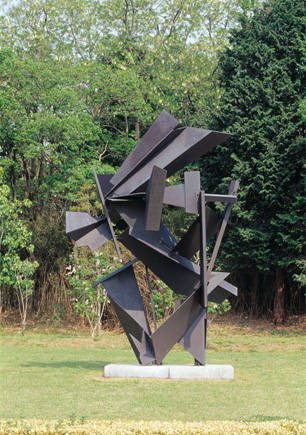 As you head to the SFC tennis court from the Alpha Building bus stop, "Wing of Minerva" (by Osamu Shimoda, sculptor) appears.
This monument was donated by Seizo Yamazaki in 1996.
In 1994, Hiroshi Kato, the first Dean of Faculty of Policy Management, gave a speech to the first graduates from SFC. He cited Hegel's "Elements of the Philosophy of Right," compared SFC to "Minerva wood" and compared the graduates leave from there to "owl lightning dark." That is the way this monument had its name.
Since "Minerva" was the virgin goddess of wisdom and arts, the monument symbolized the hope that of students' dream and wisdom will fly ahead on the wings of Minerva.
*This article appeared in the 2008 spring edition (No.258) of "

Juku

."
Stainless Steel Tree (Taiji Kiyokawa)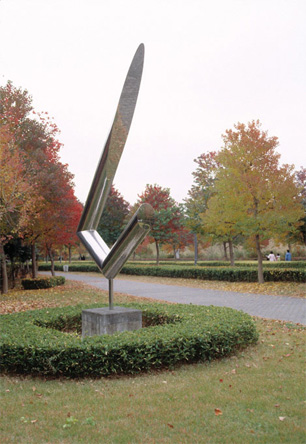 "Stainless Steel Tree" is located halfway up of "Tallow Slope," approach from North Gate to Alpha Building.
This mirror-finish monument has a striking shape which stretches towards the sky. It has been watching 20 years of SFC mirroring seasonally blooming trees and flowers and people out in the slope.
Taiji Kiyokawa (1919-2000) was a sculptor and painter who graduated from Faculty of Economics of Keio University.
He expressed this sculpture as a "young man shouting to the hope" sympathizing plans to launch of SFC. It was presented right after launch of SFC in 1990.
Taiji Kiyokawa is known as a painter of abstract art and his works are housed in various museums at home and abroad. Also, he designed the cover of public relations magazine "Juku" for nearly 25 years from 1975.
*This article appeared in the 2005 autumn edition (No.248) of "Juku".