Keio Art Square (1)
Democracy (Genichiro Inokuma)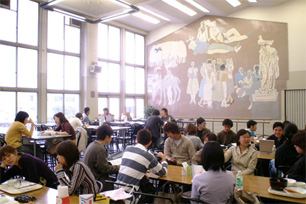 The Cafeteria at Mita West Building has a wall with a mural painting, "Democracy," by Genichiro Inokuma (1902-1993) who is one of the pioneers of Japanese contemporary art.
This mural painting was originally set up at "Students' Hall" (designed by Yoshiro Taniguchi) in 1949 with a view to the merger of architecture and painting. "Students' Hall" was moved to north side of campus to what was known familiarly as campus cafeteria "Yamashoku" until North Building was built in 1991. "Students' Hall" was demolished then, but "Democracy" was restored by Keio students and graduates of art club "Palette Club" under the direction of Inokuma in 1988 and moved to where it is now. Keio students enjoy this mural painting covering wall of the cafeteria. Also, in 1991, "Marugame Genichiro-Inokuma Museum of Contemporary Art" opened at Marugame of Kagawa prefecture, his hometown. Keio graduate Yoshio Taniguchi, son of Yoshiro Taniguchi, was commissioned to design a museum by Inokuma.
*This article appeared in the 2007 winter edition (No.253) of "

Juku

."
Petal of Knowledge (Yoshikuni Iida)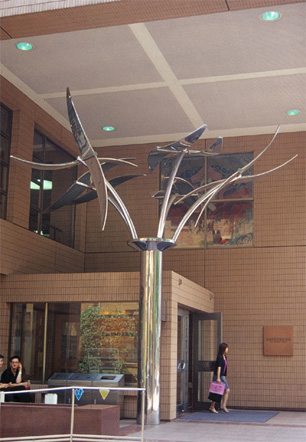 "Petal of Knowledge" is the movable monument pinwheel on a windy day which stands at the entrance of New University Library since the opening in 1982. The monument which shows the image of big-bloomed flower in darkness is the work of Yoshikuni Iida (1923-2006). He was a famous sculptor and a painter and also was an alumnus of Keio University (graduated form Faculty of Letters in 1949). During his college years, he got acquainted with Junzaburo Nishiwaki who was a poet and also a professor of Faculty of Letters at that time, and with Nishiwaki's student, Shuzo Takiguchi, who was the Surrealism poet. Later, they collaborated on poetry and art book. After Iida graduated from Keio University, he studied oil painting at Tokyo National University of Fine Arts and Music, and then he learned sculpture in Europe. He published mirrored stainless monuments and open air sculptures after he returned to Japan. "Signal to the Stars" is also Iida's work which stands between West School Building and Faculty Research Building at Mita Campus.

*This article appeared in the 2007 autumn edition (No.256) of "

Juku

."