Famous Visitors to Keio University
On Tuesday, 19 July 2005, Keio University's Mita Campus hosted "A Lecture Meeting with Former US Secretary of State Colin Powell," adding to Keio University's history of lectures by distinguished guests.

The year 2005 marked both the 100th anniversary of Albert Einstein's annus mirabilis, in which he published three of his most important papers, and the 100th anniversary of the birth of Jean-Paul Sartre. Both presented lectures at the Mita Campus, Einstein on 19 November 1922, and Sartre on 20 September 1966. In this edition of Keio View, we will take a brief look at the lectures offered by these two great scholars.
---
Albert Einstein
Einstein published his three papers on Brownian motion, the photoelectric effect, and special relativity in 1905, and this centennial year of these publications has been officially declared "The World Year of Physics" (Einstein Year) by the United Nations.
---
Einstein's Visit to Japan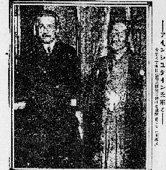 Consenting to a lecture tour of Japan planned by Sanehiko Yamamoto, president of Kaizosha and publisher of the magazine Kaizo, Einstein boarded the Japanese postal vessel Kitanomaru at Marseilles with his wife Elsa and headed for Japan. Einstein was 43 at the time. While still en route to Japan, he was informed on 10 November that he had won the 1921 Nobel Prize in Physics, an announcement that intensified the anticipation of his waiting admirers in Japan. Einstein landed at Kobe on 17 November and, after a press conference, headed to his accommodation at the Miyako Hotel in Kyoto. The following day he took the 9:15 a.m. express train to Tokyo. An ardent welcome greeted his arrival at Tokyo Station at 7:20 that evening, with Einstein said to have been practically buried under the bouquets of flowers presented him by well-wishers.
Einstein at Keio University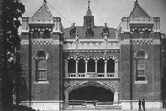 Well before the next day's scheduled lecture time, the Mita Grand Lecture Hall (lost in 1945 to the ravages of war) was packed with spectators, around 2,000 in all. At 1:30 p.m. Einstein began his lecture on the special theory of relativity and, after speaking for three hours, took an hour-long break before launching into the latter half of his presentation, focusing on the general theory of relativity. The lecture concluded at 7:30 p.m. The 21 November 1922 edition of the Mita Shimbun, started in 1917 as Japan's first university student newspaper, featured a half-page article on the lecture under the headline of "Overview of Special and General Relativity - The Special and General Principles of My Relativity Theory."
Einstein and Bertrand Russell
In the previous year (1921), the British philosopher Bertrand Russell had visited Japan on his way home from a trip to China, also at the invitation of Kaizosha. On 29 July Russell similarly gave a lecture at Keio University's Grand Lecture Hall, the contents of which were published in the September 1921 edition of Kaizo under the title "Rebuilding Civilization." Several decades later Einstein joined with Russell in signing the "Russell-Einstein Manifesto" calling for the elimination of nuclear weapons and the abolition of war, passing away only a week afterward on 18 April 1955. The year 2005 also marks the 60th anniversary of the atomic bombings of Hiroshima and Nagasaki and the 50th anniversary of the 1st World Conference against Atomic and Hydrogen Bombs.
---
Jean-Paul Sartre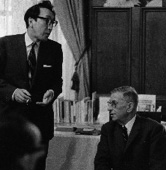 In 2005, France marked the 100th anniversary of Sartre's birthday with an extensive Sartre exhibition held in the Bibliotheque Nationale. While the name Sartre is not heard as often in Japan as it once was, Nausea and Sartre's other novels as well as the autobiographical The Words and philosophical works such as Being and Nothingness are to this day still read by the younger generations in his mother country of France.
Sartre and Beauvoir surrounded by Keio students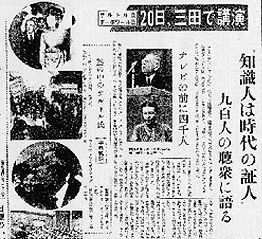 Sartre arrived together with Simone de Beauvoir at Haneda Airport at 8:00 p.m. on the rainy evening of 18 September 1966. A press conference was held on the spot, the crowd of more than 60 reporters and photographers creating quite a commotion. After touring the Imperial Palace, Meiji Shrine, Ginza and other sights the following day, the pair presented their lectures at Keio University on the 20th. While heading towards the lecture venue - Room 518 of the West Building (now the West Building Hall) - after a short break in the Old Wing of the Library, Sartre was surrounded by Keio students carrying placards protesting the Vietnam War. He appeared to have mistaken them for a group of students opposed to his own presence, but smilingly shook the hands thrust out to welcome him.

Room 518 had been built to accommodate 900 people, but extra folding chairs were brought in for an audience of about 950. About 600 of these were Keio students, the rest invited guests such as Shusaku Endo, Shotaro Yasuoka, and Keita Asari. Outside the venue, around 3,000 Keio students watched the lecture by live TV relay in eight nearby classrooms (501, 517, 519, etc.) The Mita Shimbun (28 September 1966 edition) reported that Sartre had been banned from making any political statements, but he reportedly had made it known in advance that he would avoid criticizing the domestic politics of his hosts in Japan. According to the Mita Hyoron (Volume 653, October 1966), that day's lectures were as follows:
Academic Lecture Meeting
Hosted by: Keio University
Venue: Room 518, West Building, Mita Campus
Date/time: Tuesday, 20 September 1966, 4:00 p.m.

"Women and Today's Issues" - Mme. Simone de Beauvoir
Interpreters: Tomiko Asabuki, Fusa Ninomiya

"Literature and Words" - M. Jean-Paul Sartre
Interpreters: Kenzo Furuya, Tsutomu Iwasaki
The Messages Conveyed in the Lectures
Entitled "Women and Today's Issues" Beauvoir's lecture stressed that women should not remain shut up in their homes if they sought to improve their status in society. Sartre made a last-minute change to the title of his address - "The Position of the Intellectual" _ and proceeded to lecture for nearly an hour on the difficult circumstances in which "intellectuals" had been placed and on what constituted a true "intellectual," concluding at 6:20 p.m. Sartre was 61 at the time, and had gained fame as an existentialist philosopher who asserted that for human beings "existence precedes essence." His lecture in Japan sent a message to Keio students and youth elsewhere: to become an "intellectual," one must first become a "technician of practical knowledge," requiring students to begin by gaining a firm grasp of specialized knowledge. Declaring that "human beings are nothing more than what they have made themselves," he advocated l'engagement (participation in society) and suggested approaches to speculation and action for "philosophers of action." In addition to these distinguished speakers, many other renowned ladies and gentlemen have been invited to Keio University to receive honorary doctorate degrees.