Tsutomu Takeuchi, Professor, School of Medicine
Good Immunity, Bad Immunity
Rheumatology—a subspecialty of internal medicine—is devoted to the diagnosis and therapy of autoimmune diseases that affect the entire body from head to toe, and we are fighting it with patients in the hospital wards and outpatient clinics, and conducting vigorous research in the laboratory to make a breakthrough.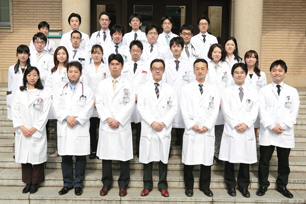 The origins of the word rheumatism go back to 400BC, when the Father of Medicine Hippocrates named the disease that spread pain throughout the entire body "rheumatismós" from the Greek word "rheuma" (Greek meaning "flow"). As the name suggests, rheumatology is the field of study that concerns conditions which cause pain in the joints or muscles. We rheumatologists deal with systemic diseases that do not affect any one specific organ, including rheumatoid arthritis, arthritis of the spine, polymyalgia rheumatica, systemic lupus erythematosus, polymyositis and dermatomyositis, scleroderma, vasculitic syndrome, adult Still's disease, Sjögren's syndrome and Behçet's disease. Many of the disorders are often based in autoimmunity and are called rheumatic diseases or collagen diseases.

The immune system of humans essentially fights outside enemies like viruses or bacteria, and it is an intricate system that tries not to harm your own body. The failure of this leads to the outbreak of autoimmune diseases, but the fundamental cause is still unknown. In recent years, remarkable steps have been made in new treatments, but there is still so much room for improvement. The focus of our intensive research at our laboratory is to understand the pathogenesis of these conditions, optimize treatments, and to overcome the side effects of those treatments. Covering a broad perspective—from fundamental to translational and clinical medicine—we are making progress in research areas including: elucidating the role of the Fcγ receptor in rheumatoid arthritis; investigating the abnormalities in the BAFF signal that occurs in Sjögren's syndrome; elucidating the mechanism for the regulation of CD103 expression; investigating new target-molecules for treatment, using DNA microarrays; the role of regulatory T cells when administering biological drugs; investigating cytokine profiles; the effects of rheumatoid arthritis on arterial sclerosis and osteoporosis; and investigating the predictive factors of drug effectiveness.

Every year we welcome new young doctors and postgraduate students, and on the education side of things we have journal clubs, rounds in the hospital wards, and conferences at which there are enthusiastic discussions among the doctors and students. On the clinical side, our work is centered on team medicine at the Immunotherapy Center—Japan's largest scale center of its type. Every day we are inspired by each other, forging ahead and sharing the world's most advanced information, based on the three pillars of medical care, research, and education.
---
Student's Voices
Yasushi Kondo
3rd Year doctoral student, Graduate School of Medicine

Working to Conquer Intractable Diseases by Bringing Together Fundamental and Clinical Medicine

At our Rheumatology Laboratory (Department of Internal Medicine, School of Medicine) a lot of medical researchers and graduate students are working together to carry out research under the strong leadership of hospital director, Prof. Tsutomu Takeuchi. The atmosphere in the laboratory is always cheery, and we often have a lively exchange of opinions. As our main research theme, we are making strides in new drug discoveries for rheumatoid arthritis and intractable autoimmune diseases, and in our aim to optimize and customize diagnosis and treatments to individual patients.

I analyze trace amounts of specific proteins found in rheumatoid arthritis lesions, and in the clinical field I am interested in imaging. My eventual aim is to establish minimally-invasive diagnosis methods using ultrasonic waves, and every day I take pride in doing research in this environment that continually inspires me to improve.
*This article appeared in the 2014 summer edition (No.283) of "Juku".
*Position titles, etc., are those at the time of publishing.