Isao Takekoshi, Manager, Facility Management Office / Member of the Art Management Committee
The Art Management Committee and its restoration activities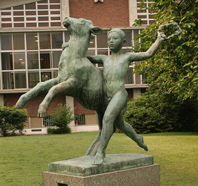 Keio University houses an impressive collection of artworks, which include many paintings and sculptures on display around its campuses, both indoors and out. Since its establishment in 2002, the Art Collection Management Committee, which consists of faculty and staff members of Keio University, has been charged with the management of such works of art, including their assessment, administration, restoration and lending. As such, the Committee plans and carries out deterioration surveys, cleaning, and restoration of these sculptures.

Here I will take a look at the outdoor sculptures exhibited on each of Keio's university and affiliated school campuses. In 2008, the same year Keio University celebrated its 150th anniversary, we cleaned sculptor Takashi Mine's Shepherd Boy, which is displayed at Keio Shiki Senior High School. This bronze statue was donated in 1982 by graduates of the Junior College of Veterinary and Animal Husbandry, the forerunner of Shiki Senior High School, and no preservation measures had been taken since its installation. Both rust and streaking due to water stains had started to appear, so we had the statue professionally cleaned and restored. Students and graduates used to the statue's rusty green patina were surprised to see it clean and shiny black.

During the last school year, we engaged in the cleaning and restoration of Shinji Hori's Bust of Mr. Shin Imamiya, a sculpture of Keio Chutobu Junior High School's first headmaster that adorns the school's interior. Chutobu students gained a valuable learning experience as they helped clean the sculpture under the guidance of a professional. The Art Management Committee had also conducted a survey and formulated a restoration plan for Keio's famous pair of "Unicorn" statues placed at the entrance of the Chutobu.

Other outdoor sculptures on Mita Campus—Young Man (Kazuo Kikuchi), Coming of Peace and Bust of Kaoru Osanai (Fumio Asakura), and Bust of Yukichi Fukuzawa (Kaseki Shibata), for example—are cleaned regularly, every two years. Under the guidance of a professional, students taking the Museum Practice course have also engaged in cleaning as a requirement for their classes. Outdoor sculptures pose more challenges than those indoor due to the difficulties of preserving them, but they are also more visible and often better remembered as part of the campus scenery.

The Art Management Committee is also responsible for handling offers to donate paintings and sculptures. If, after careful evaluation, we choose to accept the offer, we confirm the details such as the condition of the art and method of shipping and consider an appropriate place to display the artwork. We hope that the Art Management Committee's activities help viewers better experience and appreciate the many valuable works of art we have at Keio.
---
*This article appeared in the 2013 autumn edition (No.280) of "Juku".
*Position titles, etc., are those at the time of publishing.