Tatsuo Kurokawa, Professor, Faculty of Pharmacy
Towards making the most of new pharmaceutical drugs and developments in cutting-edge science
Based on studies of research development, evaluation, side effects, and drug-induced suffering, we study how to make full use of pharmaceutical products in a diverse and varied society, and how to build consensus between science and society for this purpose.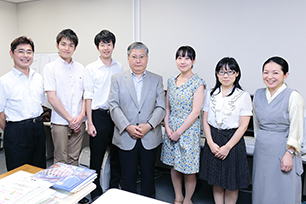 Rapid advances in molecular biology and genetic science in recent years have made a great impact on new drug development and drug therapy. Especially after entering this century, there have been outstanding accomplishments, such as uncovering the cause of diseases, defining the changes in the genes, intercellular communication in relation to such diseases, and developing drugs that work directly within these chains as if they are equipped with an ON/OFF switch.

However on the other hand, we have to acknowledge the reality that some drugs do not work as effectively in a real-life medical setting as in the experimental stages, or that an anticipated new drug may cause serious safety issues. Furthermore, the many years and the enormous cost it takes to develop such drugs are reflected in their final price; it is pointed out that in some cases the price of a new drug becomes an obstacle to promoting its use to the general public.

In order for the real world to adopt ever-evolving science technology and to develop it into a useful drug, how should we strategically plan its development and engage in its research? As for inventions and findings at the laboratory bench or by a patient's bedside, what shall we clarify and what shall we study in which manner in order to develop a drug useful on the medical front, while also covering issues on safety, efficacy, and cost? The science that uncovers such issues and defines the direction of research is called regulatory science.

Since we must always take into consideration consensus building in society for new proposals from science technology in order to conduct our research studies, people's values in regards to health, illness, and safety and the social and psychological aspects which accompany TV coverage are also important subjects of our research. Another important research field is international harmonization for evaluation and regulation of drugs, as they are designed to be excellent international products.

Although we work in a new type of laboratory that doesn't use test tubes, we have already organized a large symposium and continue to pursue further developments in our research. Also, beginning next academic year, we will merge with the Division of Drug Development Science and Clinical Evaluation, which deals with data evaluation and experimental research on patients and humans, and we intend to expand our research to achieve more comprehensive developments.
Student's Voice
Hikari Yasumoto, Fifth-year Student,
Faculty of Pharmacy, Department of Pharmacy

Forming a bridge between people and medicine

Every drug is a result of researchers' hard work and is developed in hope of helping relieve people from the burden of illness. However, as a hard fact, there are cases in which drugs themselves become the cause for a disease or more suffering than needed for treatment, only because scientific and ethical judgment was insufficient. Our aim is not only to avoid repeating past mistakes, but also to provide better medicine for future generations through regulatory science. Keeping in mind that patients are the ones who make drug development possible, I hope to play a role in bridging the divide between people and drugs and, furthermore, between people and medicine.
*This article appeared in the 2012 autumn edition (No.276) of "Juku."
*Position titles, etc., are those at the time of publishing.