Tomohiro Ichinose, Professor, Faculty of Environment and Information Studies
Kesennuma Reconstruction Project: what we can do for earthquake reconstruction

In the "Innovation in Rural Areas" section of my seminar class, about 20 students work on the Kesennuma Reconstruction Project and Project for Revitalization of Fujiyoshida City.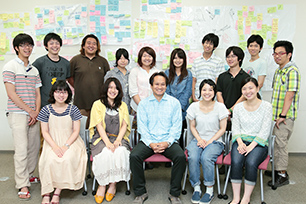 The Kesennuma Reconstruction Project at SFC started from a conversation on Twitter with student leader Kenyu Shimizu, a second-year student of the Faculty of Environment and Information Studies at the time. Mr. Shimizu is from Kesennuma and has belonged to my seminar class since before the Great East Japan Earthquake. Going to his hometown for preliminary research, he was planning to start a research project on Kesennuma in April 2011 and had just returned to Tokyo when the earthquake struck. Fortunately, his family was safe, but his family's business, a seafood processing facility, was completely destroyed by the tsunami. One after another, faculty members and students who read my conversation with him on Twitter signed up to participate in the project. At the quiet campus where the entrance ceremony and start of classes were delayed until May, we held our first meeting in early April, and almost 30 faculty members and students, including first-year students who had yet to attend their entrance ceremony, got together. It was indeed a grassroots start worthy of SFC.

The Kesennuma Reconstruction Project is a project in which those who wanted to do something for the disaster areas gathered around Mr. Shimizu. Most people had nothing to do with Kesennuma before the earthquake. Despite this, in the 2011 academic year, more than 10 faculty members and more than 100 students gathered to set up 8 teams, and we presented reconstruction plans to the Kesennuma City Hall and also held workshops in and out of the city. It involved several seminar classes and expanded into an unusually large project, even for SFC. The Facebook group where Mr. Shimizu started to post ideas about the reconstruction of Kesennuma had more than 800 members. In the 2012 academic year, there were changes in members, and we are currently working on 7 projects with about 70 faculty members and students.

When we first visited the quake-hit areas, students and teachers alike wondered if there was anything each of them could do in such a severe situation. It is not easy to make a visible contribution in a short period of time. However, to get directly involved with a disaster area and to try working toward reconstruction is the first step of disaster area support. In my seminar class, I always require students to work on issues of the real world, and disaster areas are the ultimate field and place for students to learn. Getting involved with reconstruction of disaster areas should have meaning in their future lives.
Student's Voice
Kenyu Shimizu, Fourth-year Student,
Faculty of Environment and Information Studies

Facing real issues and growing as an individual

In the "Innovation in Rural Areas" group, I coordinate the Kesennuma Reconstruction Project as student leader. Through the project, we cultivate a sense of how to best deal with issues in the field of reconstruction and develop ideas for future society. The project consists of teams from a variety of academic fields, unbound by year level or seminar class. By communicating with members with colorful personalities and carrying out fieldwork in the quake-hit areas, we are able to get in touch with the humanity of the members, which wouldn't have been possible if we had simply stayed on campus. With like-minded project members and cooperation from local residents and many others, we continue to work for solutions to problems within regional societies.
*This article appeared in the 2012 autumn edition (No.276) of "Juku."
*Position titles, etc., are those at the time of publishing.