Sachiko Mori, Associate Professor, Faculty of Policy Management
Man shall not live by bread alone - for the mind to be rich
Those who gather in the seminar class "to think about 'being with the elderly'" are second-year to fourth-year students belong to the Faculty of Policy Management and Faculty of Environment and Information Studies who share unlimited interests in "connecting one's heart to another".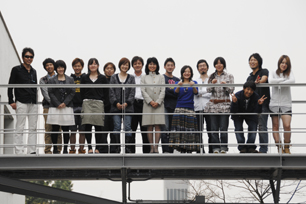 SFC can be explained as a melting pot where all kinds of researchers work with vitality. In its large holding environment, I can feel the "sense of freedom" as a faculty member, and I think SFC students are actually feeling and enjoying this "freedom".

With a background in clinical psychology and psychoanalysis, I explore "activities of the mind of each person" and "connection of the heart with others". While placing importance on the clinical world full of sensitive interaction of minds, I make the most of such experience in the campus and in community activities, and this is how I spend time with my students.

The Mori laboratory holds two seminar classes. The seminar class on "psychological development of children" is held jointly with Professor Yoko Hamada of the Faculty of Environment and Information Studies, and has been introduced in the 2011 spring edition of "Juku" (or Vol.5 of Faculty Voices 2011). The other one is the seminar class "to think about 'being with the elderly'", which I started in 2009. The theme of these two classes is, simply put, the "beginning" and "ending" of one's life. Babies' world and the elderly's world are both life stages in which communication beyond the use of words has the most importance. In addition, the main characters that study the state of mind in such worlds are young people who have just gone through puberty, and this is what really interests me.

There are students who are deeply moved having witnessed the moment a "word" is uttered for the first time from the tiny lips of a baby.

On the other hand, there are students who seriously think about how to live one's life "today, and form now on" and how to close one's life, having witnessed someone's death.

The seminar class, in which I join with students in discussions, is a time to refer to the true nature of "life", overlapping my own experience as a Keio student, having held discussions with my fellows at a volunteering circle called Raittius and classmates when I majored in Human Sciences.

I expect much from my students, who work on their own research themes with the implicit knowledge that even if you become materially wealthy, it will not fulfill your mind, and what's most important is the connection of one heart to another.
Student's Voice
Sho Asano, Fourth-year Student,
Faculty of Policy Management

Seeking for a connection that enhances each other

The connection between people is one of the few things that haven't changed since old times. Among such human relationships, we study relationships with the elderly. Each student comes up with a research topic based on a unique standpoint, and works hard on one's own research.
Because our subject of research involves 'people", we are not in a position where we can find the definite answer. Therefore, having discussions with other people becomes essential, and through humanly discussions, we are always able to share quality time, and also move forward with our studies in a good relationship that enables us to enhance each other. I appreciate being able to be in such an environment where I can study at a high level towards my goal with such wonderful classmates and teacher.
*This article appeared in the 2012 winter edition (No.273) of "Juku."
*Position titles, etc., are those at the time of publishing.