Yuko Tokairin, Assistant Professor, Faculty of Policy Management
Life skill program that produces motivation
Finding out words and behavior that move people's hearts through trial and error helps grow oneself
(10 sophomores, 10 juniors and 15 seniors)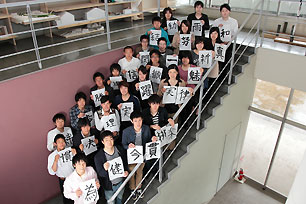 What kind of words and behavior motivate people? In what kind of situation do people get motivated?

For a long time, I was in the field of sports instruction. Through experience, I have accumulated know-how to watch athletes carefully and to motivate athletes considering their psychological process, so to fulfill the goal to "win". Many of these recipes are born from failure and defeat. Based on these know-how through experience and point of focus, today, I offer and practice life skill program to athletes and coaches who are aiming for the Olympic Games as well as businesspersons in leadership positions. Life skill is the "strength to deal with difficulties and hurdles in life in a productive and effective manner". The know-how accumulated in the field of sports can be important life skills for daily lives. Examples in the field of sports such as ways to overcome setbacks, communication methods in order to enhance the strength as a team and mental capacity to get out of a situation can be considered as life skills, and we generalize them for use in daily lives.

Students in the seminar class develop tools to set goals or find out words and situations that motivate athletes through research on coaches' pep talk and athletes' state of mind. Also, we use our methods in fields other than sports, such as schools (between teacher and student and between friends), healthcare (between doctor and patient) and businesses (between superior and subordinate). Watching my students, in the process of trying to motivate other people, they come to realize their lack of leadership, and through self-improvement, they rebuild their belief and philosophy. This is how they enhance their own life skills through enhancing the life skills of others.

I truly feel that Keio University's tradition of "half-learning, half-teaching" principle is what our seminar class places the most importance.
Student's Voice
Ai Orikasa, Fourth-year Student,
Faculty of Policy Management

Practicing life skill, the ability to think and act

Our main focuses of study are "sports coaching" and "life skill".
In the classroom, we do a lot of group discussions on the theme of human development through sports. We also do a lot of fieldwork such as creating and practicing life skill program in collaboration with the government and coaching for athletes. Each student participates with a clear objective, and the class is full of energy of sports enthusiasts. Associate Professor Toukairin, with her straightforward guidance, earns complete trust of students, and we can seek her advice with a sense of ease from little things to important matters. Another appeal of this seminar class is that we have a strong bond also out of class such as for supporting a sports game.

*This article appeared in the 2011 summer edition (No.271) of "Juku."
*Position titles, etc., are those at the time of publishing.