Kazuo Kambe, Associate Professor, Faculty of Business and Commerce
Focus: To become a reliable member of society and to think on one's own.
The Kambe seminar of Business Management and Management Information, established in 2000, aims to develop the members' academic and social skills.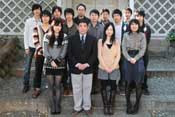 I specialize in decision-making and information systems within companies. My research examines how Information Technology functions in corporate management by analyzing the process of creating the most effective decisions. In my seminar, students will learn in-depth analyses of information technology, as well as an actual use of knowledge of Business Management within the context of our society.

Through seminar activities, students will develop their ability to think on their own. In addition, they are required to be well-aware of the importance of cooperative attitudes within the organization, and to become able to coordinate with those who enhance the strengths of the company. Finally, as the basis of cooperative behavior within the company, students are strongly encouraged to become a person who can build up reliable relationships with colleagues. The three emphases above are laid in my seminar, in hope that students will acquire such sophisticated social skills as are demanded by companies and society. Trust and cooperation are something they have to learn through various seminar activities, which, I believe, is of the highest importance for students who have limited social experience. To enhance the effect, I am willing to take every chance to participate in the seminar discussion as one of the members myself.

Bearing these in mind, my seminar involves group study projects led by seminar members to learn research and analyses. In class, various subjects are discussed, with different groups and with different members when the subjects change, to provide students with a number of chances to cooperate with different members, and to pay consideration and respect to each other. Students are often required to find their own research topics to test their ability to find hidden problems.

It is my hope that graduates of my seminar will serve as responsible and productive members of society by thinking on their own and by learning the importance of trust and cooperation.
Student's Voice
Yusuke Watanabe, Fourth-year Student,
Faculty of Business and Commerce

Objective: "Learning" to become mature and attractive members of society.

I always wonder, what does "learning" refer to? This is what I repeatedly questioned myself after joining this seminar. I still remember when I was told that, on the first day of the class, "there is no sense in participating in my seminar activities if you do not find any differences from the rest of the classes in our university." Our seminar consists mainly of group presentations on various subjects of Business Management, Industry Analysis, and a paper presentation at the Mita Festival, for which we pick our own research topic within the realm of Business Management. Basically, we work in groups, and it is a specific feature of our seminar to share knowledge among members and carry out everything by all seminar members. Serious discussion and arguments with other members are what one can experience only through this seminar, and I believe it is this aspect that must be termed as "learning." We always work hard in our seminar activities not simply to learn Business Management, but to become mature and attractive members of society.
*This article appeared in the 2011 spring edition (No.270) of "Juku."
*Position titles, etc., are those at the time of publishing.