Yoko Hasebe, Associate Professor, Faculty of Environment and Information Studies
Flat inter-linguistic and inter-cultural understanding in schools
On the basis of inter-linguistic and inter-cultural understanding in English, our main focus is building environment for communication to "connect people" in "schools" from young children to adults under the theme of "Japan that can produce messages".
Research Keywords are curriculum design, teaching methods, creation of teaching material and school management.
50 students are enrolled in the class (from first-year students to graduate students, also includes working people).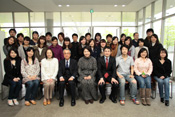 The Yoko Hasebe seminar class is in its 7th year including the first two years as a sub-seminar class. Main themes of the class are building environment for communication based on inter-linguistic and inter-cultural understanding from kindergartens to universities, and curriculum design, creation of teaching material, and management of these schools. The important thing is to view "schools" with a point of view of the "society", and then go the other way around to create a system so that "schools" can provide "energizers" to the "society". When we say "society", it starts from "homes" and "communities" surrounding "schools", and then expands to "countries" and to the "world". What stand as the core are "ideas" and "passion" for education of students with a rich background. By reviewing and redefining the environment for communication in education, more "energetic" schools are born. I think that "schools" are reservoirs where the most active and strong reactions through communication overflow. Since a while ago, when someone asks me "what is education?", I answer that it is "not to let children die". Not to let go of many things, such as life, personality and human dignity. I came to the conclusion that in any context, education should be for "not letting people die" rather than "trying to enhance children's abilities".

An important first step "not to let die" is to create an environment where children use their eyes to see and use their ears to hear things with curiosity, and use their mouth to speak in happiness. We adults who work around children should listen carefully to what they say, see things through their eyes, and to speak to them with our own words. Just as children find big surprises in all kinds of emotions from surrounding adults, adults who surround children are hit with unexpected brand-new ideas. This actually is the "half-learning, half-teaching" opportunity in both directions for "children" and "people who surround children", and we can also say the same thing for a seminar class in university. We all know that there are many excellent students, but I don't want their abilities to be used for something "with a given answer, with a guarantee and with a given direction". I want the excellence to be used "to find an answer on one's own, to guarantee oneself, to find a direction by oneself". I believe a seminar class should be a place for maximizing their qualities and building environment for simulated experience necessary to become leaders of society, and where teachers can sparkle their eyes to enjoy taking part in "half-learning, half-teaching" with students.

Main projects we work on at the seminar class are "Project of Kindergarten and Elementary School Management in Democratic Republic of the Congo", "Sister-city exchange project with New York" and "The Young Americans Project". There are also projects on LEGO blocks, music and journal, and every day is a new challenge to advance students' fresh ideas to academic inquiry.
Faculty's Profile

Associate Prof. Yoko Hasebe, Faculty of Environment and Information Studies

Graduated from the Faculty of Environment and Information Studies, Keio University. Finished the Master's program at the Graduate School of Media and Governance, Keio University. Presently Associate Professor of the Faculty of Environment and Information Studies at Keio University and Visiting Professor at Congo University (Democratic Republic of the Congo). Before taking present post, also has been involved in training of simultaneous interpreters, organization of international conferences, service related to medical English, English education for young children, management of a private English school, teaching at a university as a part-time lecturer and etc.
Student's Voice
Yusuke Kosuge, Second-year Student,
Faculty of Environment and Information Studies

A Seminar class that seeks for chaos

The theme of the seminar class is "Language and Culture Exchange", and this means "everything that relates to something". In this seminar class, we don't study something that is established. We travel in and out of the country, each working on a research theme that has come up through one's own experience. Therefore, the fields of interest of students are wide-ranging, and we work on these themes with a multifaceted approach. In addition, all the projects of the seminar class have started from a student's idea, given a chance by Associate Professor Hasebe. This is where I feel the "Keio spirit". Therefore, working in this seminar class is difficult if you don't have self-identity. In other words, the seminar class is a "box" with no meaning in itself, and can only be defined with what is in it. In fact, we are creating "chaos" with purpose. We work hard every day looking for "something new" that comes out from the chaotic box.
*This article appeared in the 2010 summer edition (No.267) of "Juku."
*Position titles, etc., are those at the time of publishing.