Tsunenori Arai, Professor, Faculty of Science and Technology
Japan's first and the world's first lase therapeutic device from Keio!
We conduct basic research of less-invasive laser therapeutic device, aiming to put into practical use taking advantage of medical-engineering alliance and academic-industrial alliance. Nine graduate students (of which two are doctoral students) and five undergraduate students in fourth-year study in my laboratory.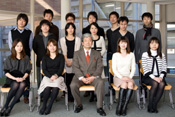 In spite of recent tight medical economy, there is higher demand for a patient-friendly less-invasive therapeutic device in order to provide better healthcare. However, developing therapeutic device has a large risk and our country lags behind others in terms of industrialization. In my laboratory, we study less-invasive laser therapeutic device, from basic research to commercialization.

Research and development of therapeutic device may sound airy-fairy, but the starting point is step-by-step basic medical-engineering research of biological interaction process of lasers. Based on these studies, we take advantage of Keio's medical-engineering alliance system to develop our research based on the needs of patients. In my laboratory, we start to work on academic-industrial alliance with companies from the basic research phase with a view to put it into practical use. An important element for practical application is intellectual property rights. Before presenting a new technology at a conference or publishing a paper, we apply for a patent through Keio. After coming back to Keio, I learned that commercialization of a new technology is not possible without a patent.

Presently, we are preparing to start clinical test and research, which is the final step for commercialization, of non-thermal ablation method to treat arrhythmia by means of photodynamic therapy, and novel thermal angioplasty balloon cathter driven by laser (Photo-Thermodynamic Balloon) for stenosis of periferal arteries. Both technologies are now receiving the most attention as less-invasive therapeutic device, and partner companies are taking the projects seriously. In order to accelerate these research developments, we founded Arai MedPhoton Research Laboratories, Corp. last year. This launch is meaningful in terms of setting a boundary between university education and management while moving ahead on realization of our research. Also, I want to provide an opportunity for continuing research and development of medical equipment for university graduates, which is rare in our country.

Our dream for realization is grand, but under a fabulous environment with brilliant students, we are actively working on "development of Japan's first and the world's first therapeutic device from Keio", that will bring hope to those who are ill.
Faculty's Profile

Prof.Tsunenori Arai, Faculty of Science and Technology

Graduated from the Department of Electrical Engineering, Faculty of Engineering at Keio University in 1976. Obtained Ph.D. in Engineering from the same university in 1981. After having served as Research Assistant and Associate Professor of the Department of Medical Engineering at the National Defense Medical College, has been at present post since 2001 at the Department of Applied Physics and Physico-Informatics of the Faculty of Science and Technology. Specializes in laser medicine and medical engineering.
Student's Voice
Arisa Ito, Second-year Student of Doctoral Program,
Graduate School of Science and Technology

Applying new ideas to medicine

In Prof. Arai's laboratory, we develop medical equipment using laser, and our subject of research involves a wide-ranging field, such as arrhythmia therapy, angioplasty and athlete's foot treatment. By applying scientifically-minded ideas to medicine, we aim at taking full advantage of laser to contribute to improving healthcare. The significant thing about our lab is that we don't end developing equipment, we also study to clarify the therapeutic principle, such as why it is effective, how it works, and under which condition can we achieve maximum effect. We can also experience various things other than research, such as joint-experiments with the School of Medicine and meetings with companies.

The laboratory has a friendly atmosphere and we work in harmony. We concentrate on our studies, hoping to help people through our research, and each day seems to be fruitful. We have more than 10 opportunities in a year to participate in domestic and international conferences, and we are given so many chances to develop our capabilities.
*This article appeared in the 2010 spring edition (No.266) of "Juku."
*Position titles, etc., are those at the time of publishing.