Eiichi Tajima, Professor, Faculty of Policy Management
In China, extreme secularization and nationalization of spirits prevent people from creating civil society
The seminar was established in 1994. Prof. Tajima has set up two projects in the Faculty of Policy Management, and is involved in two projects at the Graduate School of Media and Governance: "Modern Chinese studies" and "GNL (Globalism Nationalism Localism)." He is currently teaching eight graduate students.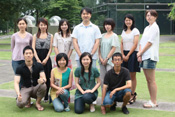 It all started with the issue of "democratization" in China. In China, one-party dominance has only resulted in local authorities making arbitrary decisions and causing lots of problems. However, China is at risk of losing its order and being broken up due to conflicts if they push forward multiparty system or decentralization. With this in mind, I believe it worthy of discussion whether or not civil society that supports China's system transformation could be created.

Recently, French President suggested the prohibition of Muslim women's veil, "hijab." France has been privatizing religion based on the tradition of Jacobin and Rousseau; it means invading the privacy of individuals. China also tried to dominate churches and temples by "the patriotic religion group", but from the mid 1950s, they started interfering with religious activities at home. I sometimes think that Chinese Communist Party is not so much Marxism as Rousseauism.

They can no longer be an active citizen under the system of "unification" which has "nationalized" your beliefs. They could easily fall into what Ortega calls "the masses." Thus, the current religious boom in China could be a chance for Chinese people to recapture "words" of action from the nation. Also, religious organizations are providing public services (rational expressions of religious passion in the real world). I am now interested in effects that such changes will have on Chinese civil society and politics.

At the undergraduate seminar, we conduct research into religion in relation to nation or society, and nationalism as pseudo religion. Case studies are not limited to specific areas. Our graduate students are mainly from China, and most of them choose China as their research target.
Faculty Profile

Eiichi Tajima, Professor, Faculty of Policy Management

Professor at the Faculty of Policy Management, and the Graduate School of Media and Governance. Graduated from the Faculty of Letters at Keio University, and studied at the master's and Ph.D. programs at the Graduate School of Letters focusing on Chinese literature. Has been a faculty member specializing in Chinese Area Study at Shonan Fujisawa Campus, Keio University since 1994.
Student's Voice

Cho Boku, Second-year Student of Master's course,
Graduate School of Media and Governance

Knowledge is born after intensive discussions

At the seminar, discussion and association actively go on; I am very impressed that Japanese, Chinese, English and other languages are always being used at the same time. Participants' main focus geographical area of study is Chinese sphere; however, each student studies different areas and covers broad range of areas such as politics, economics, society, religion and media. In order to use the time of the seminar more effectively, the students are divided into three groups: "media", "society and religion", and "policy making". In these extracurricular group activities, we read documents in turns, and are given by the professor instructions on methodology and basic knowledge. The professor sometimes makes severe comments; however, in China, there is a saying that "Chugen Gyakuji", which means good advice is harsh to ears. We are growing day by day in the process of trial and error under the close supervision of Prof. Tajima.
*This article appeared in the 2009 autumn edition (No.264) of "Juku."
*Position titles, etc., are those at the time of publishing.