Junya Kudo, President, Maruzen & Junkudo Internet Store HON Co., Ltd.
He is working to expand a nationwide online business to have books be ready for pickup at a bookstore on the way home from school or work, in the hope to preserve the custom of reading books.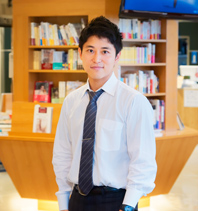 Junya Kudo, President, Maruzen & Junkudo Internet Store HON Co., Ltd.

Profile
Born in 1989, Kudo grew up in Hyogo Prefecture. He then moved to Tokyo when he was in sixth grade. After attending Keio Chutobu Junior High School and Keio Senior High School, he graduated from the Keio University Faculty of Law, Department of Law in 2012. While a student, he served as the store manager of Junkudo Press Center store, and he now serves as President of HON Co., Ltd. since 2009.
He became a store manager in his first year of university and president of the Internet store as a second-year student.
─ Mr. Kudo, still in his 20's, is President of HON Co., Ltd., which operates the Maruzen & Junkudo Internet store. What is really remarkable is that he became president when he was still a second-year student at the Faculty of Law. Please tell us how that happened.

Before becoming president of HON, I became the store manager of Junkudo Press Center store in Uchisaiwai-cho in the middle of my first year of university. Junkudo is a bookstore chain that my father started. Back then, I was struggling with myself, because although I studied at Keio Chutobu and Senior High and then proceeded to the Faculty of Law, as I got to know more people and got to learn about different things, I started to question myself about becoming a lawyer, which had been my aspiration since high school. Just like many other students who enter university from its affiliated high schools, I was experiencing a vague feeling of anxiety because peers who had overcome the entrance exams looked tough, and I was worried if I was OK, having spent my high school days in a leisurely manner.
That was when my father suggested that I become a store manager while I was still attending university, and I accepted the offer in the hope that I may be able to find what I was looking for. I still don't know why my father encouraged me to become a store manager because he has never told me. He might have been trying to help me out of my struggle, or he might have had something else in mind.
By the way, becoming a store manager sounds glorious, but in reality, I didn't know anything about working in a bookstore or how distribution worked. Although I did my best, looking back on those days, I think I was only just able to manage it with the support of my sub-manager and other staff at the store.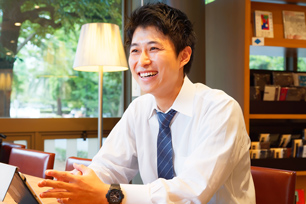 ─ Soon after you started your second year at university, you became the president of the Internet store.

I think the idea was that since Internet business is a new world, someone young should be president.
To begin with, Junkudo Bookstore was founded in 1963 in Kobe when my father took over a portion of my grandfather's business. Until we merged with Maruzen in 2015, our headquarters was located in Kobe. When we suffered huge damage in the Great Hanshin Earthquake in 1995, we realized that concentrating our business in one area may lead to difficulties if another natural disaster strikes. Therefore, we accelerated the expansion of our stores nationwide. When I was in elementary school, my father used to take me on trips to places such as Kagoshima and Sendai, but in many cases I was actually just accompanying my father who was traveling on business to launch a new store. In 1997, we opened the Ikebukuro store, which had a floor space of 3300 m2 (now 6600 m2) and was the first one in the Tokyo Metropolitan area.
HON Co., Ltd. was launched in April 2009. Amazon had started online sales in 2000, so we were quite behind. The main purpose of Junkudo's online business was not so much about increasing our sales, but about collaborating with local and independent bookstores so that more people can read more books.

He wanted to halt the decline in bookstores
The number of bookstores nationwide was about 21,500 in 2000, but it is steadily declining with only 14,000 left in 2014. Some people say that small bookstores going out of business serves the interest of larger bookstores, but that is not true. When the number of stores decline, people end up with fewer opportunities to come into contact with books, which may lead to a loss of the habit of reading books, so this is a grave issue for the whole industry.
If you simply want to look something up, searching it on the Internet is handy. However, when you try to acquire knowledge by reading books, even if it takes more time, you can nurture your ability to think about different things in a spontaneous way. I believe reading is the best way to nurture this ability, so I am worried that the decline in the habit of reading will lead to Japanese people losing the ability to think critically.
That is why we want to somehow stop the decline of bookstores. In view of the present situation, with the popularization of smartphones and the Internet, time spent in front of a display and time for reading are fighting for a larger piece of the pie. On the other hand, the Internet and smartphones could be used as a weapon for bookstores if utilized effectively. By making use of these functions, we thought that we could launch a system so people can easily buy books at their local bookstore on their way to and from work or school, and furthermore, we could convey the excitement and appeal of our bookstores through the screens of people's devices to help bring people to our stores, which is why we launched our online sales website. I feel proud because I think our website is different from a service that just sells books.
Today, we have realized a system that allows you to check from your computers and smartphones whether the nearest affiliate bookstore carries the book you want, so that you can purchase it on your way home. To make this work also with the local and independent bookstores, which was our original purpose, we are trying to overcome various problems and are aiming to collaborate with bookstores throughout the nation.
─ When we visited the website, what was impressive was the "Sakka Shoten" [writer's bookstore], where writers take the role of store managers and introduce their favorite books as you would display them in a shelf, and introduction of events such as fairs, talks, and book signings.

We originally started as the Internet store of Junkudo, and after we merged with Maruzen, we now operate the website as the Maruzen & Junkudo Internet store.
"Sakka Shoten" is a promotion in which Junkudo collaborates with a writer, and we allocate a corner of our stores so that the writer can freely display books. Sometimes, the writer visits our stores to give a talk. Writers read so many kinds of books to help their writing, and through the event they introduce books that inspired or motivated them. We try to share all this on our website so that even visitors to the site can see and enjoy it as much as possible.
The first "Sakka Shoten store manager" when we began it in 2003 was Shuntaro Tanikawa [a highly regarded Japanese poet]. After that, writers such as Takeshi Yoro, Moto Hagio, Kenzaburo Oe and Yoshikazu Yasuhiko have served as store managers of "Sakka Shoten."
He launched "Hiyoshi Deneisetsu" with his peers
Pushing your limits will bring more excitement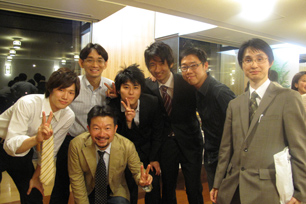 - Tell us about your life at Keio.

Outside of my studies, my most unforgettable memory was launching "Hiyoshi Deneisetsu," an event to promote Chinese culture through Chinese films. I knew Associate Professor Tatsuo Yoshikawa because he used to teach our Chinese class at Keio Senior High, and after I entered university, he asked me to help him introduce "Red Cliff," a Hollywood film on Chinese history.
It was an event related to the Tokyo International Film Festival, which was held around that time. There were three of us, and we were really excited to be able to handle everything from the planning to the running of the event. Actors from the film came to Hiyoshi, and it was a stimulating and enjoyable experience. I took part in the running the event for the next two years, and even today, Keio students are involved. I was able to meet many people and learn many things through this event.

As for my studies, I belonged to the seminar class of Professor Tamesaburo Yamamoto and studied corporate law. Prof. Yamamoto gave importance to principles as a researcher, and he would teach us in a logical way about how corporate law, which tends to be handled flexibly in business, should be from an academic perspective. He was understanding of me as someone already working outside university, and he also gave me some constructive advice.

The lectures on "negotiation" by Professor Jiro Tanaka were just the opposite, and it was very practical rather than academic. We learned Harvard-style negotiation using demonstrations. The basic rule of negotiation is to place oneself in the other person's position to figure out what they want and clarify what you can do for them, and this lesson still serves me today.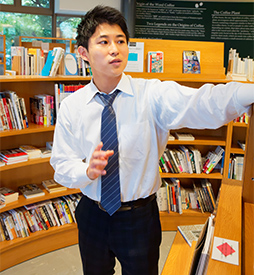 - What are your thoughts and feelings about Yukichi Fukuzawa?

When I entered Chutobu Junior High School, the first characters I wrote were "独立自尊" (Dokuritsu Jison, meaning independence and self-respect)." Although I didn't understand the meaning, I made sure to memorize these four characters. Three years have passed since graduating from university, and the more I work, the more I realize the complexity of society where things are never black or white. For example, we cannot say which is better between paper books and digital books. However, what is important is to listen and to not reject other people's opinions, to have a well-thought-out opinion, and to be able to put it into words. This is my own way of understanding the meaning of "independence and self-respect." In order to clarify your opinions, I think it is necessary to read many books to learn about different ways of thinking.

- Finally, could you give a message to current Keio University students?

I cannot really say much as I am not much older than current students, but when I look back at the days when I almost bit off more than I could chew trying to bring success to the "Hiyoshi Deneisetsu," I feel that it is important to push your limits during school life. Keio is a place where you can do that, and where you are given the chances for it. You can be close to the teachers, who will sit down to listen to your problems and support you if necessary. So I would like to tell all Keio students that rather than avoiding new challenges, you should be daring and extend your limits, then you will find something unexpectedly interesting.
- Thank you very much.
*This article appeared in the 2015 autumn edition (No.288) of "Juku."
*Position titles, etc., are those at the time of publishing.