Yoriko Goto, Certified Public Accountant, Member of the Board, Deloitte Global and Japan; Managing Partner, Financial Services Industry, Deloitte Japan
A certified public accountant and board member of Deloitte, the world-renowned accounting firm, Goto currently serves as the first female chairperson of the Mita-kai of Certified Public Accountants since last spring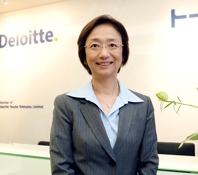 Yoriko Goto,
Certified Public Accountant
Member of the Board, Deloitte Global and Japan;
Managing Partner, Financial Services Industry, Deloitte Japan

Born in Tokyo in 1958. After graduating from Keio Girls Senior High School, Goto entered Keio University's Faculty of Economics, graduating in 1981. In 1983, she passed the certified public accountant examination and joined Deloitte Haskins & Sells. Since the firm merged with Tohmatsu Awoki & Sanwa to found Tohmatsu & Co. in 1990, she has mainly been handling banks and business in the financial industry. After a nine-year stint in New York, she now serves as the managing partner of Deloitte Japan(Deloitte Touche Tohmatsu LLC) in charge of the Financial Services Industry while serving on the board of Deloitte Global(Deloitte Touche Tohnatsu Limited) . She became chairperson of the Mita-kai of Certified Public Accountants in March 2013.
Joins a foreign accounting firm and attends night school to overcome an aversion to English
─ Ms. Yoriko Goto, a certified public accountant, is the only female managing partner of Deloitte Japan and is also a board member of Deloitte Global, an international professional services firm in which Tohmatsu plays a major role. Tohmatsu is known widely as one of Japan's largest accounting firms, but Deloitte may be an unfamiliar name for some people. Could you please explain the connection between the two?

Deloitte is one of the world's Big Four professional services firms. Its network consists of more than 200,000 professionals in over 150 countries.
I started working at a Japanese member firm of Deloitte Haskins & Sells, the predecessor of the present group, in 1983. In 1990, Deloitte Haskins & Sells merged with Touche Ross and became Deloitte Ross Tohmatsu International (presently Deloitte Touche Tohmatsu Limited), and each member firm in Japan merged into Tohmatsu & Co. (presently Deloitte Touche Tohmatsu LLC). Since then, I have belonged to this group.



─ Did you join a foreign firm because you were good at English?

No way (laughs). Honestly, I was really bad at English back then. So at first, I applied to Japanese accounting firms. However, at a job interview, I was asked, "What about marriage? A woman's happiness is marriage and having children, isn't it?" I was surprised at how old-fashioned they were. Keio students today may find it hard to believe, but in those days we didn't even have the Equal Employment Opportunity Law, so all industries were similar in this respect. Finding a job was tough for female students graduating from four-year universities. However, I had already made up my mind as a student at Keio Girls Senior High School that women should be independent, so I couldn't stand being treated like this especially since I was qualified as a certified public accountant. I soon got a job at a foreign firm and started my career.
Obviously, the official in-house language was English and all documents were written in English, but my English skills were so poor that I even struggled to understand the notice concerning my own welcome party. I realized that I would have to resolve to learn English. While learning English practically through my daily work, I attended night school and hit the books. In the end, I managed to overcome my struggles with English impairment. This experience taught me that even if you are not good at English, you can master it if you try hard. What you need is the determination to study diligently.
There was no sexual discrimination at Deloitte. Soon after I joined the firm, I remember that a female senior colleague told me, "Deloitte is a level playing field, so all you need to do to be recognized is to work twice as much as the people around you."



─ Please tell us about your work in those days.

This was the decade from 1983 to 1993, so it was around the era of the bubble economy in Japan, and Japanese companies were doing well abroad. I handled the Japanese registrants of the U.S. Securities and Exchange Commission (SEC) and was involved in auditing their financial statements based on U.S. accounting standards.
I would work closely with my clients, spending about 10 months in a year working at their offices as if an employee of the company. To be more specific, I would review the company's new plans for an investment or an acquisition from an accounting standpoint, and would discuss different possibilities with the accounting staff to clarify each issue. Still young and full of curiosity, I loved a good challenge, which enabled me to handle such tasks, but I feel that those early years of hard work have led to where I am now.



─ That was a time when many companies were becoming more and more international, and U.S. accounting standards were gaining momentum.

To start with, the U.S. Generally Accepted Accounting Principles (US GAAP) were developed by the American society through a long consensus process. When a Japanese company with a completely different culture and organization tries to adopt such standards, there are many points that are difficult to comprehend. When I would explain these accounting standards to company executives, they would point out one after another that a certain point is ludicrous or unacceptable. I keenly felt that I needed to learn more about the American society and companies that designed these standards in order to respond to such reactions and volunteered to be transferred to New York.
Around that time, American authorities had begun to cast a stern eye on Japanese companies because of an incident that occurred at a Japanese bank. Under such circumstances, I handled Japanese financial institutions with locations in the U.S. A financial audit is a check of accounting figures from the perspective of a third party, but Deloitte in New York put important emphasis on advising and consulting as well, so we would discuss with our clients and come up with a solution to overcome different issues.
This trend became stronger later on worldwide, but realizing the "fun of supporting" led me to expand my work as a certified public accountant, and the network I built within and outside the company during these days has become a huge asset for me.
My original plan was to stay in New York for four years. I eventually ended up staying nine, but this experience was an important turning point. I would never have become a board member if I hadn't had the experience I did in New York.
Valuing challenges: "Never say no"
─ You proceeded to the Faculty of Economics after graduating from Keio Girls Senior High, but when did you decide to become a certified public accountant?

When I entered high school, I was a romantic bookworm and was into Japanese classics like The Tale of Genji. When I think about my high school classes, I recall my classic literature class of Mr. Nozomu Hayashi, whom we all called Mr. Rimbo. I was attracted to his deep knowledge and novel perspectives, and was surprised that there ever could be such an interesting class. Mr. Hayashi included, all teachers at Keio Girls Senior High School had in-depth expertise of their subject and unique ways of teaching that made for content-rich, intriguing classes.
Education at Keio Girls Senior High School was based around Yukichi Fukuzawa's principles of independence and self-respect. The grand theme was about how to become an independent woman with an awareness of her freedoms and responsibilities. I fondly remember having discussions with my peers about whether we would be able to maintain our independence after getting married.
One way I thought I could become independent was by obtaining a national license. I first found out about becoming a certified public accountant by talking with teachers at Girls High, and proceeded to the Faculty of Economics to study for the examination.
Although I entered university with a clear goal, it was quite difficult to stay motivated (laughs). My plans were to focus on studying, but all my friends from high school joined different clubs and circles. In the end, my loneliness got the better of me and I joined the same tennis circle as one of my good friends a month later. I embraced my youth, going on tennis training camps to Karuizawa among other things, and made studying my second priority.
I don't regret it. I met my husband at the tennis club, where he was two years my senior. When I discussed going to the U.S. with my husband, he replied, "Living abroad sounds fun," and quit his own job to come with me to New York. I am thankful for Keio's education to have nurtured such a flexible mind.


─ It is said that the certified public accountant examination is extremely difficult with low pass rates. How did you study for the exam?

In my third year of college, I decided to go study at a school geared especially towards preparation for the exam. I earned most of my required college credits in my first three years of college, and I spent most of my fourth year studying for the exam. I continued to study after graduation, and spent two years in total studying for the exam; it really isn't easy to get certified.


─ Did you have any memorable classes at the Faculty of Economics?

I decided not to join a seminar class, which is quite common among students aiming to earn qualifications. Still, I did attend all of my lectures! When I was attending required courses such as the principles of economics, macro- economics and statistics, I didn't realize that all of this would prove useful in my future job as a certified public accountant. However, now I feel that what I learned back then has formed the foundation of my work today.
At Tohmatsu, I am in charge of the financial industry, and you cannot gain trust from clients or do a good job for them unless you fully understand the ever-changing financial market and world affairs and are able to explain them in your own words. In terms of building a foundation, I feel that university education is really important.



─ Could you give a message to current Keio University students?

When I attended the 2012 World Economic Forum in Davos, I was proud to find out that a young Keio graduate was working internationally as a social entrepreneur. I also had the opportunity to meet President Seike there. From now on, I think it will become more and more important to take on new challenges with a broad, global perspective. I hope someone from Keio will become a future leader in Japan as well as the world.
Recently, there is a lot of talk about women's presence in various fields. I heard a person mentioning that women who graduate from Keio are too smart to position themselves at the top and take up second fiddle to avoid pressure or criticism, but I wonder if this is true.
I feel that at work and play, you can't get to know the real fun if you are number two. To put yourself out in front can surely be tough, but you can also gain a great deal and enrich your life because of this position. I hope students take on life's challenges positively rather than sit in life's back seat.
To take this a step further, I recommend that Keio students, especially female students, never say no. That is my motto. Looking back at my career, people came to me with new tasks because they felt some kind of interest in me, inexperienced but working really hard.
Even when the hurdles have looked too high, I have never rejected such proposals. The result has led to being selected as one of the 32 board members of Deloitte Global, an organization which consists of about 200,000 professionals. It is a position with hefty responsibilities, but I believe I will be able to gain something new from this experience as well.
I was also asked to become its first female chairperson of the Mita-kai of Certified Public Accountants, a position I have held since March 2013. I feel that interactions with other accountants beyond the boundaries of each firm we will be able to discover something new and interesting.


─ Thank you very much.
*This article appeared in the 2014 winter edition (No.281) of "Juku."
*Position titles, etc., are those at the time of publishing.