Mitsunobu Kojima, Chairman and CEO, Ryobi Holdings Co., Ltd.
Nicknamed the "undertaker for revitalization of regional public transportation"
Starting point for business full of ideas was planning a world trip and dispatching private tutors during college days at Keio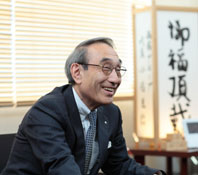 Mitsunobu Kojima,
Chairman and CEO, Ryobi Holdings Co., Ltd.

Born in Tokyo in 1945. Graduated from Keio Chutobu Junior High School, Keio Senior High School, and the Faculty of Economics of Keio University and joined Mitsui Bank (presently Sumitomo Mitsui Banking Corporation) in 1968. Involved in credit lending to small and medium-sized businesses learned business management in detail there. Became the managing director of Ryobi Transportation Co., Ltd. of Ryobi Group and successfully rebuilt the company in 1973. In 1974, finished the one-year program of Keio Business School. Became president of Ryobi Holdings Co., Ltd. in 2007 and has been at present post since 2011. Serves as the representative director and CEO of 52 companies within the Ryobi Group and as president of 25 other companies including Wakayama Electric Railway.
Under the "publicly established, privately operated" system, revitalizes a debt-ridden local line
─ Wakayama Electric Railway Kishigawa Line is known nationwide for Tama, a cute calico cat which serves as the stationmaster. Ichigo EC ("strawberry train") and OMODEN ("toy train"), both designed by Eiji Mitooka, have attracted attention, and tourists come to visit from all over the country. It is hard to believe that this railway was once a debt-ridden local line on the verge of closing down. Mr. Mitsunobu Kojima, Chairman of Ryobi Holdings, which operates a wide range of businesses mainly in Okayama Prefecture, was the one who brilliantly helped revive the line. Mr. Kojima is also nicknamed the "undertaker of revitalization of regional public transportation", but why did a company in Okayama decide to work on reviving a local railway in Wakayama?

Before that, let me explain about the Ryobi Group. The company started from Saidaiji Railway of Okayama which was established in 1910, and today, we run about 50 companies, with three core businesses that are transportation and tourism-related, including buses, taxis, trucks, ferries and streetcars; businesses related to daily life such as supermarkets and real estate; and businesses that are information-related. Ryobi Holdings is positioned as the center core of these companies.

Since we are deeply involved in the transportation business in Okayama, a provincial city, I feel a strong sense of crisis for declining regional public transportation, depriving citizens of transportation in an aging society. So, the problem with the Kishigawa Line in Wakayama wasn't somebody else's problem.

Also in our company, when we did a business analysis of our public transportation division more than ten years ago, we found out that we were in a serious situation, that the business may not hold for another 10 years. However, I didn't want the public transportation that has been loved by the locals to fall into decline, so we took a firm decision to maintain and develop the business, and we focused on improving the convenience and efficiency of the buses and streetcars. We also worked actively to increase the appeal of them, such as bringing in "MOMO", a new ultra low-floor light rail vehicle for our streetcars so that even the elderly can easily get on and off, and we are steadily improving performance.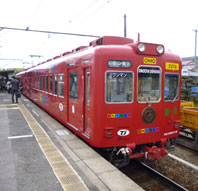 ─ Such efforts attracted attention, so that must be why you were chosen as the savior of Kishigawa Line.

The relation with Kishigawa Line started when local citizens came to Okayama Electric Tramway, a company of Ryobi Group, and requested us to create a revitalization plan. Back then in 2005, when Nankai Electric Railway managed the line, it suffered an annual loss of 500 million yen, and it had been announced that the line would be closed down. When we took on their request and went to the site to study the situation, we found out that the local people were working passionately to save the line, and furthermore, along the railway line are Nichizengu (Hinokuma Jingu and Kunikakasu Jingu), Itakiso Jinja, and Kamayama Jinja, the three major shrines of west Japan, which looked promising as tourism resources. I thought that by adopting the "publicly established, privately operated" system, we could substantially reduce its losses, and we made a plan. Then when it came to choosing the operating company from the public, there were no applications from companies with sufficient experience, so in response to calls from the local citizens, we decided to operate.


─ How does the "publicly established, privately operated" system work?

In this case, equipment and facilities such as the railway track and train cars are owned by the government, and the operation is handled by a private company. The operating company is freed from the burden of obtaining and maintaining property and facilities, so by focusing on operation, it can spend more energy in offering a more attractive service.
In the case of Wakayama Electric Railway, we were able to undertake the operation because the municipalities along the railway showed an understanding of the "publicly established, privately operated" system and promised to support us.


─ I heard that it was your idea to let the calico cat Tama become stationmaster.

Yes, the moment I saw her face, it just sprung to my mind, and I thought, "She should be the stationmaster!" The cat was originally owned by a store next to Kishi station, but on the day of the opening of Wakayama Electric Railway, she lost her home, and the owner asked us if the cat could stay in the station. This is how it all started. Having received media exposure, Tama has become really popular, and is now ranked as the managing officer.
Through indiscriminate reading, Kojima came across "keisei-saimin" (governing society and saving the people) and decides to establish a career in the world of business
─ You joined Keio from Chutobu Junior High School.

I was a bookworm when I was in elementary school, and in a book, I read an episode of Yukichi Fukuzawa. When walking past a tough-looking samurai, the scabbard of his sword touched with the scabbard of the samurai, and fearing that a swordfight may start, he ran away, only to find out that the other guy was also running away for dear life. I was attracted to Fukuzawa's personality with his rational spirit and humor and began to worship him, which led to me entering Chutobu. In those days, people strongly believed that state-run schools were better than private schools, and my father was reluctant to let me advance to a private school. I remember thinking, "Well then, I'll do it myself," as I rode my bicycle from my home in Azabu to submit the application form for entrance.

In Chutobu, I read so many books that I might say I was an indiscriminate bibliophile, and this is how I came across the word "Keisei-saimin" (governing society and saving the people), which turned out to be a milestone in my life. This phrase is where the Japanese word for economics, "keizai", came from. I got to know that economics was what saved people from misery, and I decided to pursue a career in the world of business. That I grew up watching my grandfather and father work as businessmen may have also been an influence. So, in my second year in Chutobu, I had already made up my mind to advance to the Faculty of Economics. The predecessor of the Faculty of Economics had focused on practical learning, and I was also attracted to its spirit.


─ You then graduated from Keio Senior High School and advanced to the Faculty of Economics. I heard that you were flying gliders in the Keio Soaring Team.

I wanted to participate in team activities that I could only experience in university, so out of shooting, parachuting and gliding, I chose gliding and joined the Soaring Team. During practice, we would fly with a senior student, but had to experience hard turns and nosedives, so although there were about 30 new students at first, in a while only 5 were left including me. Training was tough, but flying felt really good, and the training camps, which always started during final exams for some reason, were really fun. However, my mother cried in fear of accidents and asked me to quit, so I had no choice but to quit the team.

A friend of mine from Keio Senior High School talked me into a circle called "society of foreign affairs", almost as if he were waiting me to quit gliding. In this circle, they planned overseas tours for Keio students. I was asked to present an idea, so I thought hard and came up with a plan to "travel around the world in 40 days", and this was very well accepted. The plan was to charter a plane of Scandinavian Airlines, and although we would stay in a hotel in London, Paris, Rome, and New York, in all other cities we would stay at the inexpensive YMCAs while going around the world. This was an innovative plan that even the travel companies didn't have at the time, and the capacity of 130 people was soon full. The Nikkei newspaper mentioned me writing, "Keio has a student full of ideas." Unfortunately, I personally was not able to participate in the tour because it overlapped with my exams, but I was content that my idea was realized and was a big success.

I also dispatched private tutors for Chutobu students. I guaranteed that students who were about to fail with grades like D and E would get a B within 6 months. The tutors were all Keio University students who had graduated from Chutobu, which means that senior Chutobu graduates would teach junior students of Chutobu. The aim was to have the Chutobu students acquire the habit of studying on their own and get on track. If they could do this, the tutoring would stop. This also went well and I was greatly appreciated by parents.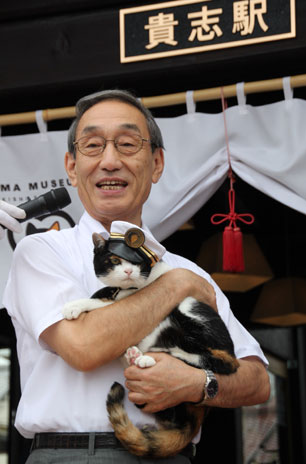 ─ So the idea person that created the unique strawberry train and toy train was already in you from your college days.

Yes, so I was a very busy student. I didn't have time to attend all the lectures, so with two other friends, we shared our duties of attending lectures. When we took notes, we would make two copies using carbon paper and would exchange the notes.

We did choose our own seminar classes, though. Even if my notes were carbon copies, I did study hard, so I was able to join the seminar class of Prof. Kenzo Kiga (late former Dean of the Faculty of Economics), who was very popular back then. The theme I wanted to study was "Which is more efficient, a capitalist economy or a socialist economy,?" and there were 7 students who chose this theme. Professor Kiga did come to teach us for the very first class, but from the second time, Hiroshi Kato (presently Professor Emeritus), who was his former student, or an assistant would come instead. Before long, no one came to teach us anymore. With no choice, we started to move forward with our studying, taking turns reading chapters from a textbook. Then when the next school year started, new students came in, and now we were forced into the position to teach them. We had to study even harder in order to teach, and this was a good experience. Although Professor Kiga came to teach us only once, he took time reading my graduation thesis and gave me careful guidance.


─ I heard that after graduation, you joined Mitsui Bank and were involved in offering credit.

I wanted to start a business someday, but I didn't know what to do then. So I thought about joining a trading company or bank to learn about business. After joining the company, I wanted to gain firsthand knowledge of business management, so I said, "I want to handle small and medium-sized businesses at a branch office" and was told, "Well then, the old downtown of Kanda should be the perfect place", and my request was accepted immediately. I worked very hard because I wanted to be involved in offering credit, or in other words, loaning. It paid off, because I was able to get the post in a year and a half, where it usually takes about ten years. There are many guidelines for making a lending decision, but in the end, you have to determine the quality, capability, and character of the business owner. Even if the company has a good track record, you cannot lend to a manager who lacks passion and quality. Among the people I met in those days was Mr. Hiromasa Ezoe of Recruit. Not to mention what happened later, he was a brilliant young businessman who was devoted to work at the time.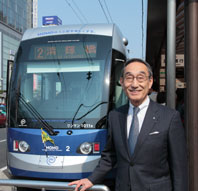 ─ You left the bank when you were 28, and became managing director of Ryobi Transportation of Ryobi Group.

My wife's parents, the Matsudas, asked me to help rebuild Ryobi Transportation, which was suffering financial difficulties. Though the company had annual sales of about 4 billion yen, it also lost about 400 million yen every year. The banks in Okayama wouldn't lend us money, so we couldn't raise funds. Therefore, I made a detailed restructuring plan and went to the Kobe branch of the Industrial Bank of Japan to ask for a loan, even though I had no connections with them whatsoever. I was surprised that they would meet an unacquainted young person, but the branch manager listened to me carefully. After looking into my eyes and saying, "You are sure you can implement this plan?" he gave us a loan. This allowed us some space to breathe, and we were able to achieve the reconstruction.


─ After that, you led the group and became president of Ryobi Holdings, where you now serve as chairman. Finally, please give us some advice for Keio University students who are interested in running a business or starting a new business.

The most important thing is to have ample passion and belief in your work. What comes next is insight, and then philosophy. My wife's father, Motoi Matsuda, also a Keio graduate, had a fabulous management philosophy, and I learned many things from him. One more thing to add, I believe most people studying at Keio have been brought up in a privileged environment. You should feel grateful, and making use of what you have learned, should think about paying back to society.

I also want Keio students to realize how wonderful it is to work in provincial areas. If you are in a provincial city, your work makes the society change, and you can closely see the results. If I had never come to Okayama, I don't think I could have come this far in my work. I wish you all success.


─ Thank you very much.
*This article appeared in the 2012 summer edition (No.275) of "Juku."
*Position titles, etc., are those at the time of publishing.