Akiyoshi Moriyama, "Nurturing the People" Department, Misogigawa Co. Ltd.
Works for a private community development company in hometown, Nanao of Ishikawa Prefecture
Coordinates "studying abroad in Noto" as a means of local revitalization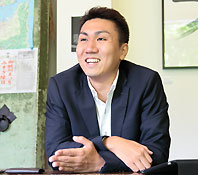 Akiyoshi Moriyama,
"Nurturing the People" Department, Misogigawa Co. Ltd.

Born in Nanao City of Ishikawa Prefecture in 1983. Graduated from the Faculty of Policy Management and joined Eizo Nanao Corporation. In September 2010, joined Misogigawa Co. Ltd.. Belongs to "Nurturing the People" Department and seeks to cultivate personal exchanges for local revitalization through projects such as "Noto-Ryugaku (long term internship in Noto)". From April 2011, also serves as the manager of the president's office of the family-owned driving school, expecting to run the business in the future.
Working on various projects to vitalize my hometown
─ Mr. Akiyoshi Moriyama was born in Nanao City of Ishikawa Prefecture. After graduating from the Faculty of Policy Management, you joined Eizo Nanao Corporation, a world-class computer display manufacturer with its headquarters in Ishikawa Prefecture, and now you have gone back to your hometown Nanao City to work for Misogigawa Co. Ltd., which is a private company for community development. You are working on various projects to revitalize Nanao where you were born and brought up, and the Noto area. What actually is a private community development company?

I think most organizations for regional development are led by the public administration, but Misogigawa Co. Ltd. is a 100% privately funded company that works on community development. When the company was founded in 1999 with a capital of 50 million yen, 8 people of the local area made the investment and no administrative capital is included. It aims at making Nanao a "small world-class city". The three strategies for this objective are "nurturing the town, nurturing the shops and nurturing the people".
As for "nurturing the town", we work on cleanup activities of Misogi River that runs through the center of the town, hold symposiums and workshops, and conduct a joint development of a water quality purification system. Also, we serve as the head office of "Noto Umami Onpaku Umamin", which is a long-stay tourism project to have tourists actually experience the food, history and traditional culture of Noto. The feature of this project is that it offers many little experience programs such as a gourmet tour of local dishes that only the locals know about. The word Onpaku comes from "Beppu Hatto Onsen Hakurankai (Onpaku)" of Oita Prefecture, a method to utilize local resources, which was then adopted nationwide.
As for "nurturing the shops", we have opened our own restaurant, a Noto souvenir shop and a gallery to attract more people to the area along Misogi River. In addition, we have invited hair salons and other shops to boost the area. We also offer "Noto Style Store", an online store that sells local specialty products of Noto.
As for the last strategy, "nurturing the people", this is what I am working on now with full efforts. For local revitalization, it is indispensable for the local companies and shops to be vital. However, I often hear owners of companies and stores lamenting "we want to do something new and interesting, but there are no young people who can take the role." In fact, there are no universities in Noto, and young people have no choice but to leave the region. So we started the "Noto-Ryugaku (long term internship in Noto)" program with the thought that if there aren't enough young people, we should bring them here.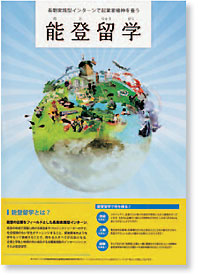 ─ If there is no university, where do they study?

They study at local companies in Noto. They participate in projects as a long-term hands-on intern and take on the challenge of solving business issues of the local companies, aiming to create new jobs in the region and at the same time to develop themselves. The basic term is from 6 months to 1 year, but we also provide a short-term program of 3 months. We started the program in 2010. There were 4 students in the first term, 3 in the second term and 5 students are participating in the third term that started this summer.
For example, a female student who studies economics at a university did a 4-month study at a traditional company that sells Japanese candles, and she learns the significance of the traditional company which is closely related to the local society and that the products themselves are being nurtured through people's lives of the region. I heard that she was really impressed, having realized the true purpose of business which is not only about going after profits. On the other hand, she made a large contribution to the company. She realized that the wholesalers and store staffs didn't have enough knowledge on Japanese candles compared to western candles, and the pamphlet she created was very well received as a helpful sales promotion tool.
After the Great East Japan Earthquake, there has been a change in the way students view regional areas. There are more people willing to work in their hometown or provincial cities rather than the big city. However, there aren't many opportunities for students to know about the reality of companies in provincial cities. "Noto-Ryugaku (long term internship in Noto)" is a project for such students to get to know more about the worksite of these companies. I think you can gain a lot of things while working long-term with staffs of the company. At the same time, for the companies that accept the students, this program must have a big advantage, as it is a chance to take in the young stimulation for vitalization of the office and for business innovation.


─ From which universities do students come from?

Universities such as Kanazawa University, Nagoya University, Ritsumeikan Asia Pacific University and Hosei University. So far, there are no students from Keio University, but I hope someone would participate. I am sure that he/she will find a new and warm world that he/she has never known about. To experience working in a local company that may be small but is engaged in business positively should also be very useful in nurturing an entrepreneurial spirit.

Inheriting feelings for hometown Nanao from his father and sister
─ Please tell us why you went back to your hometown Nanao at age 27 to join the community development company.

When I was in elementary school, I wrote in a composition that "I want to make Nanao a better town", so it was my wish from childhood to work for community development in my hometown. Come to think of it now, I was brainwashed by my parents (laughs).
One of the investors of Misogigawa Co. Ltd. is my father, Toshio Moriyama. He served as the first president of the company, and now serves as chairman. My father runs a driving school in Nanao, and also serving as a board member of the construction company my grandfather founded, he used to make great efforts to revitalize the region and revive the economy as a member of JC (Junior Chamber International Japan), even before establishing Misogigawa Co. Ltd.. "Noto Shokusai Ichiba (Noto Fisherman's Wharf)", a tourist facility with souvenir shops and restaurants that was built 20 years ago based on a plan then to create a marine city, is still a popular spot that is visited by 900 thousand tourists annually.
I grew up looking at my father who worked hard for Nanao, and my mother used to tell me that "father is working hard for the local area", so it was natural for me to think, "I want to make myself useful for the local area".
Also, the president of Misogigawa today is my sister, Nami Moriyama, who is 10 years older than me. She too was brainwashed (laughs), and having Nanao in mind, she studied urban planning at a department of architecture in college, so she has been taking over my father's feelings.
Studying business management and community development, thanks to SFC's flexible curriculum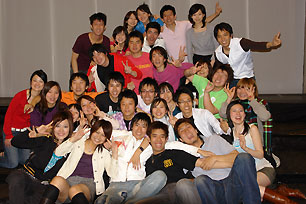 ─ So you were greatly influenced by your parents and sister who love Nanao. What brought you to the Faculty of Policy Management?

I was wondering if I should study business management for my family business, the driving school, or study something like urban planning that directly relates to community development. When I got the guidebook of Keio University for taking the entrance exam of Faculty of Business and Commerce, I found SFC was also introduced in the guidebook. I went to the exam for SFC because I thought I might be able to study both business management and community development. I also passed the exam for the Faculty of Business and Commerce, but I decided right away to enter the Faculty of Policy Management.


─ How was life at Keio University?

I did study a lot, but the best memories are of my club activities at "A Cappella Singers K.O.E.". Because of influence of my mother who likes music, and my sister, who used to sing in a chorus, and I also loved to sing, I became a member of the club.
This was a large club with about 100 members. We would form a band of about 4 to 6 people, and sing songs such as gospel, R&B and J-POP a cappella. If you think about the popular group The Gospellers, you would have an image of how we sing. Twice a year, in summer and winter, we would hold a big concert, and at these concerts, we also performed songs that all members would sing together.
It was the club's tradition to make everything for the concerts by ourselves, so besides singing, I used to be chief of the spatial design team that was responsible for making large props. We would use all kinds of ideas, such as covering up the wooden stage with fabric and using black out curtains. We also had to borrow different equipments from the university, planning committee of the school festival or other clubs, which helped brush up my negotiation skills. The club activities were really fulfilling.
Also, I was able to make a lot of friends. Among them, getting to know Ms. Tomoko Ito, a senior student, was a major event that led me to where I am today. Born in Kochi and brought up in Kagawa, Ms. Ito started with creating the Sanuki noodle boom in New York, and after returning to Japan, she organized a network of people who love the Shikoku region called "HIP (Home Island Project)". She is an incredible person who boasts that she will "make Shikoku the center of the world" (laughs).
When I used to work at the Osaka office of Nanao, she asked me to help her hold a party because she had organized a bus tour in Tokyo to go to Shikoku, and would stop by in Osaka, so this was the first time I had seen her in a while. After that, I helped her with a project seeking to expand cooperation among various organizations of those who love their local town just like HIP. This gathering later on advanced to "Team Japan", a network of teams that boast of their local town. Ms.Ito has a real strength in pulling people together.
By the way, the team that boasts of Ishikawa Prefecture is called "ish", and I serve as the leader of the team. Because of this, I have a relationship with "green drinks Kanazawa", a group in Kanazawa who care about ecology and sustainability, and I am also involved in managing events of this group.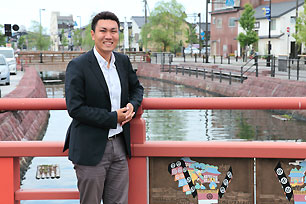 ─ Expansion of the circle of people seems to be really amazing. By the way, you mentioned that you wanted to study both business management and community development at SFC. Please tell us more about your studies.

In the beginning, the rough idea was to study management through courses and community development through seminar class activities. I took courses on business management and studied a lot, but I also belonged to the seminar class of Prof. Mikiko Ishikawa (presently Professor of the University of Tokyo) on environmental design in my first and second years. However, while studying this, I felt that I may be better at forming organizations and taking action rather than working on drawing and designing. So in my third and fourth years, I studied the theory of management strategy and theory of management organization at the seminar class of Prof. Kiyonori Sakakibara (presently Professor Emeritus). In addition, I joined the seminar class of Associate Prof. Yoshinori Isagai to study on local revitalization. What I learned in this seminar class directly relates to my work today at Misogigawa. I still have some exchanges with Associate Prof. Isagai, and I helped him hold a session in Noto on local revitalization. Also, though it is not a seminar class, I learned a lot from the course provided by Project Professor(part-time) Ryoji Ito who is also a business consultant. We had to do a lot of group work, and it was fulfilling.
So at SFC, I was able to study both business management and community development at a high level of quality, more than I expected in the beginning.


─ Finally, can you give us a message for Keio University students?

I think there are quite a few people who want to work in their hometown. However, it is also true that it is difficult to find an ideal job. Coordinating the Noto study program, I got to know that there are many companies in provincial cities that have potential, and that capable young people can act as a trigger to bring out these potentials. Even if you don't work in your local town, please maintain your interest and love for the town. I believe that someday, you will have an opportunity to contribute to your hometown.


─ Thank you very much.
*This article appeared in the 2011 autumn edition (No.272) of "Juku."
*Position titles, etc., are those at the time of publishing.