Tatsuhiko Adachi, Executive Officer,General Manager Mitsukoshi Ginza Store
Creating a department store of a new age focusing on the "Ginza style", based on thorough marketing analysis of people who gather in Ginza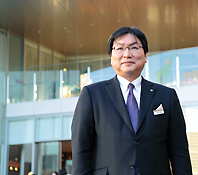 Tatsuhiko Adachi,
Executive Officer, General Manager of Mitsukoshi Ginza Store

Born in Tokyo in 1952. Graduated from the Faculty of Commerce in 1975, and joined Mitsukoshi, Ltd. in the same year. Started his career on the women's clothing floor and after 14 years of experience in the Ginza store, transferred to Kurashiki and led remodeling of the Kurashiki store. Then at the head office, engaged in managing an affiliated company and renewal of all Mitsukoshi stores. Presently, serves as the general manager of Ginza Mitsukoshi, which has been remodeled last September and expanded its floor space.
Ginza Mitsukoshi with expanded floor space
"Ginza Terrace" on the 9th floor is a new spot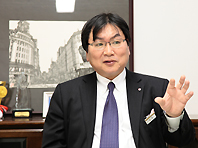 ─ Ginza Mitsukoshi, which has expanded its floor space drastically, seems to be well-received. Mr. Tatsuhiko Adachi was involved in the remodeling of the store, and now serves as general manager of the store. Please tell us what's attractive about the new Ginza Mitsukoshi.

Mitsukoshi opened its Ginza store in 1930, so it has a history of over 80 years. Although it stands on the corner of Ginza 4-chome intersection, which is an outstanding location, it has a downside of the limited size. Another problem was that the staying time of customers was short because we couldn't create an atmosphere where customers could take their time shopping. Sales efficiency was not bad, but it was more like a convenience store rather than a department store, where people shopped quickly and easily.
And now, we were able to realize our long-cherished wish to expand floor space. We were able to obtain the ward street between the main building and annex through equivalent exchange with the east end of our property. The obtained space is used as a passageway to enter the parking lot on 1st and 2nd floors, but as for the floors above that, we were able to integrate the two buildings. Therefore, rather than connecting the two buildings with a passageway located on certain floors, which is a quite common style, we were able to connect the two buildings and integrate them into one building, so each floor now has more space with an increase of more than 50%. I believe customers would feel that "Ginza Mitsukoshi is much larger than before".


─ It has been a popular topic that Mituskoshi merged with Isetan, and Isetan Mitsukoshi Holdings Ltd. was established. Were there any effects?

Remodeling of the Ginza store originally started as a plan of Mitsukoshi, but the merger with Isetan was decided along the way, and it became an important issue to blend the advantages of both companies. However, Isetan, which is based in Shinjuku, and Mitsukoshi, which is based mainly in Nihonbashi and Ginza, have very different customers. Therefore, rather than just simply blending the two companies, we gave priority in researching the Ginza market thoroughly, and focusing on creating a store that can express the style of Ginza.
In order to find out what people who come to Ginza are looking for, we did a fixed-point observation and took over 5000 pictures. We analyzed what these people wore, and we even checked thoroughly the male-female ratio, accompanying trends such as family composition and age groups. We then used this data to create our store and select merchandise.
As for research of customers, we did not put emphasis only on sales data, but we also valued data of those who came to our store. Although the male-female ratio of customers who shopped at our store is 2:8, 35% of those who come to our store are male. Also, from our data of those who entered our store, we found out that many young customers came to our store although the data of shoppers by age group showing that the ratio of 50 years old and above is high. Based on such analysis of those who come to Ginza and those who come to our store, we defined our target customers, and decided to take a positive and continuous approach towards women from their 20s to 50s and men. We are steadily getting results.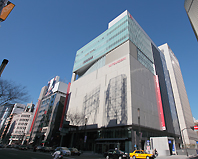 ─ I felt that the store not just expanded, but each floor is more easily viewable, and the merchandise look more attractive.

One of the enjoyments of shopping at a department store is that you can compare various merchandise and brands. By emphasizing certain items and by taking away walls that separate shops as much as possible, we made it easier to compare goods. For example, on the women's shoes floor, you will see many shoes at a glance, and I think customers who see it for the first time would be surprised.


─ Locating the cosmetics section on the first basement floor which is connected directly to the passageway for the subway, and using the first floor for the glamorous women's accessories, handbags and jewelry seems fresh. Also, the foods floor on the second and third basement floors have wide walkways and a good view, so you can enjoy walking through it. And more than anything, "Ginza Terrace" on the 9th floor is attractive.

Half of this floor is an outdoor space with an open lawn and tables, and on the other half of this floor which is indoors, there is a space where you can freely take a rest and a café and restaurant that use vegetables and fruits that are produced in the Tokyo vicinity. I hope people use this space as a new rendezvous point in Ginza.


─ It would be nice if a new university student from a rural area uses "Ginza Terrace" to meet with his/her parent who is visiting Tokyo, and if the two enjoy shopping together.

That is ideal (laughs). Some say that the word "ginbra" comes from the fact that "drinking Brazilian coffee in Ginza" became popular among Keio University students in the Taisho era, I hope that "rendezvous at Ginza Terrace" becomes popular from now on.
Postponing a job interview to go to Sokei-sen (Waseda-Keio Baseball Game) Those days were easygoing
─ By the way Mr. Adachi, how was your encounter with Ginza?

I lived in Itabashi, but from when I was in junior high school and senior high school, I had classmates and senior friends who lived near Ginza, so we would come to Ginza, and I would enjoy buying clothes of the latest fashion of brands like VAN, JUN and KENT at stores such as Teijin Men's Shop.


─ So you were interested in fashion.

I guess so, like everybody else, but I was really into baseball through Chutobu Junior High School and Keio Senior High School. I was shortstop, and at times I was also captain of the team, but we never made it to Koshien. I am really happy that the baseball team of Keio Senior High School is doing well these days. However, I didn't join the University baseball team after wavering. My shoulder hurt at the time, and that was one reason I didn't join the team, but I still have a slight feeling of regret for having given up baseball that I was really into during junior and senior high school. Even if I couldn't be a regular player and even if I couldn't play in games, I should have been stronger and more severe to myself to pursue baseball that I love, believing that my shoulder would get better, and I feel sorry about it.
I would like Keio students of today to pursue whatever they wish to do, and spend their university life with no regret.


─ What kind of student were you in the Faculty of Commerce?

Just like many other universities in 1971, the university was in the midst of student movement although it had passed its peak. Around the time from sophomore to junior, the campus was barricaded and we couldn't do the final exams, so I was able to advance to third year level only after summer vacation, in September. I wouldn't say that I was a serious student (laughs), but because there were no classes for a long period when I was supposed to be studying hard, I feel that I left an important thing behind.
In a situation like that, what left an impression was marketing theory of Professor Akiharu Murata (presently Professor Emeritus). He studied at Harvard Business School under the first Fukuzawa Fund, and his fresh lectures on marketing were interesting, and have become the basis of my work even after joining the department store.


─ Job-hunting has been really difficult these days, what was it like in your days, Mr. Adachi?

I feel sorry for Keio University students today, but in those days, although there was the oil shock, it was an easygoing time, and we felt that we would somehow find a job. In fact, the job interview for Mitsukoshi was on the same day as Sokei-sen (Waseda-Keio Baseball game), and I told them that I really wanted to go to cheer for Keio, and they said, "OK, then" and changed the appointment for the job interview (laughs).


─ That is an interesting story, but is hard to imagine in today's situation. How did you build your career after joining the company?

I joined the company in 1975, and was first assigned to women's clothing of the Ginza store. As a male staff, I thought I would be doing purchasing or sales planning, but I was told that "the highest priority is in selling", and I worked on the floor as a salesperson. The hard thing was adjusting the length of dresses. You kneel down in front of a customer who has tried on a dress, and pin the hem to adjust the length of the dress, but I was slow, and I was told many times to "switch to a more experienced person"(laughs). Also, in those days, we used to neatly put clothes in a box before handing them to customers, so there were times when I would be packing clothes all day long besides the cash register.
From about my third year, I started to be involved in purchasing and sales planning. Things sold well in those days, and we often went out of stock. So I would drive a car to the warehouse of the manufacturer, and somehow secure merchandise. Even if the items were not the ones kept for us, the person in charge of the manufacturer would say, "Well, I guess I have no choice since you've come all the way", and would let me have them.
In 1984, Seibu and Hankyu opened their stores in Yurakucho Marion, and Printemps Ginza also opened, and Ginza was starting to change. In fashion, designer character brands were getting popular. In response to this, I negotiated with my boss to open the first agnès b. shop in Ginza, which is now a fond memory.
After that, I left Ginza and led a major renovation of the Kurashiki store as manager. It is now closed, but it received recognition as a store that fits into the aesthetic area. After that, I went back to the head office and was involved in managing an affiliated company.


─ With more fast fashion stores opening in Ginza, some people are worried that the town will change drastically. What do you think about this?

Ginza has always taken in new things, has shuffled them and kept only what was really important. So I don't mean to deny fast fashion. All that we can do is to make efforts to contribute to the town of Ginza as a department store that creates "new values". Also, many of the fast fashion stores are located from the Ginza 5-chome to the 8-chome area, and somehow seems to be separated from the area of department stores.


─ Customers from overseas such as from China are increasing.

Yes, it is growing constantly. However, it is not our style to provide a variety of souvenir items for Chinese customers and say "welcome". This is because I believe that selling selected merchandise that Japanese customers are looking for offers the best shopping experience for Chinese people after all. Of course we will upgrade our quality of service including attending customers in Chinese. Also, we provide a tourist information desk for international customers on the Mezzanine 2nd floor on the east side.


─ Finally, as a Ginza expert, please give some tips to Keio University students on how to enjoy Ginza.

I don't deserve to do that (laughs). Well, as I said a while before, since the Meiji era, Ginza is a town where it has always shuffled new things and kept the best, so what have accumulated are attractive. For example, it is said that 300 to 400 galleries, large and small, exist in Ginza. It is nice to go to major exhibitions, but here, you can enjoy all sorts of art for free. It is good to look at a lot of art created by artists that you don't even know their names, and to develop your appreciation. Also, if you walk through backstreets, you can find reasonable food stores here and there. Please enjoy them as you do "Ginbra".

─ Thank you very much
*This article appeared in the 2011 spring edition (No.270) of "Juku."
*Position titles, etc., are those at the time of publishing.