Hiroshi Takai, President of KOSMIC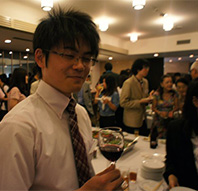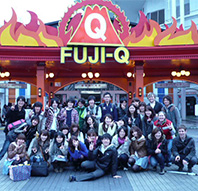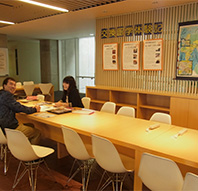 I am a third-year student at Keio University. I belong to the faculty of Economics and specialize in finance. I am currently a president of KOSMIC.
I was born in the city of Kanazawa, Ishikawa prefecture and I had lived there for 20 years. Kanazawa is a traditional city which has a lot of cultural places such as the Kanazawa castle, samurai residence, the Kenroku Garden and etc. My life in traditional hometown for 20 years made me naturally come to respect the Japanese tradition. Even I came to Tokyo and entered Keio University, it has not changed. I feel happy and satisfied when I talk with international students about something representing Japanese culture such as food, sport, festival, movie and manga (comic books). Every day I spend most of my time studying and doing activities of KOSMIC. It is a busy life, but I am living a full life in Keio University.

-About KOSMIC
KOSMIC, which stands for Keio Organization of Student Member of the International Center, is a supporting organization for the international students in Keio University, assisting from student's standpoint. There are mainly two purposes of our activities. First, we support international students get accustomed to school life in Keio University. Second, we create opportunities where Keio students and international students could get to know each other.
Our main activities are, "Conversation Partner"-we will find a Japanese student for those international students who wish to practice or study Japanese. "Welcome Party", "Japanese Speech Contest for international students" "Counseling on club activity" and etc. KOSMIC also holds many hilarious events such as "Halloween Party", "Christmas Party", "Summer Camp" and the "Kamakura Trip". Through our activities, exchange students and Japanese students get to know each other and finally they can interact culturally.
KOSMIC Official Blog

-What made you decide to join KOSMIC?
When I entered Keio University, one of the things what I wanted to do was cultural exchange. I was looking forward to deepening and broadening my sense of value by being meeting exchange students who came to study at Keio University, mainly because they have the sense of values completely different from that of mine. As I was looking for a club on the basis of this idea, I came across KOSMIC. The president at the time said to me, "there are many clubs in which Japanese students discuss with exchange students in English and clubs where they play and go on trips with international students. On the other hand, the purpose of KOSMIC is to support exchange students. We put ourselves in their shoes and act. KOSMIC' is a club which allows you to experience international exchange in a real sense." That's why I decided to join KOSMIC without hesitation. The activity concept of KOSMIC matched my idea that English and Japanese were just a tool and it was most important to make friends with exchange students and to understand cultures, senses of values and ways of thinking with each other. In fact, I met many intriguing people in this club. One had enthusiasm to study languages and was a good speaker of English, French and Korean. Other was so active that he created new events made on the basis of exchange students' wishes. Above all, most of KOSMIC members made best friends with exchange students whom we can share everything with. This was the evidence that KOSMIC is a circle that gives people the opportunity to interact with exchange students without the language barrier. In addition to that, a lot of KOSMIC members considered seriously what they can do for exchange students. Organizing events or talking about the future of KOSMIC with such highly motivated people was stimulating and helped me maturely. I have confidence that I made the best choice when I hesitated over which club to choose.

-What are the hardest things and the most worthwhile things as a president?
I think that hardship and achievement go together. From my experience in KOSMIC, I realized that the more challenging a job is, the more fulfillments I get. Here is one story memorable for me. Today, KOSMIC is an exchange student support club which has 200 or more members. However, when I became the president of KOSMIC, it was relatively small scale club which had about 40 members. Because there was a limit on the number of members, our activity for supporting exchange students was often limited. Leaders including me in those days tried to make its scale larger and we achieved the goal. However, on the other hand we succeed in its unprecedented expansion, and less people came to attend events held by KOSMIC. To find the cause of this problem, we held a club meeting, and as a result, we concluded that the structure of our organization was not fitting for the number of members and members could not realize they commit to KOSMIC actively. We systematized the organization structure to spread and assign to all members the role and responsibility so that they can attend activities of KOSMIC positively. Since KOSMIC has lasted for more than 30 years and is a traditional club, some people took objection to the reform at first but after the discussion, finally we put our proposal into practice. Thinking backwards now, owing to the restructure at that time, I realize we can handle new events and job with flexibility.
It is really hard to lead 200 members. Maybe new various problems happen but even in a situation like that, I will make my great effort to solve the problem. Above all, I have many friends I can really trust in KOSMIC. There are no difficulties to overcome if we join our forces. Through my job in KOSMIC, I experience many hardships but superior to that, I feel a sense of achievement and joy.

-What is your plan after you graduate?
My major is finance and I will probably start my career in the financial field taking this into account. However, what I think is most important is to develop my strengths and not to cling to financial field more than necessary. Concretely, I would like to take advantage of my communication skill which I cultivated from various experiences in KOSMIC and the knowledge which I learned through my studies at Keio University. What I am looking forward to doing as my job now is to "propose" something to somebody. For instance, I would like to propose strategy to a company which is so important that it will have a deep effect on the company's future. KOSMIC gave me opportunities where I learned a kind of flexibility to work in diversity, cooperativeness to proceed the project with team member and joy when I achieved self-propagating and so on. I would like to play an active part internationally base on what I learned in Keio life.
* This is the original text written by the student.