Keio Art Square (6)
Miniature lighthouse gift for Yukichi Fukuzawa on Yukichi's 60th birthday celebration by Ujihiro Okuma and Chokichi Suzuki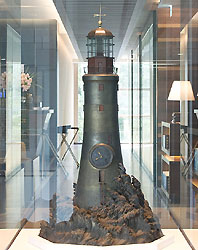 This is a lighthouse-shaped figurine about 80.5cm high which was given to Yukichi Fukuzawa on his 60th birthday from his students. Ujihiro Okuma, famous of having introduced Western sculpture to modern Japan and has also designed "Fukuzawa Zazo (seated figure of Yukichi Fukuzawa of Keio Shiki Senior High School)", designed the prototype, and casting was done by Chokichi Suzuki, caster who followed traditional techniques of the Edo era and was awarded a gold medal at the Nuremberg Metalwork Exhibition. Yukichi Fukuzawa, who preached "independence and self respect" did not seem to like this gift which meant to express him as a guide who sets course, however, the beautiful harmony of traditional techniques of the West and Japan has a precious value in Japanese art history. Today, it is displayed at the Banraisha Common Room of the South School Building at Mita Campus.
*This article appeared in the 2011 summer edition (No.271) of "Juku."
Monument of the birthplace of rugby football in Japan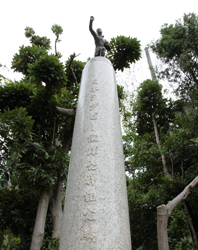 Rugby football in Japan was first introduced by English teacher Edward B. Clarke when he taught the sport to Keio University students in 1899 with the help of Ginnosuke Tanaka, who later became the first honorary president of Japan Rugby Football Union. The stone monument that symbolizes Keio University as the root of rugby football was built when the rugby field in Hiyoshi opened in 1943, and stands in a corner of this field. Incidentally, Shinichi Tanaka, great-grandson of Ginnosuke Tanaka, became coach of Keio's rugby football team this year. The traditional Keio-Waseda match held every year on November 23 is the only sports match by university students of which the date has not changed since the Taisho era. This year again, an exciting match was held at Chichibunomiya Rugby Stadium.
*This article appeared in the 2011 autumn edition (No.272) of "Juku."
Portrait of Yukichi Fukuzawa (by Kikumaro Matsumura, original by Eisaku Wada) 1937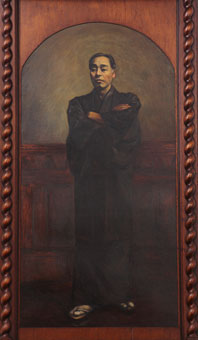 This portrait displayed in the Public Speaking Hall "Mita Enzetsu-kan" of Mita Campus is a reproduction by Kikumaro Matsumura. It was donated to Keio University by Kobe Keio Club (alumni association) on the occasion of the visit of Chancellor Adenauer of West Germany to Keio University in 1960. It is a magnificent piece sized about 195cm in height and about 90cm in width.

There were two "original pieces" of this portrait. One was a sketch by Kiyoshi Natsui, graduate of Keio University, which was drawn while Yukichi Fukuzawa was still in life. The other was a portrait painted by Eisaku Wada based on Natsui's sketch. In 1937, Matsumura painted this piece based on Wada's portrait.

The original portrait by Wada was created at the request of Masayuki Naruse, a businessman who graduated from Keio University. It was donated to Keio University in 1920, but unfortunately, it has been lost in air raids in 1945.
*This article appeared in the 2012 winter edition (No.273) of "Juku".