Yoshie Kondo, Professor, Faculty of Nursing and Medical Care
All the more reason to learn midwifery in a society with fewer children

This seminar class was established in 2006 as a course to obtain the necessary qualifications to take the national obstetrics examination. We strive to provide care that combines scientific evidence and human compassion.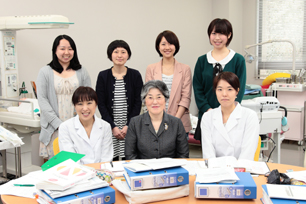 My area of expertise is maternal infant nursing and, more specifically, the area of midwifery which supports pregnancy and childbirth. In a country where the society is facing a rapid decline in birthrate, we play a role to support both delivering and nurturing a healthy next generation. Although many students apply for the class to study this field every year, we unfortunately have to limit the number of students because of various constraints.

The objective of the course is to develop students' skills to work independently while seeing the bigger picture in various situations of maternal and child healthcare activities in order to meet the needs of women, both pregnant and postpartum, women in general, and their families. Especially in recent years, perinatal medical treatment has advanced, and the expected roles of midwives have expanded. Greater clinical practice capabilities are now being demanded, such as enhanced diagnostic abilities, theoretical learning on measures to prevent domestic violence, and knowledge of neonatal intensive care unit methods and neonatal resuscitation techniques.

During in-class practice, we seek to deepen students' understanding through Problem Based Learning (PBL) tutorials and simulation learning. However, since it is difficult for students who lack opportunities to be with expectant mothers, babies, and children to visualize specific situations, it is necessary to try various creative methods when teaching. Furthermore, in a clinical setting, students learn to make real use of the theories and techniques learned in class under the guidance of midwives. While drawing close to a woman and learning how to best bring out her strength in pregnancy and how to best support a safe and satisfying childbirth, students are also motivated by witnessing the joy of a woman and her family. In some cases, students have to face the reality of an unwanted childbirth or domestic violence, through which they realize the necessity to acquire not only knowledge and skills related to midwifery but also accurate observation skills as well as proper judgment and a sense of morality. A midwife once explained, "Assisting childbirth is to quietly pass a God-given life to the hands of a family, and doing this safely, solemnly, and softly." These words are deeply engraved on the students' hearts, helping form their attitudes as midwives.

Student's Voice
Yuki Sasaki, Fourth-year Student,
Faculty of Nursing and Medical Care

My encounter with midwifery

Since the four of us studying in the course of midwifery started to attend classes in March this year, we have been learning daily about the knowledge, techniques, and mental attitude of midwives. Specifically, the problem-based learning (PBL) approach to midwifery theory not only makes us realize new perspectives but can also help us clarify each of our own issues to work on, providing an exciting way to motivate us to study.
Our professor gives us lectures based on her experience in clinical treatment, so all of the course content leaves an impression. She also understands the characteristics of each student, and always supports us warmly.
Feeling grateful for my wonderful environment and for my encounters with expectant mothers and senior midwives, I hope to become a midwife who can support the significant life event from pregnancy to delivery from both physical and mental aspects, while meeting the needs of all those involved.
*This article appeared in the 2012 summer edition (No.275) of "Juku."
*Position titles, etc., are those at the time of publishing.