Masanori Matoba, Professor, Faculty of Science and Technology, Department of Applied Physics and Physico-Informatics
Designing the stage for emergence in electrons and encouraging emergent functions
Aiming to solve energy issues by designing materials which express emergent functions (high-temperature superconductivity/high-efficiency thermoelectric energy conversion) that surpass the expectations of conventional theory.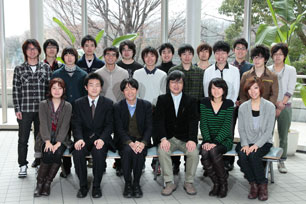 When individuals interact reciprocally with one another and organize themselves into complex systems, properties appear which cannot be predicted from individual elements' behavior. This is what is called "emergence". For example, it is widely known that ants, which lack a high degree of intelligence, will perform emergent collaborative processes when in groups (building nests, graves, and even dump sites). This kind of grouping is anything but bad; it leads to the formation of an environment conducive to emergence. Considering the high levels of interaction seen in groups of electrons—and playfully rebellious students—I expect to see emergent expression of characteristics which far exceed predictions in both groups. I believe that "emergence" is an important keyword for both education (human development) and searching for and developing new materials (e.g., electron stage design).

Because electrons are negatively-charged particles, Coulomb's law of force of repulsion applies between them. However, in solids such as ordinary metals and semiconductors, the force of repulsion is comparatively small, and the carrier of the electrical charge can be likened to a spatially-extended wave. In conventional semiconductor electronics, many functions have been developed by harnessing the electrical currents carried by these independent waves.

On the other hand, in the event that Coulomb's force of repulsion is too big to ignore, almost every possible site is occupied by an electron, and they become unable to move. But if we create an escape route for electrons (electron hole), many electrons can move in strong correlation to each other, creating a so-called "bad metal". The phenomenon of high-temperature superconductivity, which exceeded all predictions of conventional theory, was developed under a situation like this. It is believed that this kind of "bad metal" environment is one conducive to emergence for electrons, one in which unanticipated, new properties are developed. In other terms, "bad metals" make the stage on which electrons can perform emergently. I expect more of these successes with "bad metals" from the 'bold and rebellious' students, not from the 'bookworms'.

Introduction to Research (Movie): http://www.youtube.com/watch?v=kMsaLiGCdOc
Student's Voice
Mai Tanaki, First-year Student,
Graduate School of Science and Technology

On my way to designing emergent functions!

During a study meeting in 'Dr. Mat's lab' (Prof. Matoba's laboratory), I learned for the first time that even in the world of electrons, there are certain electrons which are wild, strong, and rebellious characters. On the grand stage of these rambunctious electrons, which are constantly bumping into each other, there is a possibility that they form a wonderful "emergent dance" which exceeds our expectations. I want to be a "stage producer" (emergent functions designer) for these electrons, coordinating their exciting performances that go far beyond the findings of current conventional theory.


*This article appeared in the 2012 spring edition (No.274) of "Juku."
*Position titles, etc., are those at the time of publishing.