Toshitaka Kudo, Assistant Professor, Faculty of Law, Department of Law
Process of Learning the Process
With a focus on the Code of Civil Procedure, we train literate legal minds in a congenial atmosphere. The seminar class started in 2010 and produced its first graduates in March 2012.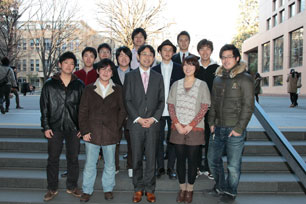 The role of a civil lawsuit, to put it simply, is "to settle a dispute" on the stage of the government-run courthouse. Just hearing this much may make you feel that it is unapproachable. Compared to civil lawsuits, it may be easier to imagine the actual procedures of criminal lawsuits, since the process of trials of serious cases are often reported in the media in detail. On the other hand, most reports on civil lawsuits are heavily weighted in the beginning and ending (filing of an action and delivery of a judgment), and documents act more importantly in civil lawsuits than in criminal lawsuits. So even though civil lawsuits are held in open court, they bear the aspect of a "black box" for people other than those involved.

As such, civil lawsuits may seem mysterious, but we can also say that they act as an intangible infrastructure that protects the rights of civil society and supports maintenance of law and order. It is not without meaning that the Code of Civil Procedure takes up some space in the compendium of laws. The actual content of civil cases is wide-ranging, from patent infringement cases between multinational companies to alimony cases entangled in passion. Although a civil case has an aspect of intellectual controversy based on evidence and law, it also has an aspect of a human drama, full of joy and sorrow. My seminar class focuses on the Code of Civil Procedure, which defines the rule of the process in these kinds of civil lawsuits.

The essence of a "legal mind" requires a sense of balance to reach a common-sense conclusion, but more importantly it requires building up a consistent logic to reach to that conclusion. I always encourage my seminar class students not to give up easily or say "I don't know", but to speak up even if they may be wrong. In the beginning, their answers may be irrelevant, but as they make corrections from suggestions by other students or faculty, little by little they start to come closer to the mark, and finally achieve a reasoning and conclusion that is convincing for themselves and others. I place importance on this process. Even as the teacher of the class, I am often challenged boldly by my students, and get to enjoy legal disputes to the fullest.
Student's Voice
Shun Morozumi, Fourth-year Student,
Faculty of Law, Department of Political Science

What we can do precisely because we are a small group

In our seminar class, to better understand the Code of Civil Procedure, third-year students study case problems prepared by our professor. Fourth-year students write their graduation theses on themes that each has chosen.
Professor Kudo's seminar class is only in its third year, and because of its short history, there are only 11 students altogether, including third- and fourth-year students (as of 2011). It is a small group compared to other seminar classes. But because of this, we have a close bond with our professor and classmates, and in class, there are surprisingly many opportunities for each student to speak up, which allows us to have lively discussions. We can learn how law is actually utilized in society because our professor answers every question we ask with care and warmth, based on his experiences in legal practice as a lawyer.

*This article appeared in the 2012 spring edition (No.274) of "Juku."
*Position titles, etc., are those at the time of publishing.