Toyotaka Sakai, Associate Professor, Faculty of Economics
Designing a seminar class on mechanism design
This is a seminar class to study mainly on mechanism design that started in April 2011. Presently, 34 third-year students (all are inaugural members of the class) are enrolled.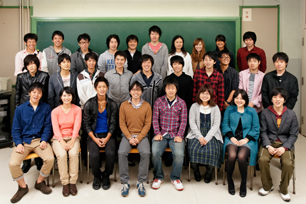 I just started teaching at Keio University and opened a seminar class this year. It has become quite a large seminar class with 34 students who are all inaugural members, and through a trial and error process, we are all exploring together to find the style of this seminar class.

In the seminar class, we study mechanism design, a new economics field that tries to construct a systematic method to solve each specific resource allocation problem. We study design problems which cover a wide range of subjects, such as auction rules to sell goods at the highest price possible, matching algorithm for donor exchange to allow more kidney transplants and method to count votes for elections that reflect more public opinions. Mechanism design is based on the game theory, and we also handle economic experiments. Therefore in economics, it is considered as "leading-edge science", and it also has a high possibility of applying it in the real world. However, leading-edge science, by definition, tends to weather quickly, so it is my present task to let my students acquire sophisticated knowledge that is resistant to weathering at the same time.

The characteristics of the seminar class students are that they are really lively and have strong character. Standing in front of the class and looking at them, it is like a zoo and is really fun. They are all brilliant, but it may be more appropriate to say that they have a strong power to make their capabilities catch up with their confidence. They start something believing that they can do it, and they actually end up doing it. What I expect further from my students is to bring their essential intellectual level to the next step before graduating. Not just clearing an assignment or getting course credits, I want them to "do a leap for life". I understand that it is my role to engage in the seminar class to make that possible.

I believe it is my mission to make the seminar class to be where it clearly reflects the objectives of Keio University. Though not easy, I feel a deep satisfaction to have gained the opportunity to challenge for this luxurious attempt. Especially with my seminar class students, I enjoy interacting with them while keeping in mind the "half-learning, half- teaching" principles.
Student's Voice
Shinichiro Okano, Third-year Student,
Faculty of Economics

Days at the Sakai seminar class

Based on the principles of "half-learning, half-teaching", Professor Sakai positions himself as the n+1st student of the class. Sometimes softly and sometimes strictly, he guides us all the time to be serious with our studies. When students make presentations, based on the spirit of "God is in the details", he becomes strict not only about the research content but also about how we use the blackboard and how we speak.
Out of the classroom, he goes as far as playing with seminar class students at the interclass softball tournament, and we can feel his strong passion for his seminar class. We students all enjoy the fulfilling days of creating a new seminar class from scratch with Professor Sakai, who is making considerable achievements in his research and at the same time is enthusiastic in teaching.

*This article appeared in the 2012 winter edition (No.273) of "Juku."
*Position titles, etc., are those at the time of publishing.