Masami Sekine, Professor, Faculty of Law
Leading the Studies of Political-Sociology of Globalization and Multicultural Community Life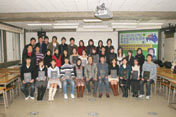 Every year, Prof. Sekine holds an advanced seminar class of senior students for political sociology of globalization and Australian Studies. About 10 graduate students and 30 undergraduate students gather to practice the "half learning, half teaching" philosophy of Yukichi Fukuzawa.
More students in sociology of multicultural societies, fewer students in studies of Australia...
The advanced seminar class I started just after returning from Australia has a history of over 20 years. More than 320 students finished studies. I have been selecting students mainly in the Department of Political Science, saying " If you have interest in global political sociology of international immigration and race, ethnic, and multicultural affairs, or if you want to study Australia, join us!" I am a little disappointed because only a few students come to me to study Australia.

In recent years, almost half of the graduation thesis are about multicultural affairs in highly developed societies such as U.S., E.U. countries and Japan focusing on cooperation and competitions between foreigners and people in host societies. The rest choose themes such as Japan's aging and declining young population; increasing female workers and Welfare Support for them; increasing young part-time workers and unemployment (i.e. Freeter and NEET); and working conditions in a post-industrializing ICT Japan. Some students choose such themes because I put in a lot of effort lecturing these themes in the compulsory sociology class for first-year students at Hiyoshi, and also because I sometimes have my graduate students give lectures to practice the "half learning, half teaching" philosophy. I believe accepting foreign workers is not enough to cover the labor shortage caused by the aging and declining young population, and rapid post-industrialization in Japan. These themes are related with globalization.
Hurdles for Australian Studies
My lectures and research of social change based on the standpoints mentioned above were triggered by an opportunity I had to study in Australia at the request of Australia-Japan Foundation. I did research on Australia, a country of immigrants, that made rapid changes from a white Australia to a multicultural Australia. However, researchers of Australia are scarce in Japan, and there aren't many books for reference in Japanese, therefore, only a few students take the challenge of studying Australia. Another reason may be that I obligate my students to write a report of 10,000 letters in occasions such as the selection test and training camp every summer and winter to prepare for their graduation thesis. Students willing to study Australia may lack the challenging spirit, because they are true lovers of Australia, the continent of holiday sports. They would have the spirit of "half fun and half joy" embedded in themselves, studying leisurely on weekdays and playing hard on weekends.
Faculty's Profile

Prof. Masami Sekine, Faculty of Law

Graduated from Keio University, Department of Political Science, the Faculty of Law, and finished Programs of Sociology in Graduate School of Human Relations at Keio University (Ph.D. in Sociology). In 1979, he was appointed assistant professor of the Department of Political Science, Faculty of Law. Since 1994, Director of the Institute of Media and Communications Research and fellow member of the Graduate School of Human Relations. Currently, President of Australian Studies Association of Japan and associate member of the Science Council of Japan. Also has experience as Visiting Research Fellow of the University of New South Wales and senior advisor at the Japanese Embassy to Australia.
Student's Voice

Saya Nagaoka, Faculty of Law
(Graduated from Keio University in March, 2007)

Migration, international marriage, part-time workers, gender in theater acting, Japanese Society for History Textbook Reform, international IT workers, sexuality of the disabled, wolf revival to protect natural environment.... These are the themes fellow students chose for their graduation thesis. In our advanced seminar class, every theme in relation with global social change and changes in culture, society and lives of nation states are subjects of research. Despite the variety of themes of research, Prof. Sekine gives us on-target advice based on each student's interest and awareness.

The activities I carry on with friends with colorful character and Prof. Sekine who has so much expertise are exciting and I can feel myself in progress. Prof. Sekine, who often looks serious during a session, becomes friendly at our parties and in-house bowling events. We are very close to the professor that we call ourselves "the Sekine Family". Now, waiting to graduate from university, I strongly feel that the encounter and studying at his advanced seminar class is a lifetime experience.
*This article appeared in the 2007 spring edition (No.254) of "Juku."
*Position titles, etc., are those at the time of publishing.